Merry Christmas you guys! It's been a while because for almost a week I didn't even know where my laptop was! Days went by without me even opening it and it was EXACTLY what I needed. Today I got our tree down, the floors cleaned, furniture rearranged, new organizers bought, toys put away, bedrooms cleaned and our living room put back together. Around 6pm I hit a major wall and have been catching up on blogs/pinterest/FB/emails/etc ever since with a rousing game of Don't Break the Ice in-between!
So now that I'm back online I have a ton of Christmas images to post which means I have just a few days to get them all done before the new year starts. Or maybe I'll walk on the wild side and start 2012 by showing you our Halloween photos!
Anyway, to break it all down I wanted to start with my favorite gift I gave this year! I made this for my best friend Angie because her office had a huge blank wall. She's the director of our preschool so it had to be child friendly but I also wanted it to be colorful and a tad inspirational… something she could look at each day and find new meaning. I'm not sure exactly how she feels about it but she got a little choked up when she opened it so I think she liked it!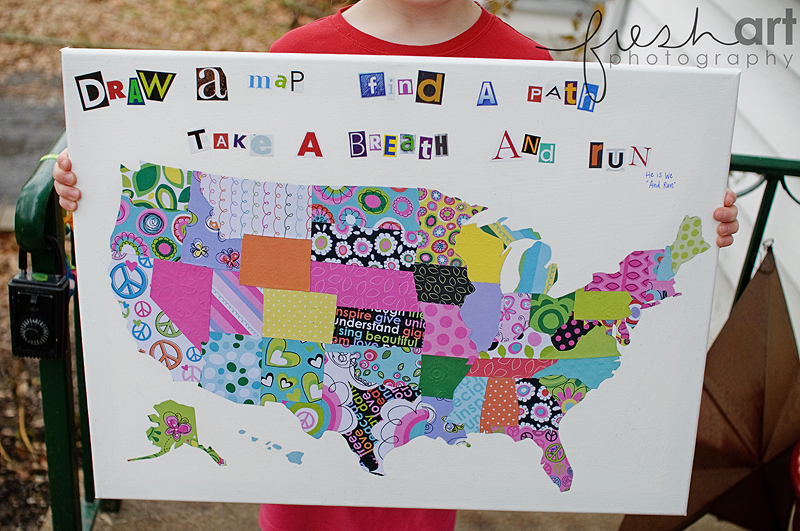 Just in case my process isn't obvious…. I bought a map and cut it out. This took two nights. The east coast is a bitch. And my map was printed on card stock to make it easier to trace but also make it a lot harder to cut. Once it was all cut out I traced each state three times (I had originally planned on making three of these for gifts but the first one took so long I quit! The other states are cut out and ready for gluing someday) and that took three nights. Tracing the east coast sucked too! Then there was the cutting. The cutting took forever and my hand became a claw after two hours so I had to divide this part up over a few nights as well. And then there was the gluing! Oh man! So I laid it all out and ended up starting with Florida. When I got to Texas I must have gotten just slightly crooked because if you look carefully up the middle the states are a little too big! HA! I had to remake some of them just to make it all work. Oh man you should have heard the cussing! Just look at North Dakota! Ugh! And then the words… that's from one of my favorite songs (And Run by He is We)… "draw a map, find a path, take a breath and run. If you've never heard hat song you should listen to it… it's amazing! Oh and it's all glued to a canvas I found at Big Lots of all the random places. I had some from Hobby Lobby but they weren't quite the right size and this one ended up being perfect!
So this took forever to make and ended up completely less than perfect but I am in love. SO in love I bought a huge map and I'm going to do this on the wall of our basement playroom! One day. Right now I'm kind of over map cutting/tracing/cutting!
Did you make any fun gifts this year?