Chris takes his Christmas lights VERY seriously. He calls it his "lighting scheme" and every year it's a battle over how over the top I'll let him go. This year in our new house he really had some GOOD ideas. Um yeah. For example his favorite idea and the one he argued for pretty hard was to have a waterfall of blue lights going down the roof and "pooling" in our yard where deer would be drinking. Can you picture it? Then after I explained how expensive those deer are (b/c just saying HELL NO didn't work) he moved onto wanting a candy cane house, all red and white. As in one red bush one white bush and so on. Ugh.
After days and days of talking about it we finally came to a compromise. And he got right to work!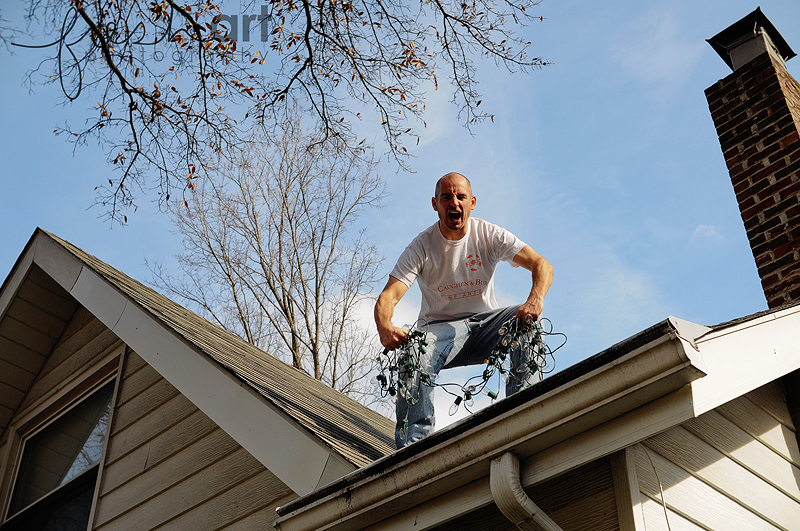 Look at my manly man! Aren't you so jealous?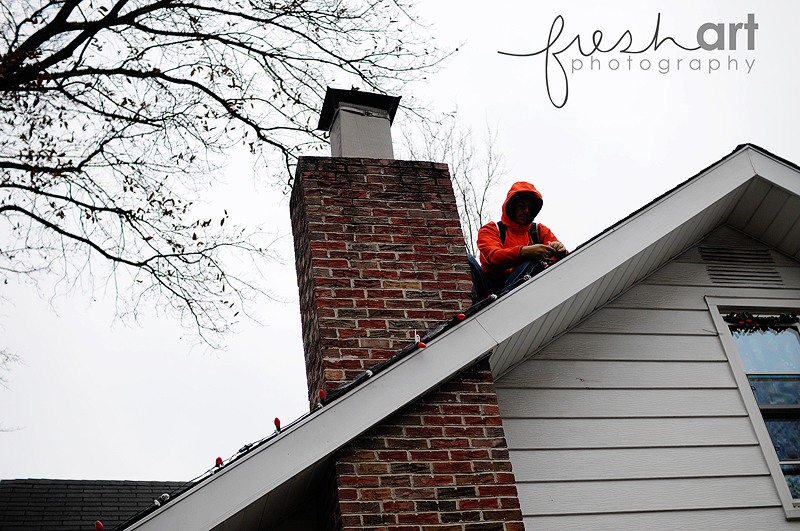 He started on our insanely steep roof. And on day one it was nice and sunny and warm. Day two was rainy and cold. I was actually really worried about his slipping but he had everything he needed in his backpack and was determined to make it work.
His idea (and the compromise) was to take three red strands and three white strands and interchange them. So our lights are red/white/red/white. Candy cane. It took him forever. Totally patience I don't have.
Then I did the bushes, he added Santa to the chimney (it's an antique one that's a little too small but totally a part of our family) and then did the star. He made me that star a few years ago when we had no money to spend on gifts. He raided my dad's shop and with his help cut this metal star out of scraps and edged it in wood. Forever it will be in our home somewhere because he worked SO hard on it. Anyway, he stapled lights all around the edge and it's the cherry on top!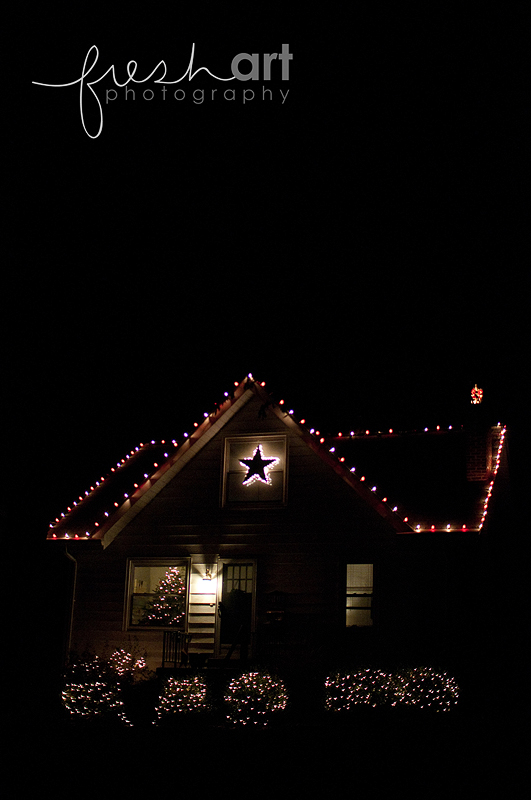 Our house is so tiny. 974sq ft. And we laugh that outlining the roof sort of eccentuates that fact. But truly, we love it. It looks happy and cheery and warm and inviting. Which it is.
Tomorrow I'll show you the tree!
Happy December first!