When I was a kid we had an artificial tree. At least that's how I remember it. And I hated decorating the tree. The branches were scratchy and hurt my hands, it took forever to get all the ornaments up and most (at the time) I thought were tacky. When we were in high school my mom bought my sister and I our own box to store ornaments and she started buying us one+ every year… I thought it was silly and don't remember caring much about it at the time.
The second I got married my view of Christmas trees changed. Suddenly that red/green box from my mom is the first one that comes up on decorating day. Now I look forward to buying our tree, decorating and enjoying it more than most everything else. Every ornament tells a story. There are ones from my parents as they started my collection, some from friends back in college, some we got as wedding gifts, the kid's baby ornaments and the ones we add each year for our family.
Last year we had kind of a disaster of a tree (you have to click on that link b/c it's the funniest story you'll ever read!) and it wasn't at our own house so it all just felt off. The year before we couldn't afford a live tree and used my parents old artificial one (we used that one for years). This year we splurged and bought the most beautiful tree we could find that would fit in our house! It almost tops cutting our tree down our first year of marriage in Spokane (which is one of the coolest things we've ever done).
I love that we're finally in our own home and secure enough to really and truly start making Christmas traditions! We went to Ted Drewes where the Allen's have always gotten their trees from (except the year we were engaged and didn't get home until just days before Christmas… when we went to Ted Drewes the only trees left were expensive and Bill said no… so we ended up dumpster diving at a local church for a tree that the tree lot had discarded. I kid you not I almost wet my pants when my future-father-in-law jumped in this dumpster to pick a tree!) and where we got ours last year too. It was the perfect night. Full of decent weather, frozen custard and our husband-wife argument over which side of the lot we were shopping from… the good side or the cheap side!
Guess who won!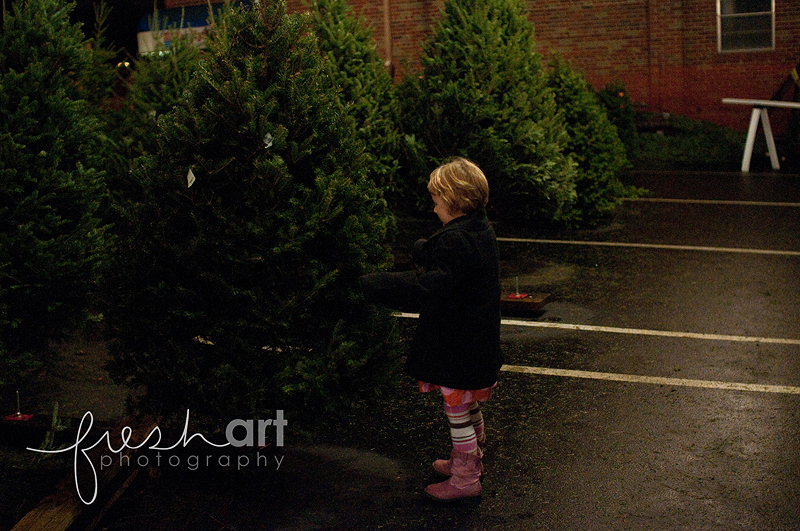 That's the first one I wanted… a true Charlie Brown tree! I thought I would have been able to make it super cute!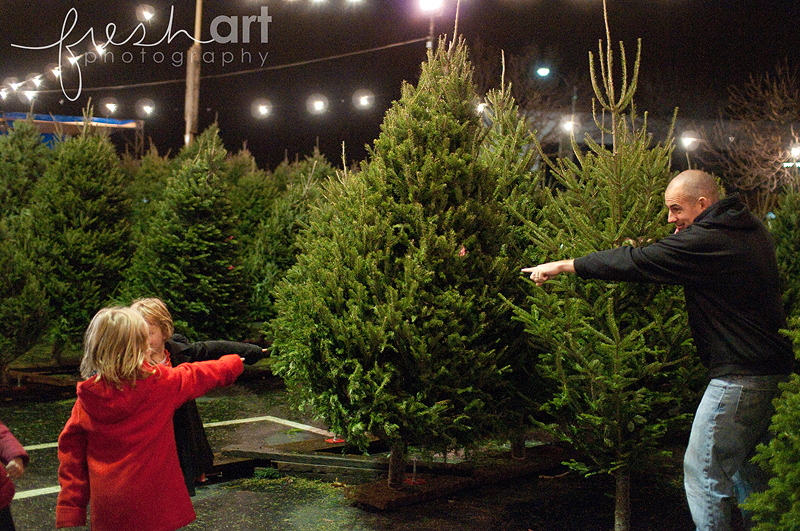 See Chris holding the more scrawny one but pointing to the other one? I wanted a slightly bigger Charlie Brown tree but they kept going back to that one they're pointing to. That's when i said if he was willing to spend $50 on the kind of tree I don't like then we could spend a little more… and that's when I crossed to the non-cheap side of the lot!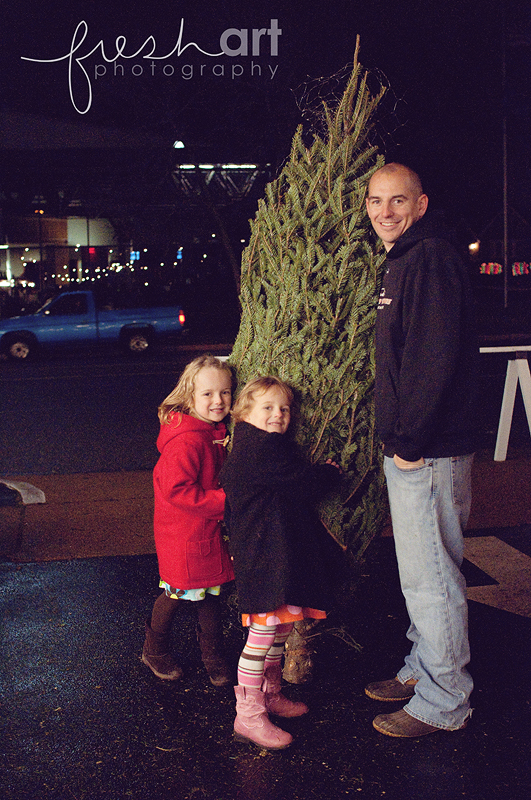 Grayson was with us the little turd, he just refused to be in any photos! Why are three year old kids such turds?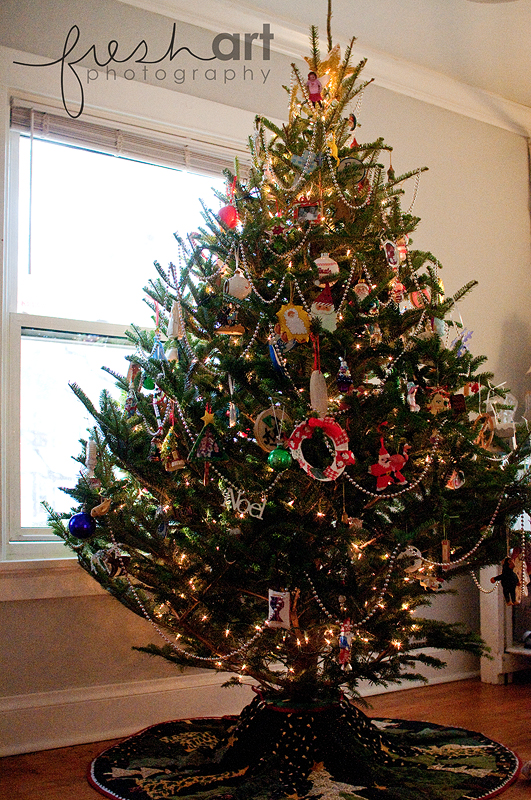 THERE SHE IS!
Now pretend like you don't see how ragged her bottom is… it's mostly b/c after we tied her to the car (ourselves since we had such awesome luck with an employee tying our tree on last year) we still didn't trust ourselves so we opened the sunroof and held on to the branches the whole way home! HA! Basically like holding onto a mattress! A few branches broke off but we figure the bottom will be covered with gifts soon enough! AND I've fixed that blank spot towards the bottom AND fixed the beads so they're more even… tweaking it daily!
Things that make me happy?
It stayed on the car this year.
The kids and I surprised Chris by decorating it while he was at school and he was thrilled!
The fact that not only did the kids ALL get into decorating it this year, they LOVED hearing the stories behind each and every ornament. They would each hold one up and I'd have to tell them all about it! My heart was about to burst!
I'm not sure what kind of tree this is but the branches are almost soft… SO much nicer to decorate than our old scratchy artificial tree!
The fact that no ornaments broke this year.
That we had to actually remove furniture to make it fit b/c our house is so small. But NOT CARING ONE BIT because it's OUR house and we love it!
Being surrounded by those memories every single day. I love walking over and looking at each year's photo ornament to see my babies.
Yep, I kind of am in love with our tree.
And this whole season. I think our little family of five is actually bursting with Christmas spirit this year!