OH MY GOSH YOU GUYS!
I have been SO excited to share the super fun mini sessions we're offering this fall! I teamed up with Mary from Finch Vintage Rentals to create the sweetest mini session set-up ever! It's NOT a new idea but it's the first time I've offered it!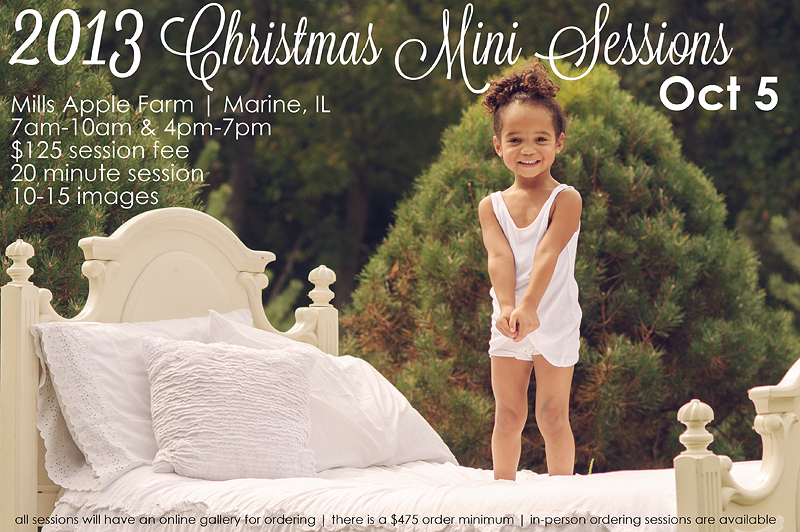 We are taking this gorgeous antique bed out to the Mills Apple Farm's Christmas tree field so your kids can wear their cute Christmas jammies (or sweet neutrals like these kiddos had on!) for the sweetest Christmas card photos ever! Bring a favorite Christmas book, their loveys, a special quilt or anything else to make the images even more special!
OR book a session for your whole family! Wear bright fun clothes (or neutrals or anything that is amazing!) and come play in the field with me! The evergreen trees, tall grass and gorgeous surroundings will make for perfect fall family photos! Bring your dog, Grandma's quilt to sit on or anything else to personalize it for you. Just your joyful family will work too!
After your session you should visit the little bakery at the farm, feed the goats/bunnies/chickens, play on the playground and ride the children's train! Lots of fun things to do to complete your fun fall day!
Like the ad says, the session fee is $125 and that does not include any prints, products or digital files. Once the session fee is paid your session time (in increments of 20 minutes) will be locked in. 2-3 weeks after your session you will get an online ordering gallery and there is a $475 order minimum. That minimum can be met by ordering anything that we offer including prints, products, digital files, Organic Bloom frames, our NEW modern frame collection or anything else we offer! Amy is also available for an in-person ordering session to help you make your choices if that is helpful to you.
Eight sessions are booked already but I have lots left! If you are interested please email us at [email protected]!