It's back to school time and I don't know about you but WOW does life sort of hit you in the face in August! Between school supply shopping, end of the summer parties, open house, meet the teacher and just ALL the other stuff that comes with transitioning back to busy schedules, early mornings and lunch making every day I know our heads are just swimming!
SO this year I wanted to wait a bit and offer our special Back-to-School Mini Sessions on September 6th. That gives all of us moms a chance to get settled into our new routines before adding this in. I hope you will join me!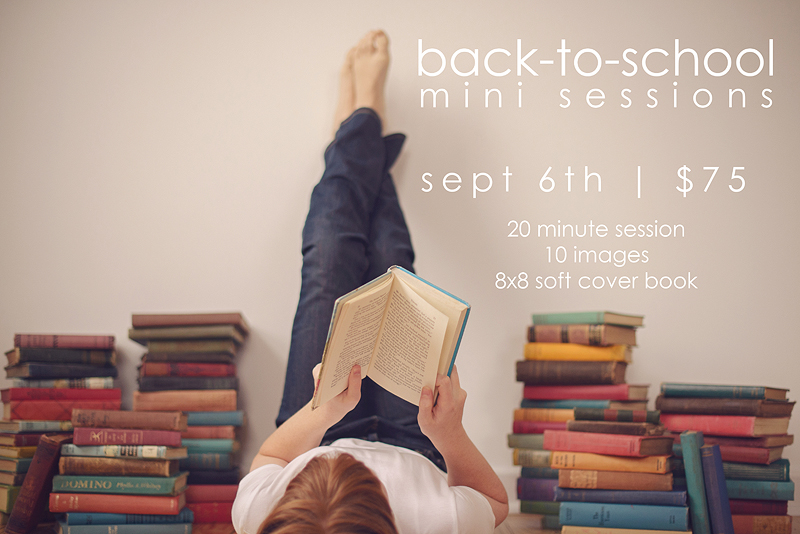 This year we will be doing the mini sessions at my Webster Groves studio and I have hired Mary Price from Finch Vintage Rentals to FILL the studio with antique books and fun chairs/stools for your kiddos to pose with. I love that it's a fun nod to school without the more obvious props – a fun way to get new portraits of your kids!
The sessions are 20 minutes and are for one child only – we have to charge separately for siblings because the adorable 8×8 soft cover book needs at least 10 individual images of your child. Speaking of the book…..
This book is the absolute PERFECT way to document your kids as they start a new school year! So many fun prompts for them to fill in and a great way to not only have their images as a keepsake but also their voice in their own sweet handwriting. It's surely something you will treasure forever!
The session fee is $75 and is due up front to secure your time on Saturday September 6th. Then you will receive a gallery with your 10 images edited and ready for ordering. There is no print minimum for this mini session. Your book will be created, printed and shipped to you 6-8 weeks later free of charge.
Please email us at [email protected] to book your time slot!