The other night I got back from my run and there were signs all over the house announcing the show the girls were going to put on. I took a quit shower and when I got out the chairs were moved so we could be the audience and the lights were all out. They handed me a flashlight so I could be their spot light and then started the show.
Bailey was the Elf from Egypt and Parker was the Princess Cowgirl. Bailey sang in an opera voice and Parker rode around on one of my sock horses with a cowboy hat on and played the guitar. It made absolutely NO sense which made it all kinds of awesome.
When they put on shows sometimes I want to claw my eyes out to make the noise and nonsense stop but other times it makes me laugh so hard… that night Chris and I just kept looking at each other and cracking up! How in the world they came up with the Elf from Egypt I have no idea but it was hysterical.
Aside from the show, the funniest part of the whole thing was this sign Bailey made…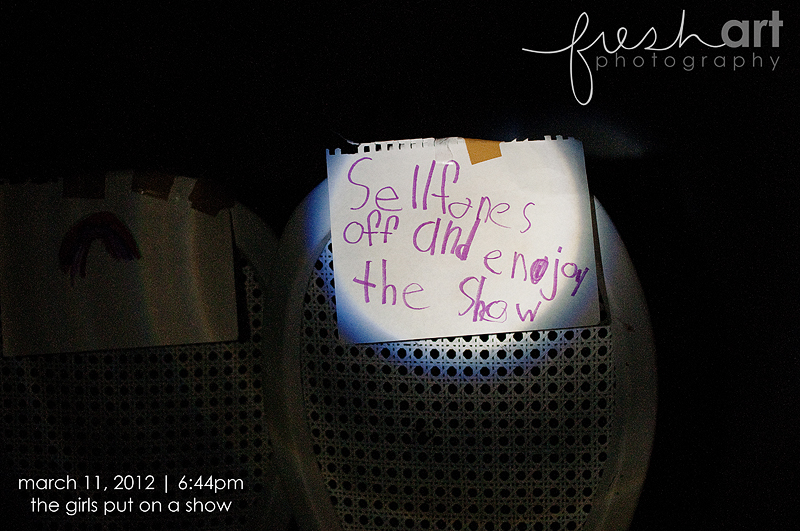 "Cell phone off and enjoy the show"
HA!
(I wanted to remember that they made us watch them in darkness so I snapped this fast right before they started by shining the flash light on it… so many times I will give up a non-grainy photo in order to capture the true feeling of the moment. For this one I needed the rest of the image to be dark so the flash light worked perfectly. ISO 2500, 1/200, f-stop 1.8)