Well I had ALL intention of getting this up last Friday AND I have a few posts that need to go out about what we did last week but man time just seems to slip by each day. I can't even explain how fast our days seem to go and somehow even under this lockdown order my to do list is longer than the time in each day. Last week was fun and messy though as we did some process art. This week we're going to kind of be all over the place but have more specific end result projects I think the kids will love!
Really fast, if you missed last week then you missed that I now am SO sophisticated in my setup over here! hahaha! I wanted a way for kids to see my paper better while still seeing my face so Chris designed the craziest system EVER for holding my phone!
So now my phone is on zoom laying on the board so kids have a bird's eye view of my work space and my laptop sits in front of me so they can see my face. I literally have no idea how he came up with this and I'm assuming I just need to buy a simple phone stand or something right? I mean, this is creative as hell but there HAS to be an easier way!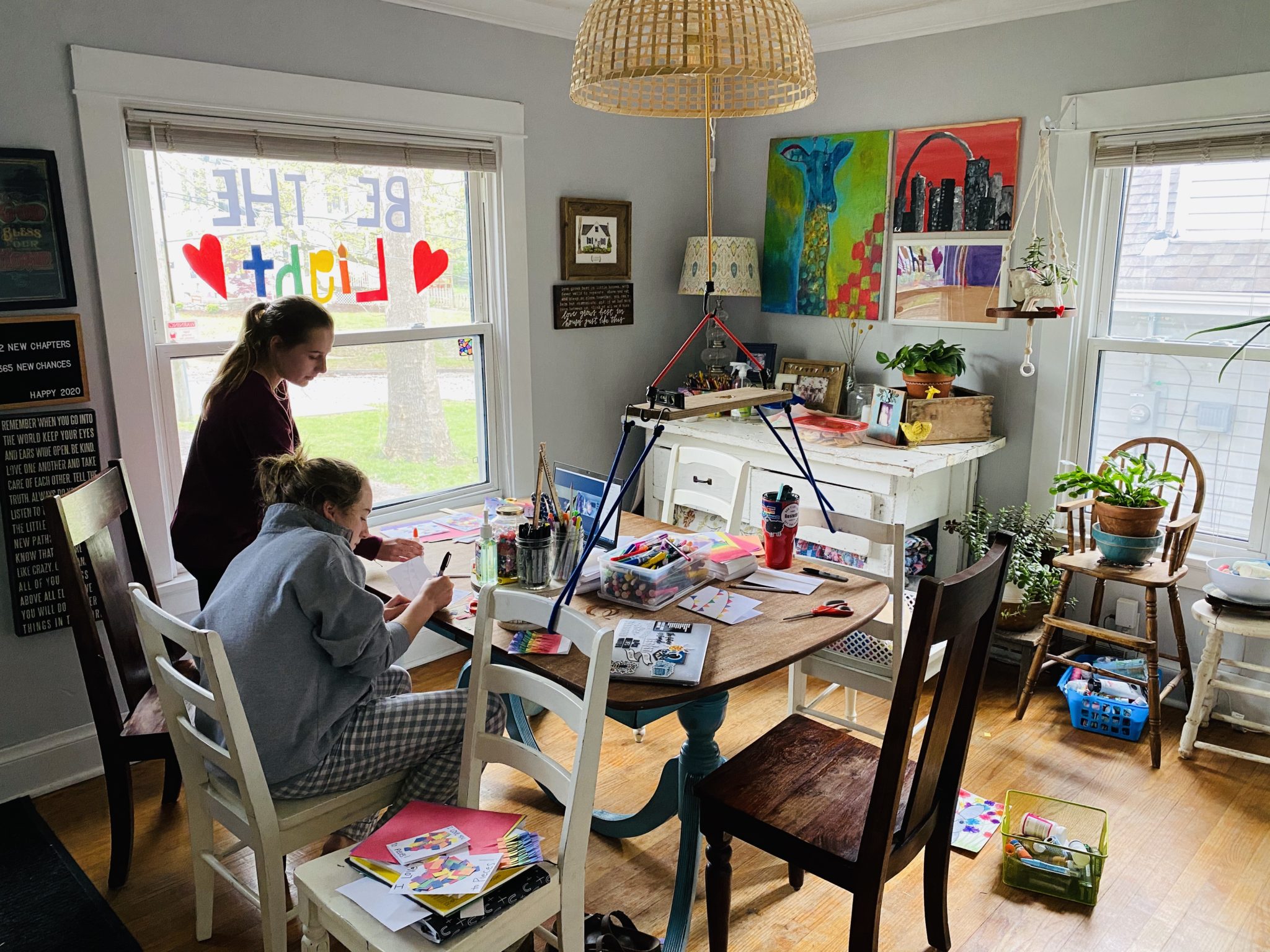 And this is how the main front room of our house looks most days but I'm ok with it! I love that they're being creative each day, getting off screens (besides zoom I guess), talking to other kids and their cousins, etc. This class has been so wonderful for all of us!
OK – THIS WEEK!
TUESDAY – watercolor paper, washable markers, colored paper (scrapbook paper, construction paper – doesn't matter at all), scissors, glue AND if we have time – paper, white crayon and watercolor paints. Aiming for two projects but if we have time we'll do three!
WEDNESDAY – Newspaper (I know this is a random one – we are going to buy a paper today when we go to the store but if you can't get one just have the kids have normal printer paper – it will work the same way), watercolor paint (we are running out of this so we are going to water down some craft paint – if you don't have enough water colors have your kids pick a bunch of colors of craft paint, put it in bowls or if you have Solo cups that can be tossed when done that's best, add a bit of water and stir – have this ready ahead of time if you are out of watercolor paints), normal printer paper, markers and maybe a pencil. We are prepping the newspaper/paper with paint for Thursday and the kids will need ample space to let this dry so maybe have them work in a basement or garage where they can paint and let it dry – we're basically covering newspaper with paint to them cut up for something on Thursday. This part will go fast – just covering paper in paint so imagine your child painting lots of papers in a short time and needing them to all lay somewhere to dry…..
THURSDAY – the dried newspaper/paper from Wednesday, cardstock if you have some otherwise printer paper, scissors, glue and markers (we are starting our Mother's Day crafts so your kid might kick you out of the room!).
This week is a little more project based with some fun rain experiments thrown in!
PARENT HOMEWORK…….
If you plan on doing class the week of May 5/6/7 we are going to do some Mother's Day gifts and your child will need a few more random craft supplies so I'm giving you a heads up now – craft sticks (popsicle sticks) and a photo (please take a quick selfie with you and your child and just print it out on your home printer OR if you have an old photo you love that's fine to use too – the kids just need one photo of them with their mom (siblings are ok too). We will be using the craft sticks another week too so buying a package of them won't go to waste I promise!
I plan on continuing this class through May and maybe through the summer. If things stay mostly shut down our kids are going to get bored (I'm mostly worried about pools being closed) so even if it's just for my kids and my nieces I am making plans to continue this class and would love to have your children also! You are getting a sense of the supplies we need on hand and watercolor paper is for us the one supply I've had to buy a few times already. This is what I'm purchasing – HERE. I also just ordered more watercolor paint (I got THIS one for each of my kids but Crayola or whatever is fine) and I had to go to Michael's online store to get more craft paint recently. Obviously since I'm mostly unemployed buying art supplies sucks but the donations from all of you have made that possible so THANK YOU!!! Anyway, for us, investing in creative time for our kids is worth the cost regardless.
My plan is to start sharing the projects we do each week on this blog after we're finished so if you are a parent whose child has taken my class already I would love you to start sending me their finished pieces or photos of them working each week (if you are ok with me sharing that here).
Also – my cell phone is 314-541-9944 if you ever have a question about class please don't hesitate to reach out!
Last – as always – the zoom code is HERE!