It's been almost two months since I got the keys to the studio and almost one month since it was useable!  Two weeks since we started using it and can I just tell you how in love I am? I walk in there and am instantly happy. It's bright and cheerful and a perfect reflection of my taste and decorating style. If only Chris would let me have an antique floral couch in our house! It's SO close to my house that I can easily run there to grab a few things before location sessions and if I'm working over there my kids can stop by for a sucker and to say hi without having to go out of the way. Having it SO close has been the biggest blessing.
Kim took some pull back shots for me last week and I took photos for about 5 minutes at the open house so I thought I would share them finally! I am going to go into some detail about what you see so if that doesn't interest you just skip the words and look at the photos!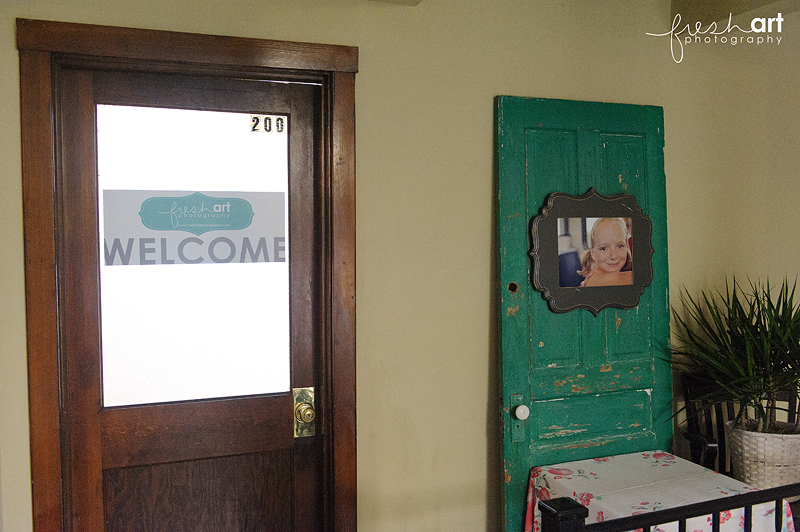 The studio is located at 7905 Big Bend Blvd in Webster Groves, Missouri 63119. It's a two story brick building and I am upstairs in the front. When you walk up the steps (unfortunately there is no elevator so it's not handicap accessible) you will see four businesses (an insurance guy, Incentive Source and a massage therapist) but you can't mistake which door is mine! HA! The old green door is from my dad (he keeps old stuff from job sites), the little table is from a yard sale and is pink (I borrowed some antique tablecloths for the open house so that isn't still there), the plant is now in the studio (thanks Danielle and Bridie!) and the chair is an old library chair. Eventually I will also have a sign outside but for now there is just one on the door. The frame I grabbed from my house the morning of the open house when I was still decorating (that's why Bailey is in it and not a client)… it's from The Organic Bloom!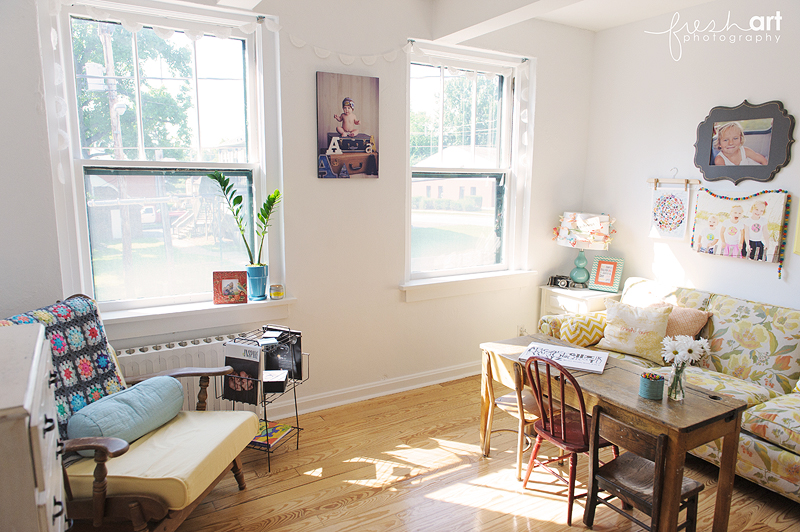 This is the view when you walk in! Two large windows are in the living room side of the studio and they had blinds but I kept them off after the painting was done to let in a lot of light… those are small doilies on string for just a little detail on the windows.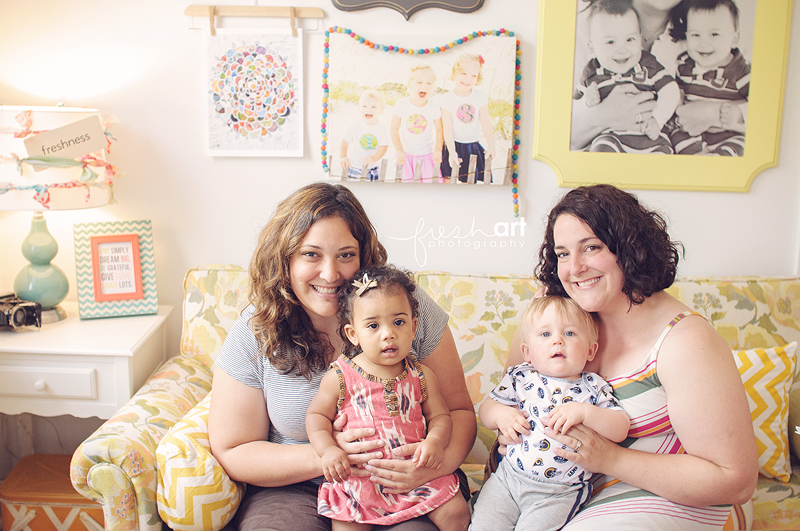 Janel, Amelia, Nicole and Jack!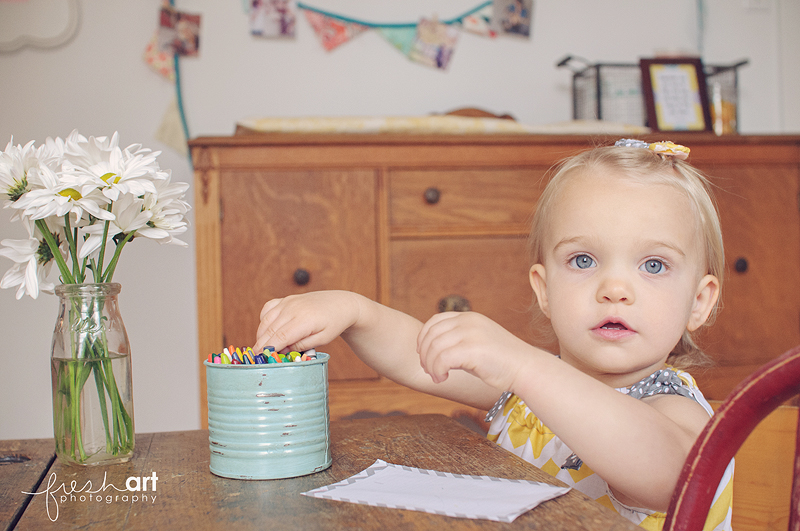 Maggie! The coffee table is an antique children's desk that Terri is letting me borrow… it holds coloring books, paper and samples.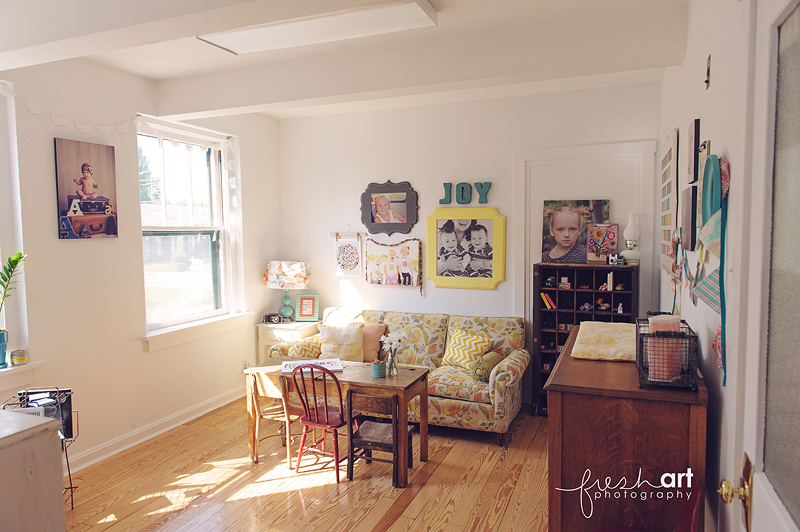 You can see the door on the far right and that's an antique buffet right next to the door that I'm using for extra storage and a changing table. On top Terri made me a little changing pad and we have infant diapers and organic wipes for parents to use. If you look past the changing table you can see that awesome piece of furniture (not sure what to call it) next to the couch…. it's my favorite piece ever and we used to keep the kid's baby shoes in there at our old house. Since moving two years ago we haven't had room for it so now it holds baby toys, books, cars, etc for kids to play with! On top is another photo of Bailey (I was grabbing random stuff from my house at the last minute to fill the space!), a clipboard with a painting by Bailey, my Grandpa's old camera and Terri's old lamp. I am a treasure hunter and collector of all things old!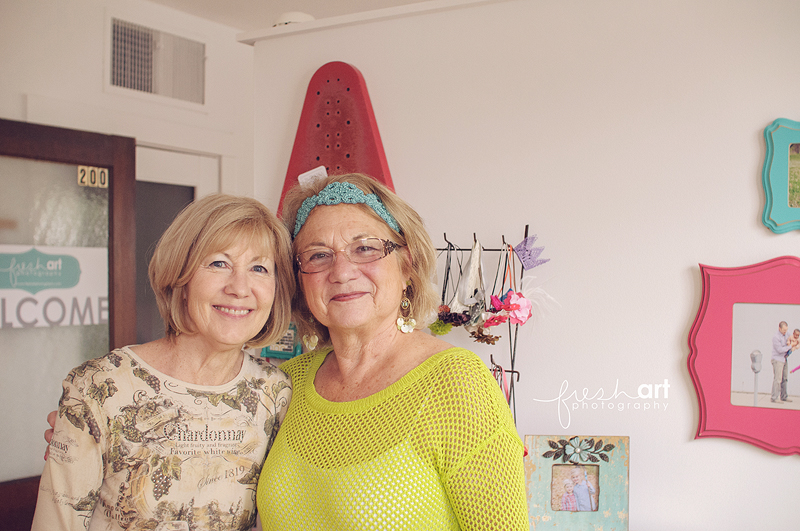 Sally and Sue!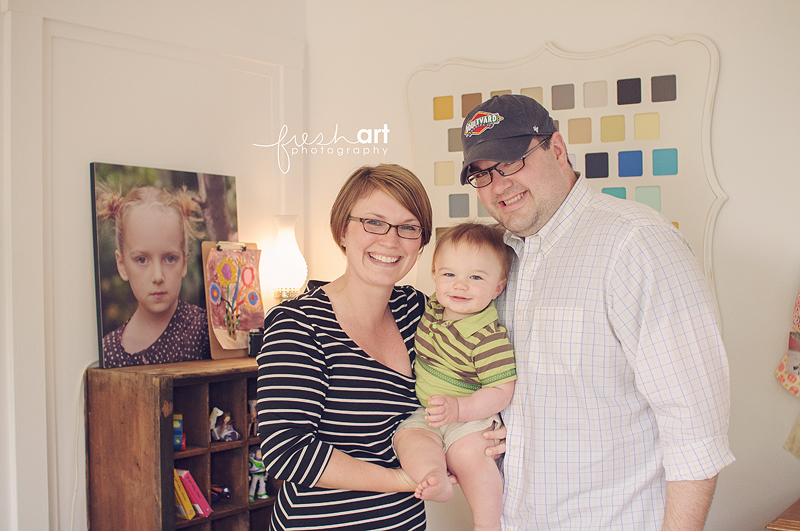 The Davis Family!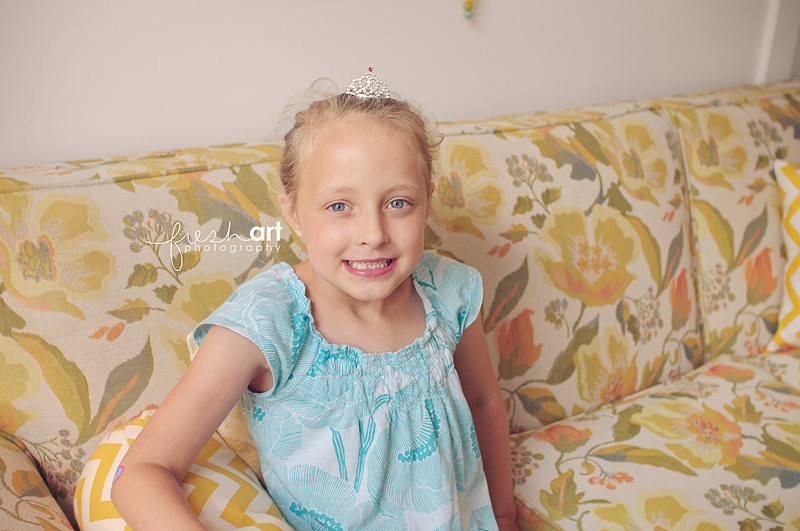 Princess Sonya (she had just come from a birthday party!)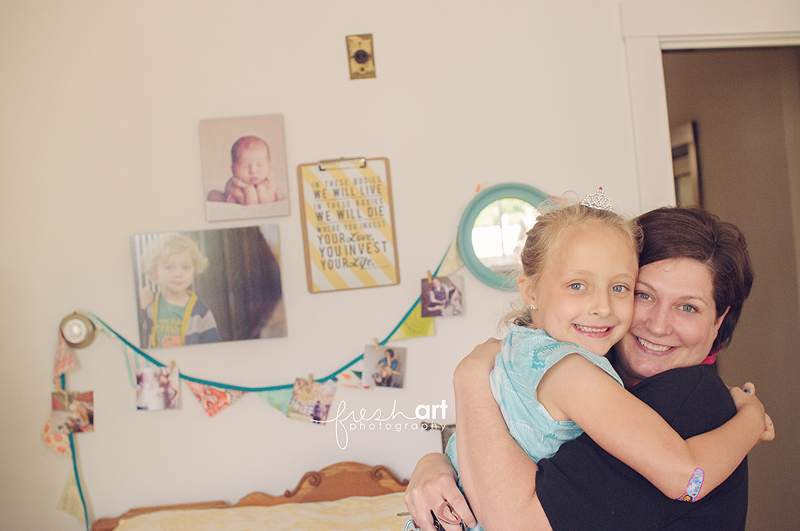 Missy and Sonya!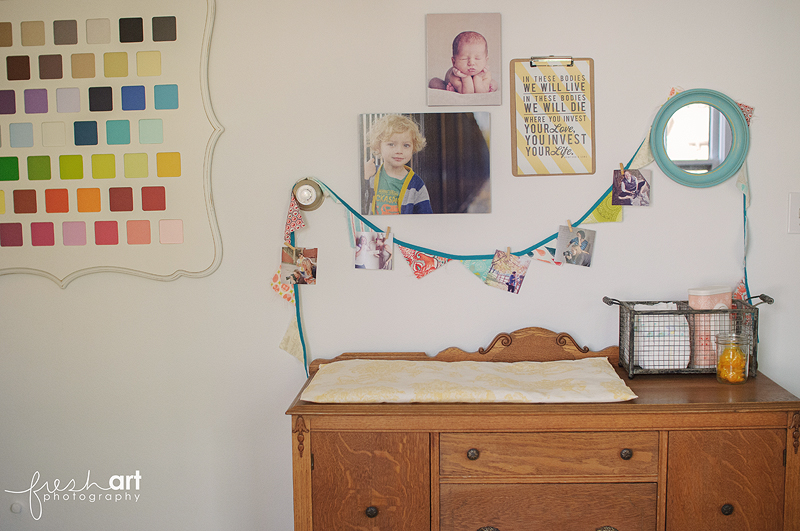 Here is a shot of the changing table! The big frame on the left is The Organic Bloom color samples! It's great for clients to look at during their session!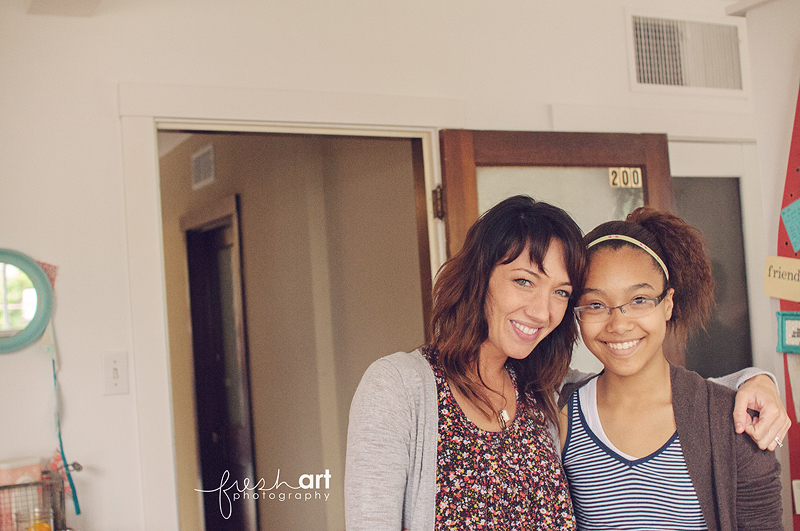 Monica and Natalie (she's my amazing hair stylist!)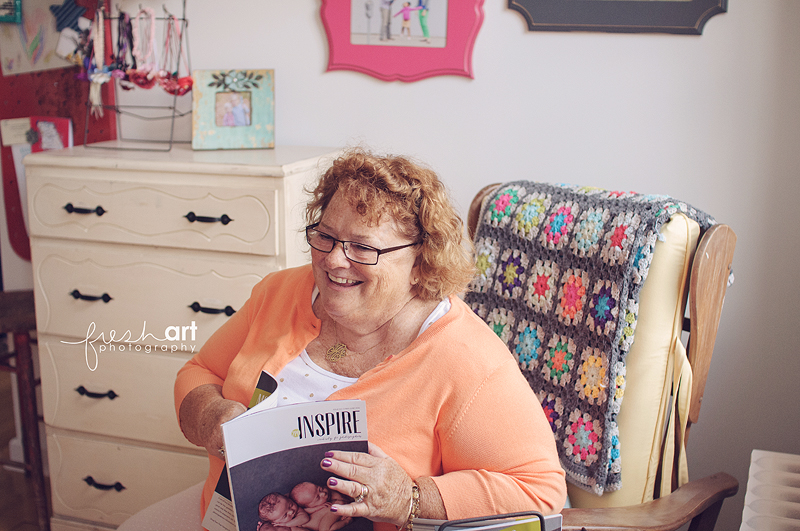 Terri (aka Go Go) reading our article in Inspire!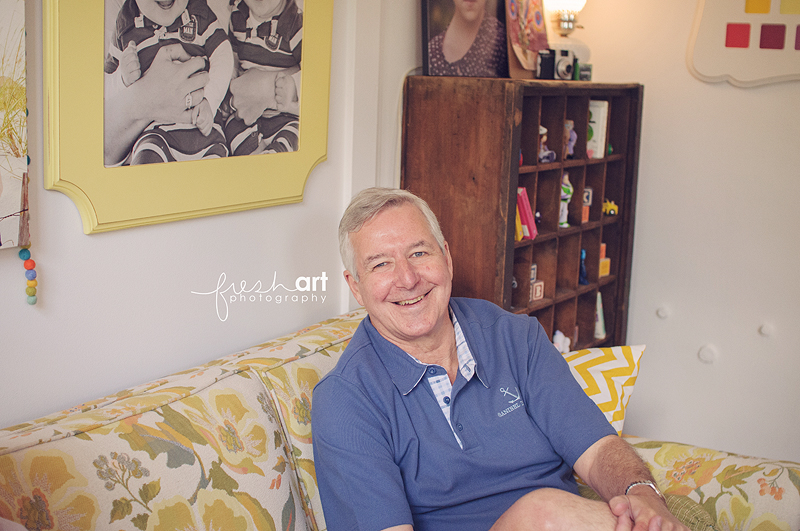 Bill or Bubba!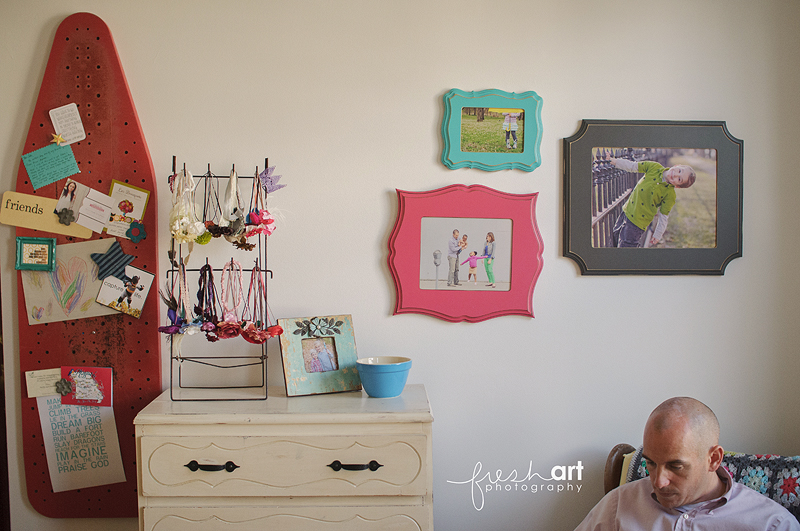 There is a wall that divides the living room area from the shooting side and we have a dresser on the wall that holds all of our hats. Headbands are on top, Chris is in the chair, that PINK Organic Bloom frame is actually one I get to GIVEAWAY to one lucky open house attendee on Tuesday (I was desperate to fill the walls for the open house so now I need to order another one b/c I am a FAN of that pink!) and my nieces are in the little frame on the dresser (that frame is from Hobby Lobby). The old ironing board used to hang on our garage and with S-hooks it held the kid's mud kitchen utensils but I wanted some kind of cork board to put up little quotes, client notes, birth announcements, etc. and this seemed like a fun alternative!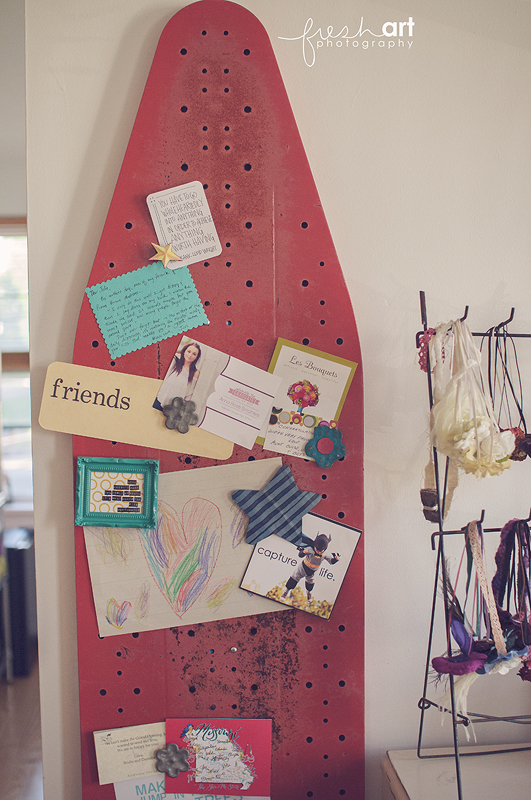 The drawing is from Parker, the "capture life" was my first Jodified marketing brochure (it reminds me about how far we've come) and then the other little odds and ends you'll just have to read when you come visit me!
Another shot of the changing table side of the room.
Here you can see how it is a half-wall that leads into the shooting side of the studio. We keep our blankets folded on those metal shelves, wraps are in that basket on the floor, chairs line the walls back there, there are four large windows, etc.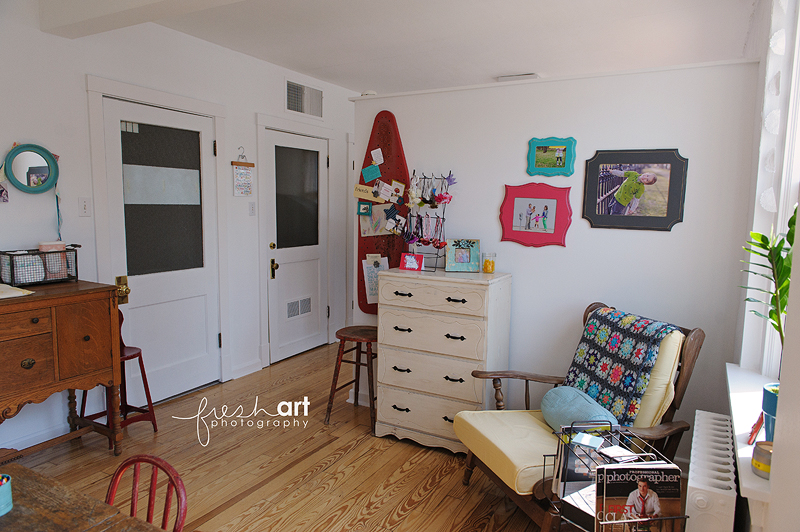 That second door is a huge closet where all of our props are held.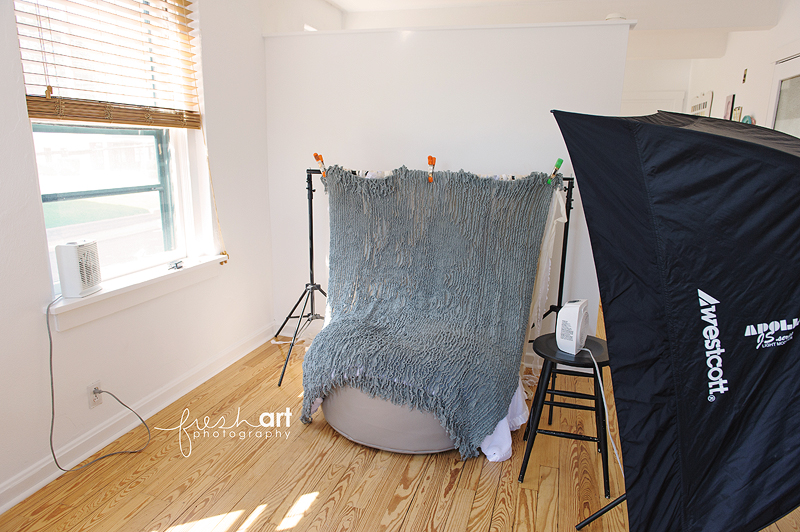 And here is the simple space we shoot in. Nothing glamorous. Nothing fancy. Just what we need to get the job done! Right now we are shooting mostly natural light and using the light only when we need it. The studio gets really great natural light!
So there you have it! It's small (300sq ft) and imperfect but just right for me! I am in love. I feel a bit space pinched at newborn sessions but it's not bad.
I'm considering having a studio sale as we are getting rid of a bunch of wraps, headbands, hats, props, etc. but can't decide when/how to execute it! If I do I'd love you all to come see it for yourself! And if you are a client considering booking us for your newborn we can meet you there while you're still pregnant so you can see just where we'll be shooting if that puts you at ease!
Thanks for coming along! Happy Sunday!
PS… the July 20th Fresh Class will be held here! So excited!