This post will mean nothing to anyone but me and my mom probably but I just feel like I need to write it tonight.
A month after Parker was born back in 2006 my mom invited me to meet her friend Gussie. Gussie was about to turn 100 and had been my mom's Sunday School teacher at St. John's Episcopal Church down in South City. She was good friends with my Grandma (who died when I was in high school) and my Grandma's best friend, Roberta, who was about to turn 90. My mom was taking the two women to lunch and invited me to come along. I was SO excited to meet Gussie but to be honest, at the time, I was mostly excited to get out of the house since I had two babies under two. As the day got closer I couldn't find a babysitter so my dad watched Bailey but didn't feel comfortable with both girls since Parker was just a few weeks old which meant I had to bring her with me.
Now Gussie was not a huge fan of kids. She never had any of her own and admittedly had little patience for them (no matter how cute!). I'm sure that patience lessened as she neared 100! HA! I barely have any left now and I love my three kids! This is not at all a slam against her and in fact I love that she was so honest about it all.
Anyway, my mom talked to her and she was ok with me bringing Parker along since she was so little. I dressed PJ up in a sweet little outfit, put on a nice outfit myself (that included a black sweater which will be important to the story soon) and headed out to meet my mom at the fanciest restaurant I had ever been to. If I remember correctly it was called Truffles. I walked in and everyone else was there so I hugged Berta, said hi to mom and sat down SO excited to meet Gussie who I had heard SO much about from my mom. Parker was sound asleep and being the perfect baby as we ordered and chatted. I was enthralled with Gussie and loved hearing Berta chat with such an old friend of hers! They were telling stories about St. John's and it was so fun to hear about my mom as a kid!
Before the food came Parker woke up hungry so I fed her and within seconds she needed a diaper change. I took her to the bathroom where there was NO changing station. By that point I knew she had blown through her diaper because it was dripping down my stomach where I had been holding her and I was trying not to freak out. I laid the changing pad on the FLOOR of a stall and surveyed the damage. She had blown through her onesie, her nice outfit and the white tank top under my black sweater was literally brown all down the front. Thankfully you couldn't SEE the actual poop on the sweater but it was wet. I only had my little container of travel wipes and no additional outfit since she had never done anything like this before! I stripped her down, used wipes and paper towels to clean her up and then had NOTHING to put her in so I used a burp cloth to sort of hide the fact that she was naked (in December). I walked as fast as I could back to the table where I had her car seat blanket and whispered to my mom what happened. Thank goodness the 90 and 100 year old women couldn't hear us whispering and didn't notice Parker was naked!
My mom said she would be right back and left the restaurant. I had NO idea where she went but she was gone for about 15 minutes. I told Gussie and Berta she had to take a business call or something! I don't remember but I know they had no idea what was going on! When my mom came back she had the most gorgeous outfit and the softest blanket ever in her hands! She had run next door to The Women's Exchange which was a boutique I couldn't have ever afforded! I ran to the bathroom, got Parker dressed and they literally had no idea what happened! It was awesome! I bet it cost my mom $100 but at the time the whole thing was so funny it didn't even matter!
Since that first eventful lunch with Gussie I've gotten to go several other times with those three. Of course I've never taken another kid with me though! HA! I've always wondered what Gussie would have said if she knew I was covered in poop and eating at such a fancy restaurant! Oh my gosh it makes me laugh just thinking about it! Every lunch was wonderful, full of neat stories (Gussie's life was incredible!) and had lots of laughs. My favorite was when Gussie didn't like the food because she told whoever would listen that it was not up to her standards (she ate out two meals a day at the nicest restaurants in town and everyone knew her!)!
Gussie passed away today at the age of 106. She died peacefully with her best friends around her. She lived an amazing life and was ready to go but oh man how she will be missed by so so many. You just couldn't help but fall in love with her.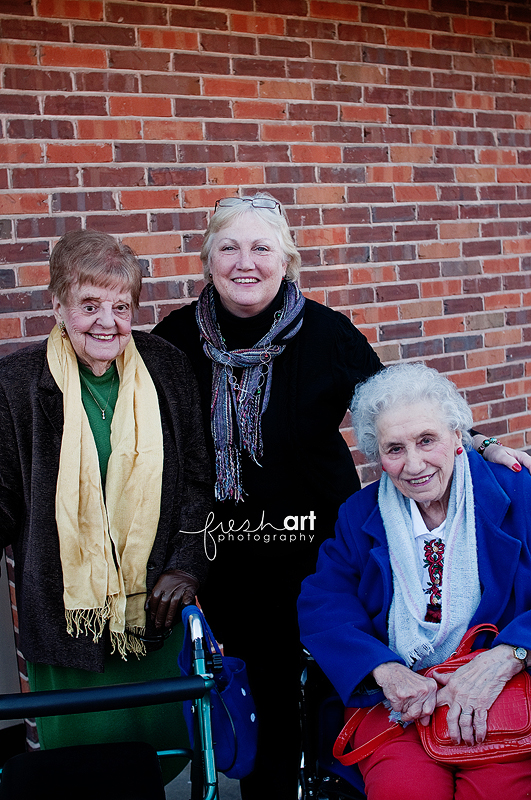 Gussie, my mom and Berta from December 2011.
I'm really going to miss her and I only got to see her every once in a while. I'm sure her friends are grieving, but mostly I think everyone is just celebrating her life tonight and thanking God for letting her bless each of them so much!