Heading out to a newborn session this morning and wanted to post this really quick… this shot has been done before… we did NOT invent it… it was mom's idea and she brought all the right materials… and while it's not unique I think it turned out stunning. She's gorgeous. And rocked the shot she dreamed of. I'm in love.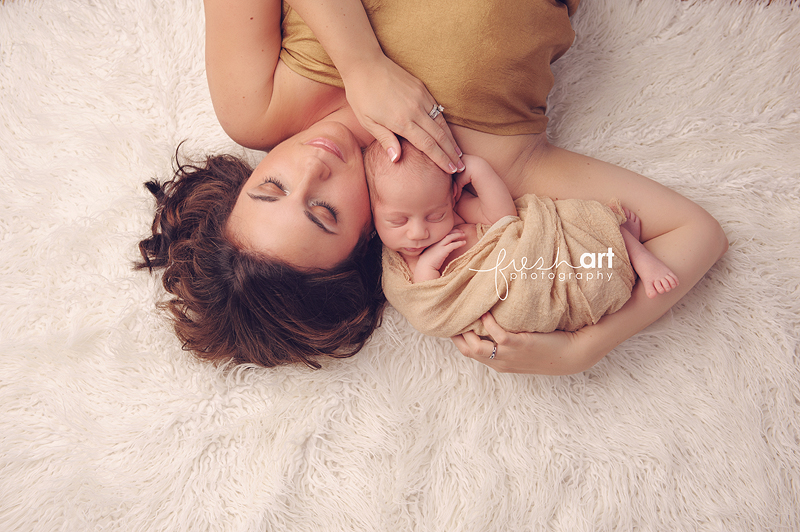 I think there is a VERY fine line between imitation and copying. Pinterest is making it hard not to cross that line occasionally because clients come to you with a pinboard full of ideas they are in love with and we, as artists, have to take those ideas and tweak them to make them our own while still staying as true to the original as much as possible so mom is happy. This shot might have crossed the line or come really close to it and I have no idea who the inspiration artist was or I would credit them. It's a beautiful way to pose a mom and baby and not everyone could pull it off like Bonnie did. Her dark hair framing her sweet face and little Brett so sleepy and curled. It worked. And I guess my point in saying all of this is that while I do work hard to be original, occasionally I get inspiration from other photographers. Of course I do. And because of that I will never care if someone out there copies one of my ideas. There are more than enough clients to go around and if you like a shot we take here at Fresh Art, have a client you think it would work on, then by all means go for it. This is a HARD industry to make a good living and anything we all can do to keep our clients happy is worth it! Happy clients tell their friends about you and help you grow your business!
Bonnie came to us and asked just for one shot and MAN did she rock it out! I am so in love with this image I have a feeling other moms will be asking for it soon enough! THANK YOU to whoever posted this first because Bonnie saw it, fell in love and now gets to hang it on her wall!
Happy Thursday you guys! I have a newborn session this morning and then we're headed to the lake!