SO! It's 2012 officially. Did you realize that? Because I feel like I'm SLOW lately! Seriously, it feels like yesterday was Jan 1 and now it's almost March! What in the world!
In an effort to catch up with what I had hoped to have finished by that all important January 1 date I have finally updated my session offerings! Just click on that little button up there that says SESSIONS.
OR because you might be LAZY like me I'm posting the new ones here! Take a look and see where your family fits in!
Also a heads up… the $500 lifestyle special I'm offering for March only has room for 2 more slots! Actually, March only has two slots period so email me quick! April is starting to book up and surprisingly so is the fall! Yes, I said it. THE FALL. September and October is already booking! Crazy!
You can email me at jodie at freshartphotography dot com if you're interested in learning more about any of the sessions!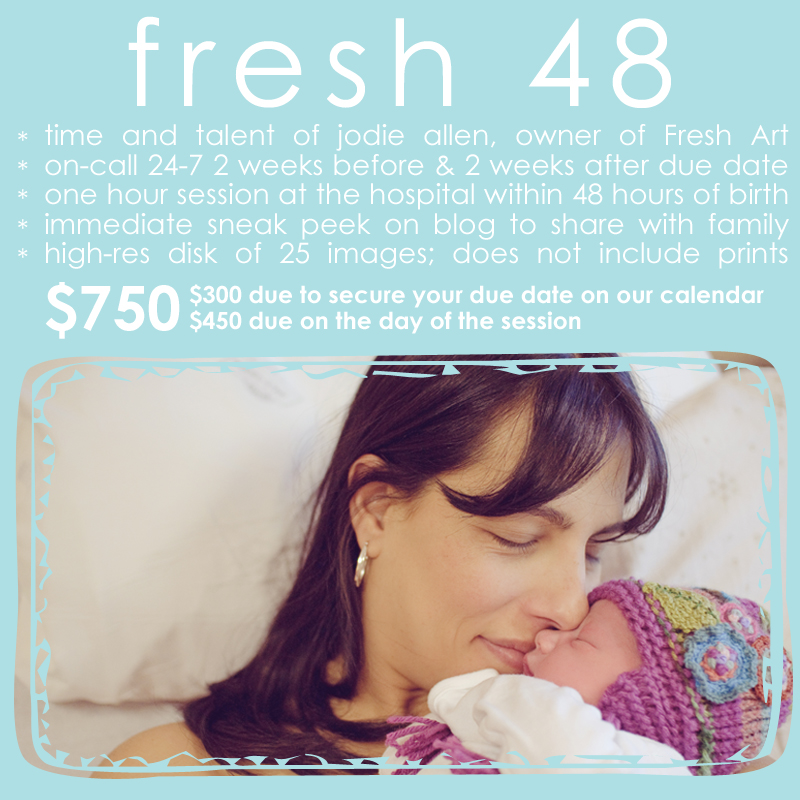 This is a new session I'm offering thanks to the awesome inspiration of other birth photographers who came up with the idea! Basically what the session entails is me being on call as if I was coming up for your birth, but I come up later. After you've rested a little. And everyone's had a chance to shower. And eat a meal. Birth is AMAZING to capture but so many families want to keep that moment private, which is totally great. This session is the best of both worlds! You get those first hours captured while you're still in the hospital, before you go home and life takes over. It's all about the sweetness of your new little life snuggling with you. Meeting siblings or grandparents. Or even just mom and baby. It's a one hour session with 25 images on a high-res disk.
Email me for discounted rates if you combine a Fresh 48 session with either a mini lifestyle newborn session or the full newborn session!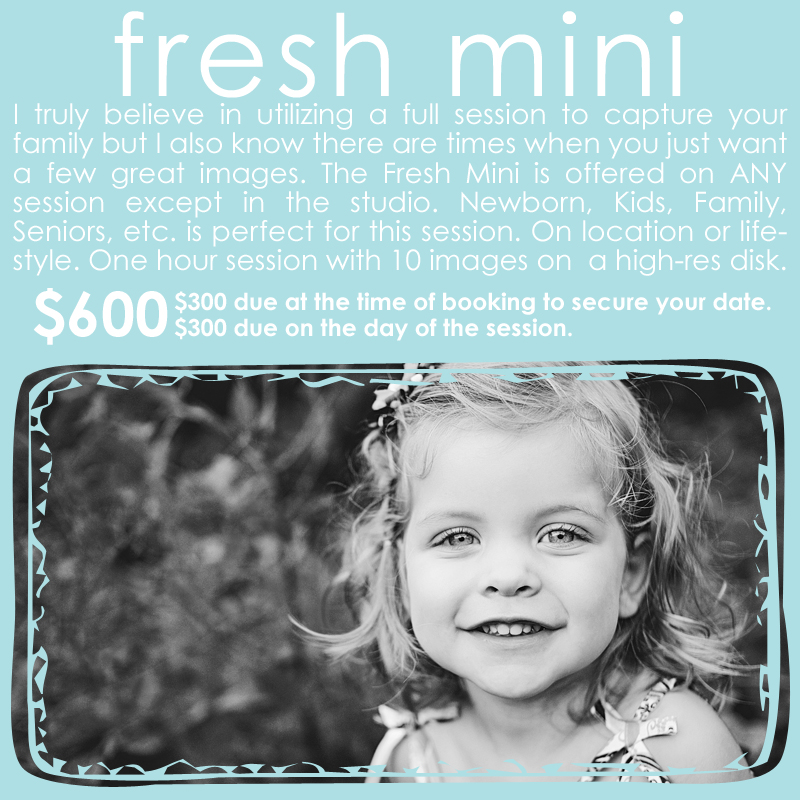 This is the other new session I'm offering all the time now. Before my mini session was an unadvertised session but I've decided to put it out there and let anyone book one! This mini session is an hour long and can be for ANY session I offer. Family, Newborn, Children, Senior, etc. You can NOT use this for a studio newborn session however, it can only be used for a lifestyle newborn session at your home. This is a great session to book for the summer/fall to get Christmas card photos! It's a great way to add in a little extra session anytime throughout the year!
And right now there is a special on a LIFESTYLE mini session…
The main difference is that the "anytime" mini session can be on location, stylized, or whatever you want (EXCEPT at the studio!). The special I'm offering right now is ONLY for a lifestyle session at your home. Just wanted to be clear!
So that's the new stuff and the rest is in the "sessions" menu! Check it out!