I've had so many people ask me when I was going to post photos from our Disney Cruise back in Dec/Jan and it's not for lack of loving the trip – it's because luckily I had a great January and was booked solid which left little room to edit the 50+ images I wanted to blog! BUT a fairly slow Saturday today gave me the opportunity to finally get them done and ready to share!
Chris' Grandpa turned 90 and decided to take his WHOLE family on a Disney Cruise. That included his lovely wife, Mary, C's mom and dad, C's two brothers, C's Aunt, his Aunt and Uncle plus two cousins and a boyfriend that came all the way from Australia and our crazy family of five. 17 total. This was the first time our kids got to meet some of the Australia family and that was probably my favorite part of the trip!
We all met down in Miami and the kids were most looking forward to their first plane ride (Bailey went back and forth from Spokane to St. Louis but was a baby and has no memory of being a champion flyer!).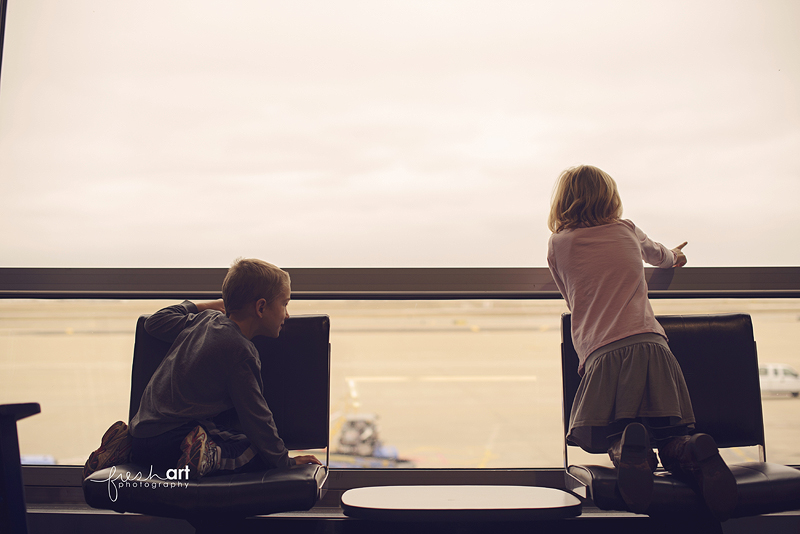 They loved everything about the airport! Their excitement was contagious!
By the time we got to Miami, got to the hotel (a 45 minute drive), got our luggage to the room, etc. we weren't all ready to go find dinner until 9pm. My kids are in bed by 8pm almost every night so we were really pushing them. All of us except Grandpa and Mary walked to a restaurant and truly had such a fun time catching up! The kids were total troopers not eating until after 10pm or getting to bed until almost midnight. I could say this over and over but our kids really showed us how patient and resilient they can be! We were incredibly proud of how they acted the entire trip!
The next morning we had to be ready to board the ship pretty early but then once you get into the boarding area it's just another hurry up and wait game (this happened each and every day for some reason or another – again – we were so proud of the kids for not complaining at all. In fact, we talked a lot about patience and that it's not always about us, etc… lots of good lessons to teach while you're waiting for things!). Luckily they had Minnie Mouse to get photos with, sign autographs and chat with while we waited! The kids LOVED this and while we are not big Disney character fans, they immediately hopped on the "WOW! LOOK! It's insertcharacterhere!" train. Actually, by the end of the trip even Chris and I were all, "OHMYGOSHIT'SMICKEYMOUSE!" HA!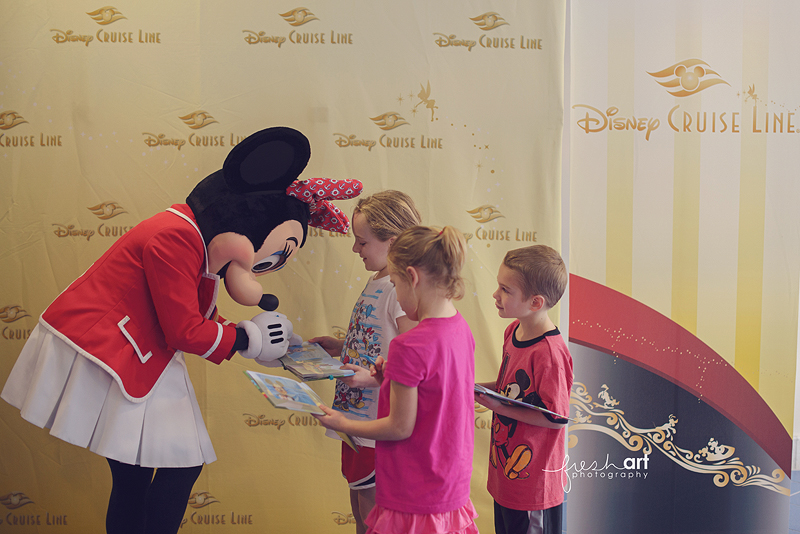 Santa brought the kids their own luggage for Christmas and inside were Mickey t-shirts, a little Mickey stuffed animal and autograph books… total hit! We left for the cruise on Dec 28th and got home Jan 2nd so using Christmas was a great way to get them excited for the trip!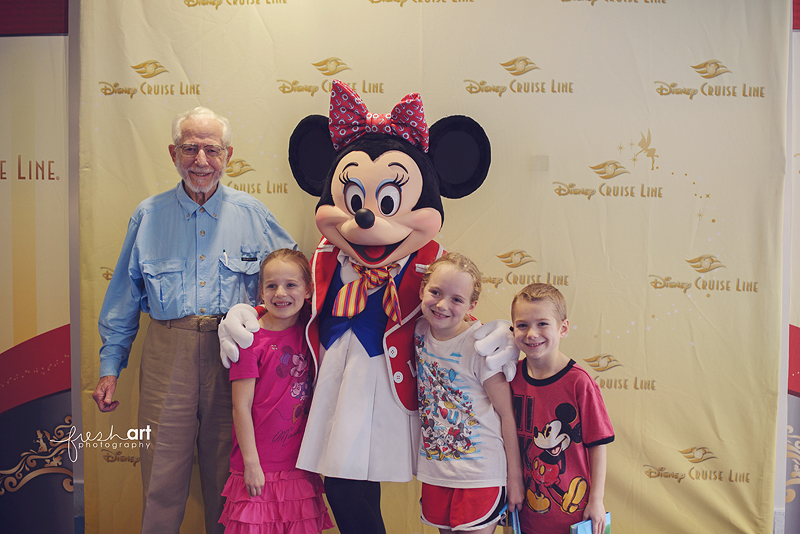 Even Grandpa got excited about Minnie!
Then we were finally called to board the boat! You got to walk down this glass hallway and finally SEE the ship.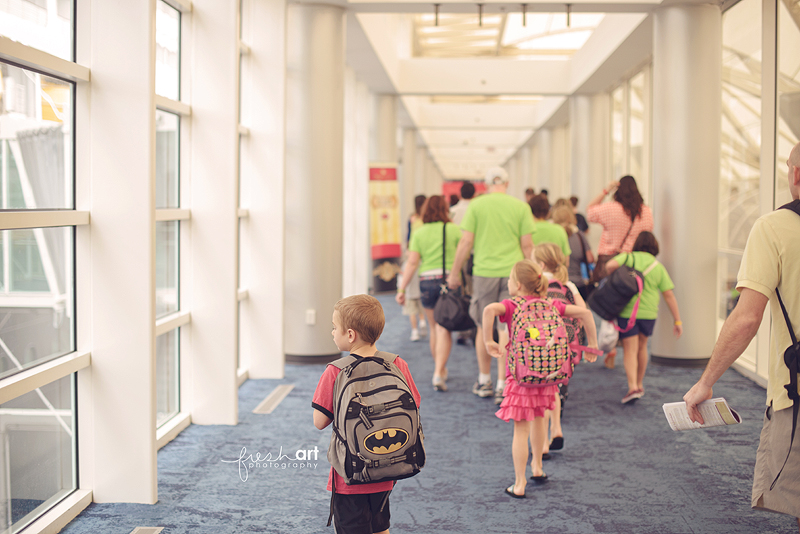 The first thing we tried to do was take a tour of the ship but got mixed up and ended up being there for the spanish speaking tour! HA! So instead we gave ourselves our own tour which landed us in the kid's area.
Let me just say that this was AMAZING. I can't remember what it's called but there were some of the friendliest young people there to watch your kids (for free!) anytime of the day or night and the area (about half the ship's length on one level – it was huge) was so amazing with places to climb, computers to play on, activities, etc. the kids never wanted to leave! As people were boarding the ship they had an open house of sorts so parents could bring their kids to check it out and it was love at first sight for our kids!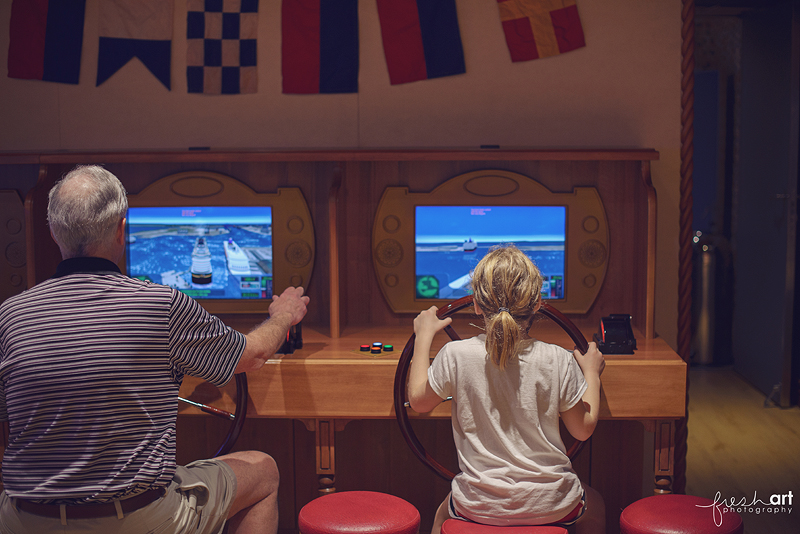 Bailey and Bubba playing a ship driving game.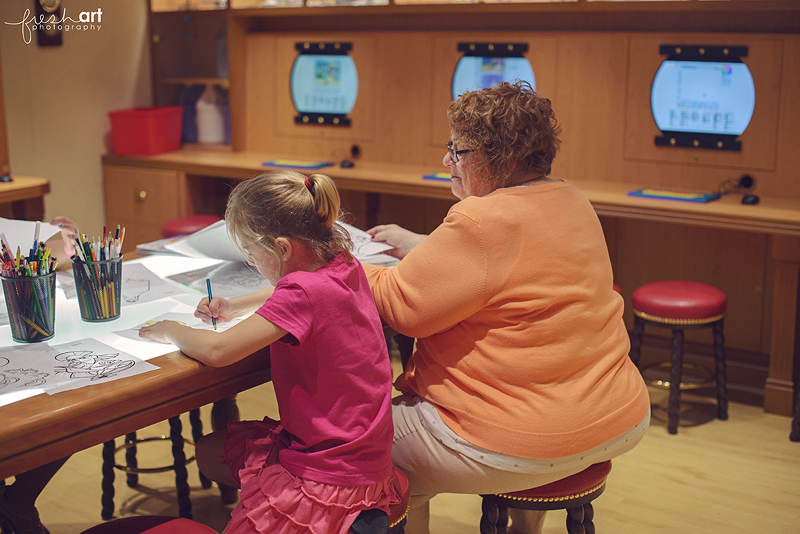 Parker and GoGo drawing Disney characters on their light board table. Seriously cool you guys! I don't have any other photos from this area b/c the other times the kids were there we LEFT THEM. It was great to leave them that first night for an hour so Chris and I could walk the ship and bit more and figure out where things were, and then the next afternoon we left them again so we could take relaxing showers and get ready for dinner in peace!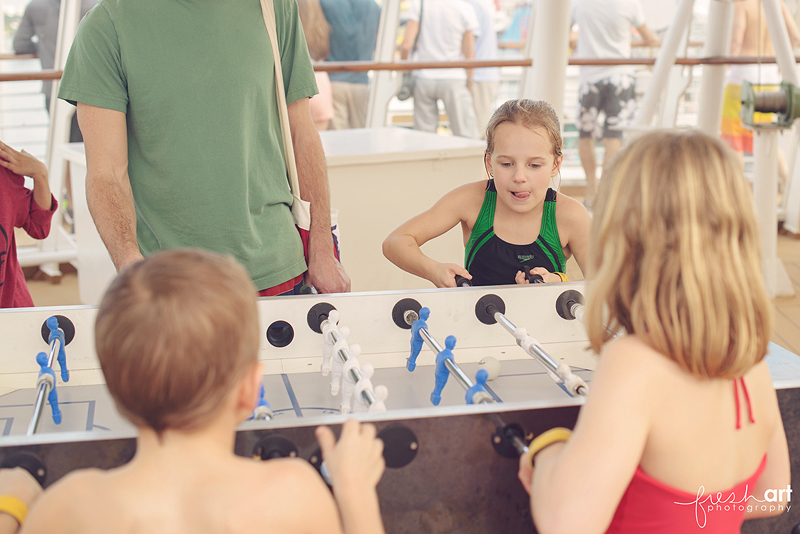 They had some fun games on one of the decks.
Leaving Miami.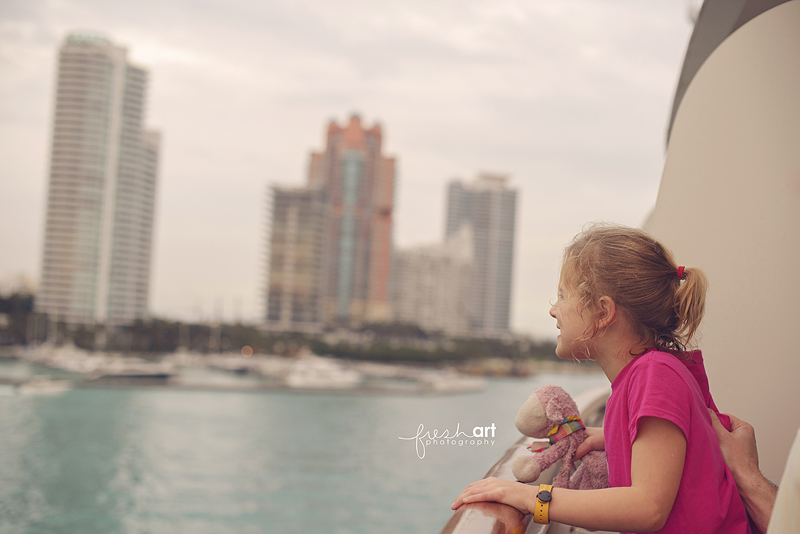 We were on a short three day cruise so we had no full days at sea. By the time we woke up the first morning we were docked at Nassau in the Bahamas.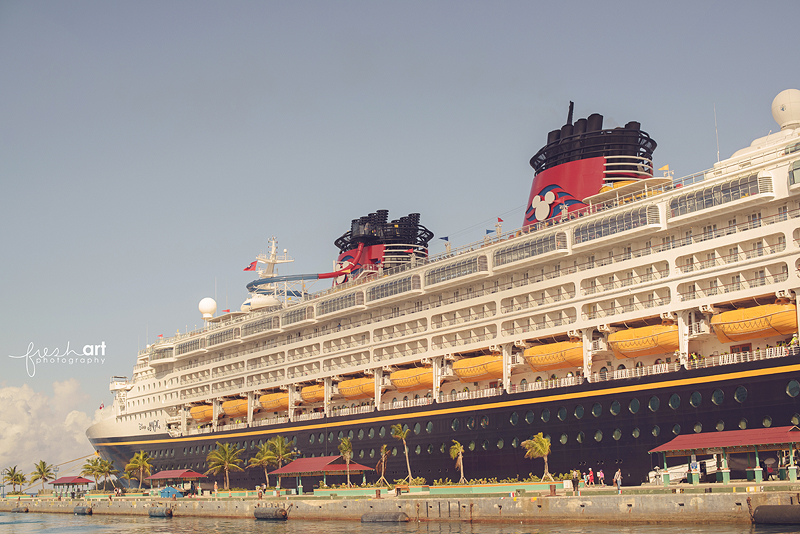 We did not pay for a port adventure in Nassau because we paid for one the following day (and port adventure can get seriously expensive… like $65-$200/person) but we naively thought we could just walk off the ship, walk around Nassau and hit a local beach.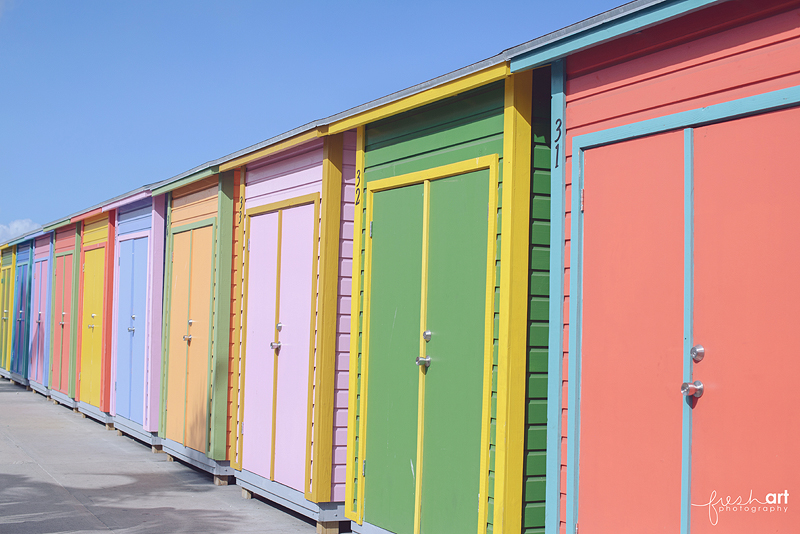 I have to say that this was our biggest mistake of the trip. We should have paid to go to Atlantis (a big resort on Nassau with a killer aquarium, beaches, etc.) or just stayed on the ship. The second you walked towards the entrance to Nassau you are bombarded by locals wanting to sell you things. There were several cruise ships in port that day, it was crazy crowded and really overwhelming. We had no idea what to do and were with C's parents, his Aunt and his grandparents so we were a fairly large group. We ended up taking a driving tour of the island which the adults liked but the kids got bored, hungry and car sick. Then we went to Atlantis but you can't get past the lobby without a pass so we went potty and waited for the driver to come back (this was the worst day for the kids b/c we really did expect things out of them that were hard – patience – when all they wanted to do was swim somewhere). The driver, who was really nice, took us to a public access beach and said he'd come back in an hour.
Finally the kids got to have fun and they LOVED it! It was SUPER crowded though (the most crowded beach I've ever seen actually) and because we came off a cruise ship we had no towels (we didn't think to grab the ones Disney offers you), chairs, food, etc. I paid $60 to rent 4 chair and 1 umbrella so the grandparents would have a place to sit out of the sun and we bought snacks (I think it was $5 for a bottle of soda!).
All in all – I think we should have stayed on the boat and let the kids swim in the pools that day. OR splurged on a port adventure!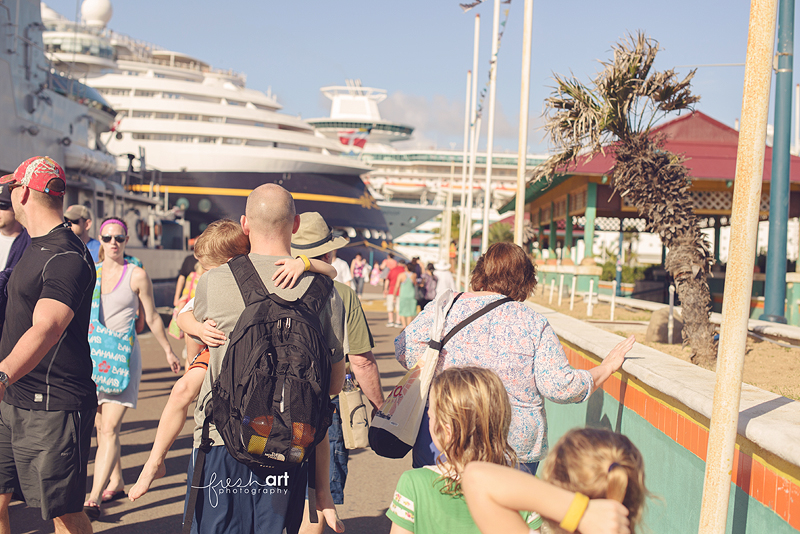 Walking back to the ship everyone was sandy and exhausted. Do you see all the people/ships? It was super busy that day but our driver said that tourism is a huge money maker for them so I guess it's good that it's busy.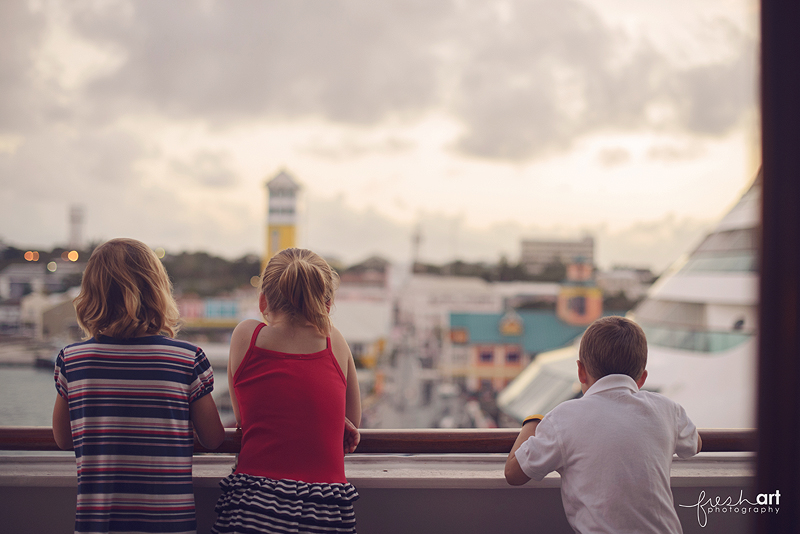 I don't have any photos of this but dinner was one of my favorite times of day! We got to see everyone (for the most part C's brothers and cousins did their own thing during the day and we hung with the grandparents as much as possible), hear about their days and well, the service was OUT OF THIS WORLD amazing. There were three main restaurants on the ship and all had different themes. We never had to dress up really fancy but we did always shower and put on a dress or something nicer than just summer shorts. The atmosphere was fun at all of the restaurants, everything was completely geared towards the kids and the BEST part was that your serving team followed you each night from restaurant to restaurant! So by the third night they had your favorite drink at the table for you, they knew everyone's names, they colored with the kids, they CUT OUR KID'S MEAT so we could sit and just enjoy dinner! We really grew to love our servers! They really were amazing. Actually, the service in general was so over the top good it's all Chris and I could talk about! I've heard Disney World and all of their theme parks are the same so it doesn't surprise me but we certainly weren't expecting it.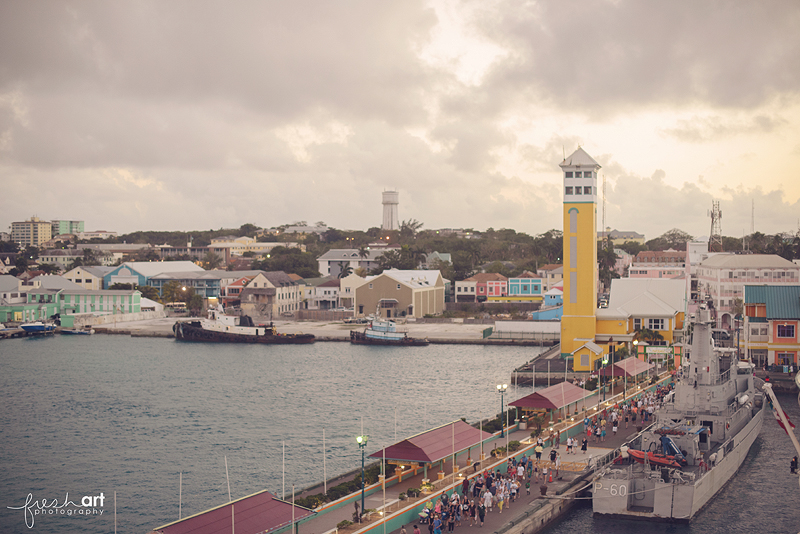 Leaving Nassau.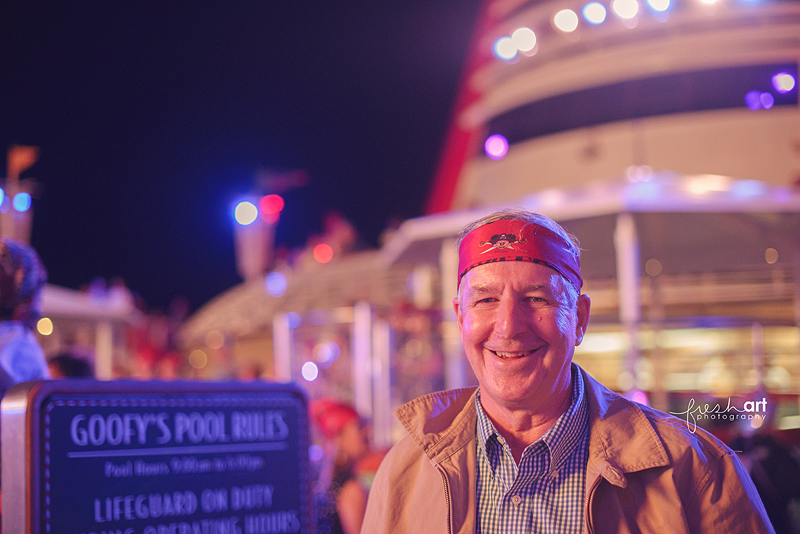 We got to spend New Year's Eve on board and WOW what a cool experience that was! They had a pirate party on the main deck with a huge dance party for the kids at 9pm. At dinner that night everyone got pirate bandanas and after the show GoGo bought the kids souvenirs and of course Gray choose a pirate sword!
At 10pm Mickey made his grand appearance via zipline and then they shot off fireworks!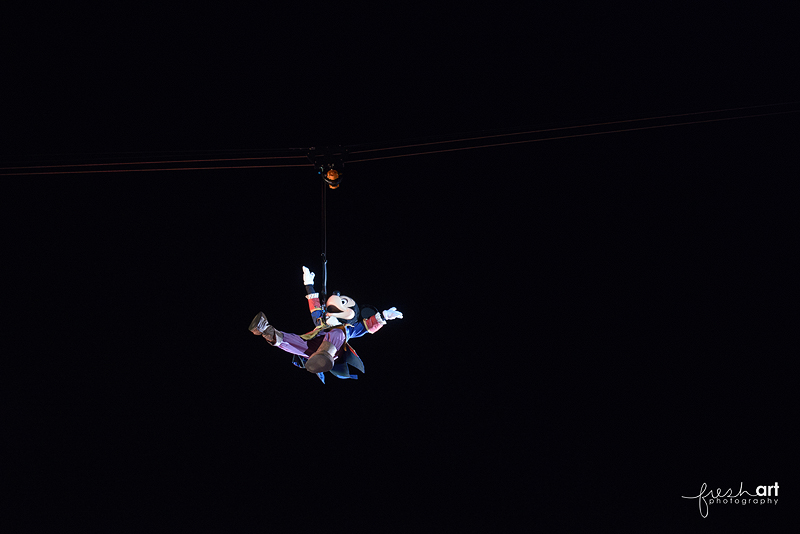 It was a really amazing way to ring in 2014!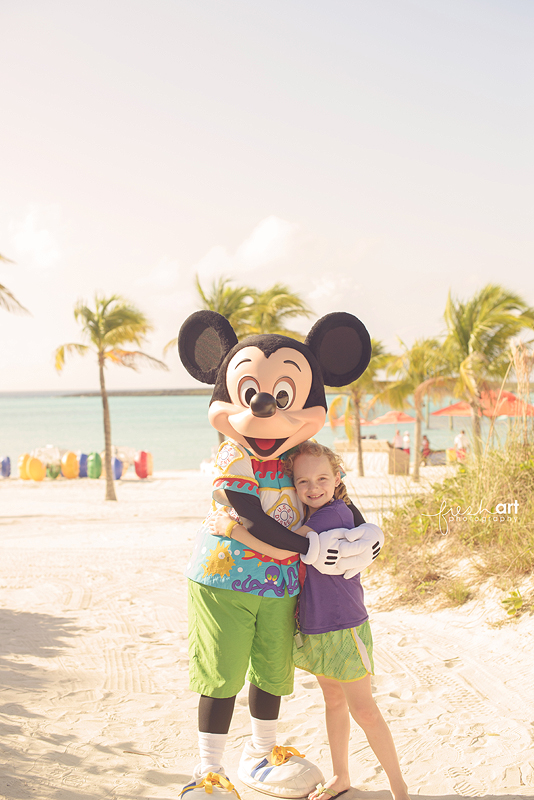 The last day we spent at Disney's island, Castaway Cay (pronounced Key). I could have spent a week there! It was gorgeous and because it's owned/run by Disney the service was again, spectacular. Disney just thinks of everything!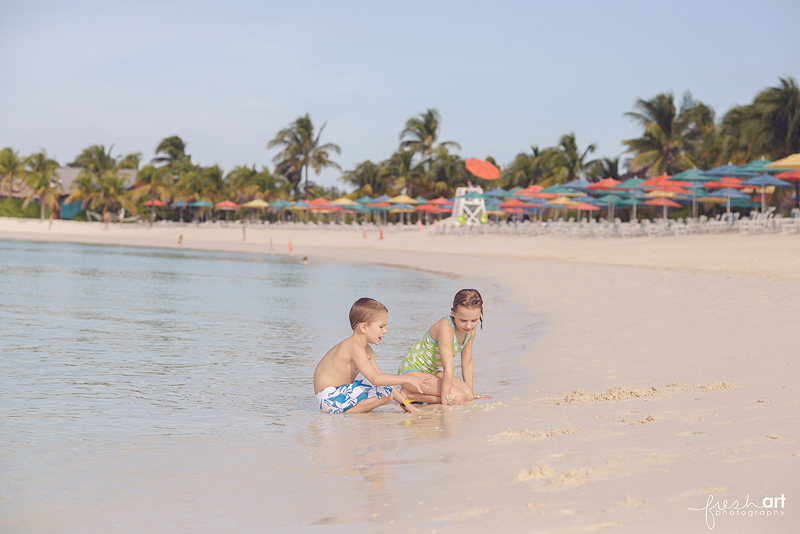 We might have been some of the first people off the boat so for a while we practically had the beach to ourselves! Of course there were other beaches to go to (even an adult only beach!) but we kind of made our home here and just spent all day long playing in the water!
They had the coolest playgrounds the kids could swim out to! The girls LOVED this! And under all of the lifeguard stands (they had several out in the water) you could snorkel underneath to find treasures! Again, they just think of everything and it's all so well put together you can't help but have the time of your life!
Bailey made a friend on the ship and we ended up at the same beach! So fun to have friends to play with!
We did pay for a port adventure on Castaway Cay – the stingray adventure! A bunch of us did the same package so we could all go together. The water was FREEZING and Parker and Gray were terrified of all the stingrays so they sat out most of the time but Bailey LOVED it!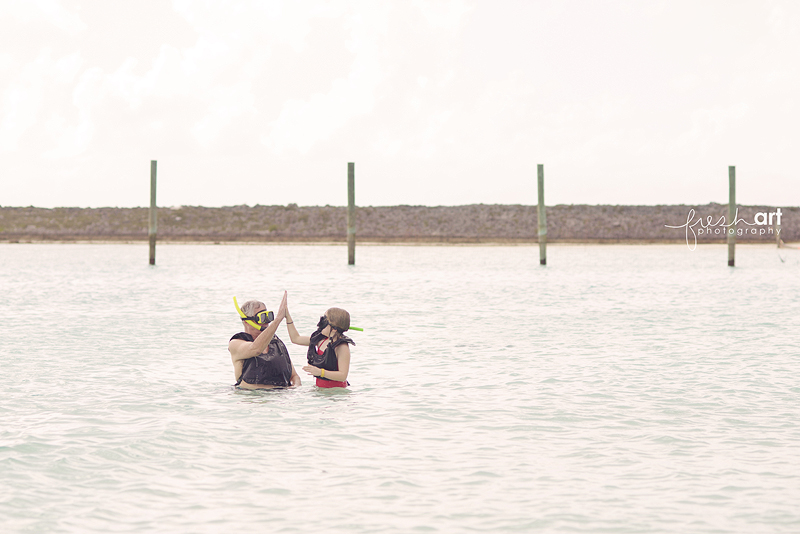 I don't have any photos b/c I was out there but first you had to feed the stingrays on this giant ramp they put in the water (totally freaked me out) and then you had an hour or so to swim/snorkel among them. Bailey stayed out the whole time with Bubba and Chris!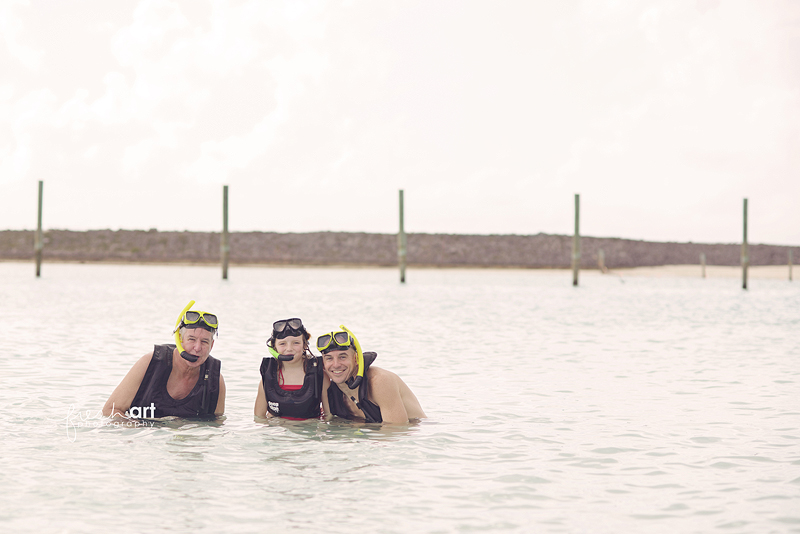 Below is Uncle John (who lives in Australia), Grandpa and Aunt Peggy (who luckily lives in Kirkwood!). It was really cool to see Grandpa on the eve of his 90th birthday, snorkeling! He's amazing!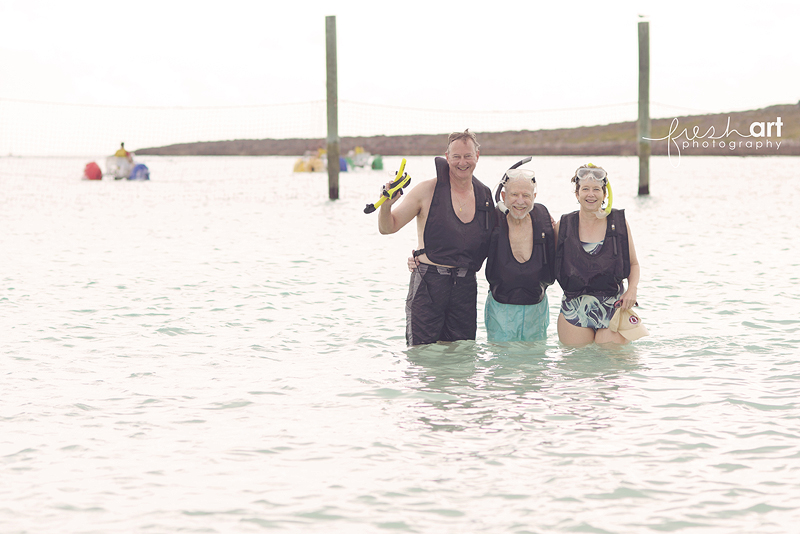 Grandpa got out of the water before some of the others and he let PJ and Gray bury his foot in the sand then he would wiggle it as if it was a monster rising up… they thought this was the funniest thing on the planet! I love that they have so many good memories with their Great Grandpa!
I had to post this shot because this was us a whole lot of the time – waiting! Herding 17 people around takes time and patience! Totally worth it though!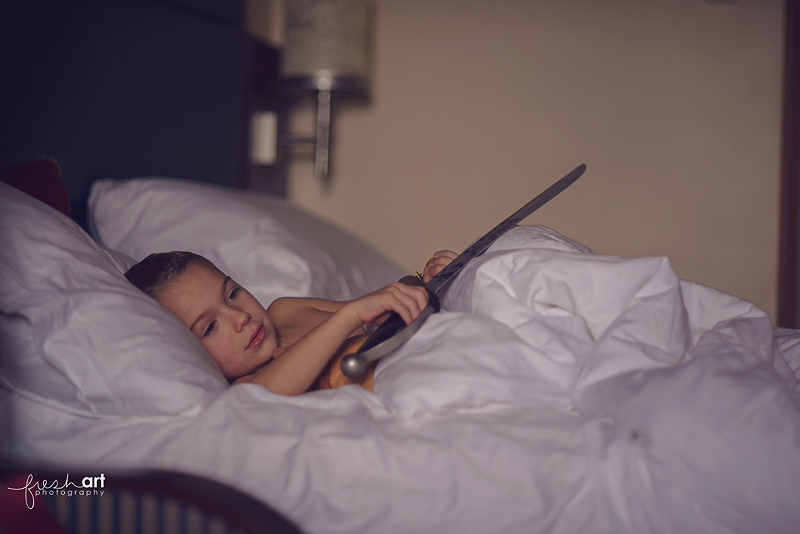 After a LONG day on the beach the kids were wiped out. Luckily the ship has lots of channels that only play Disney movies around the clock! SO while we all took showers they got to snuggle up and watch a movie!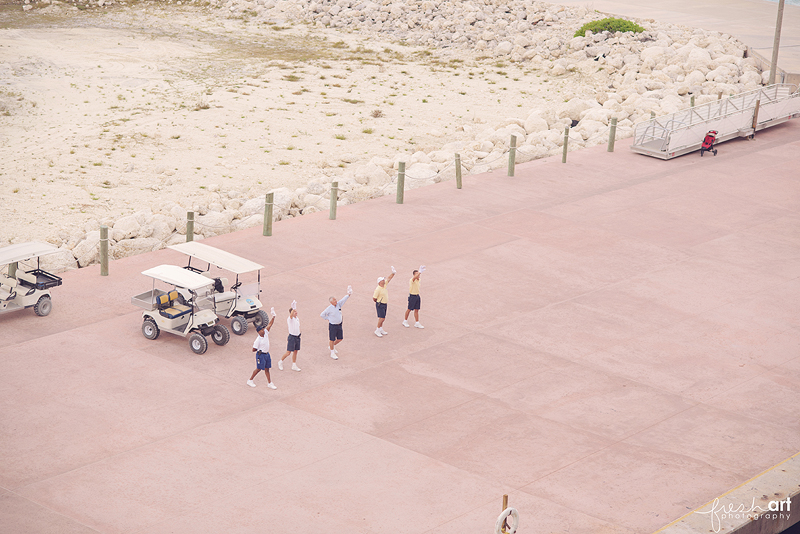 As we were leaving Castaway Cay these employees (there are a ton of people that actually live on the island and work every time a ship comes to port which is several times per week) had Mickey gloves on and waved until the ship was out at sea! It was really neat.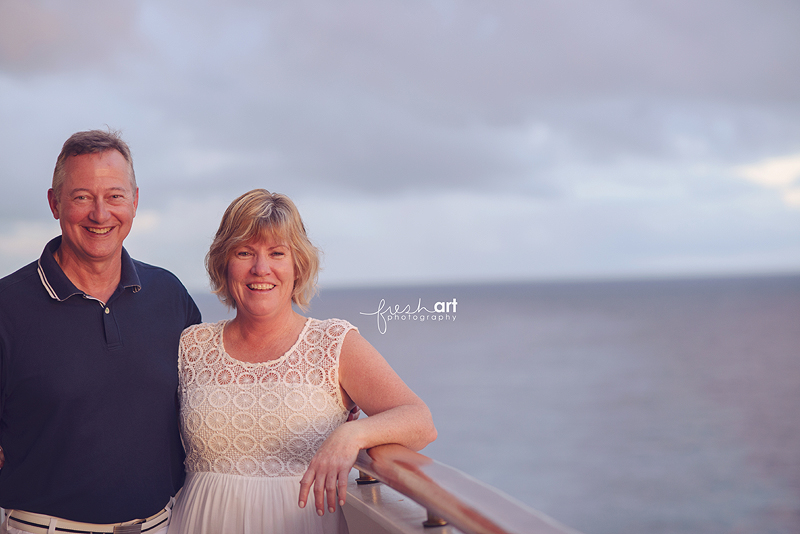 Uncle John and Aunt Julie!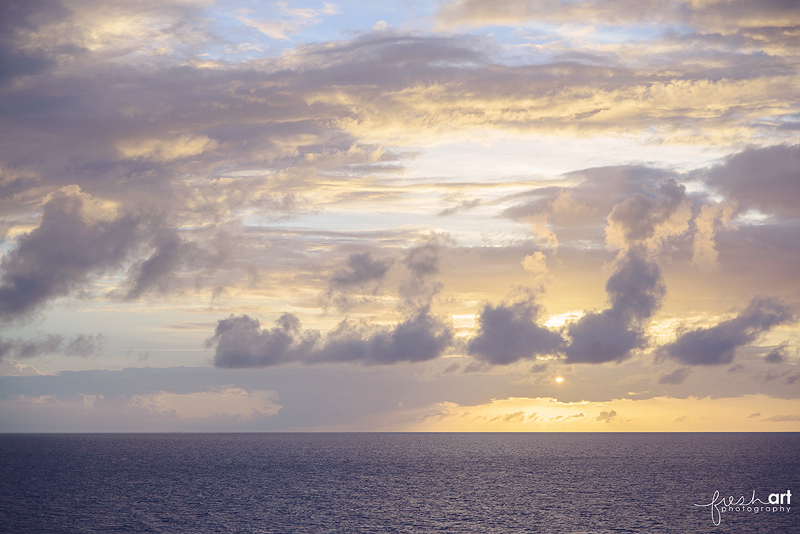 I've never been out in the middle of the ocean and the sunsets were incredible.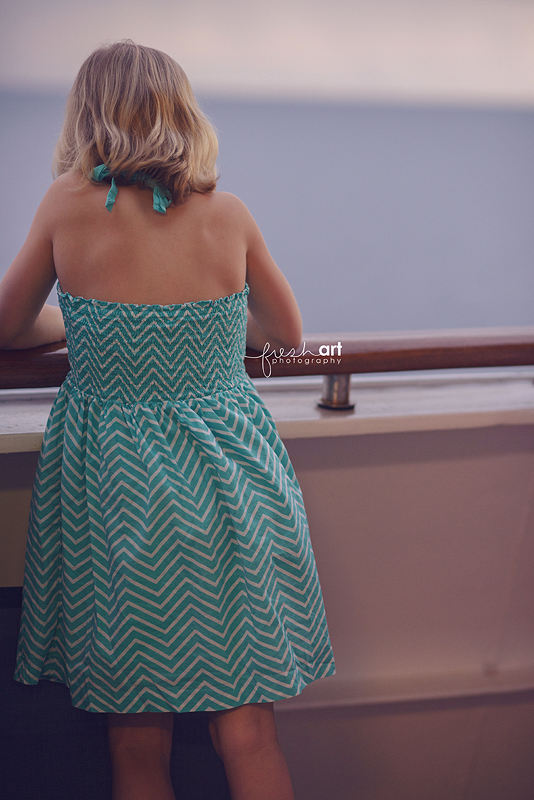 My sweet Parker.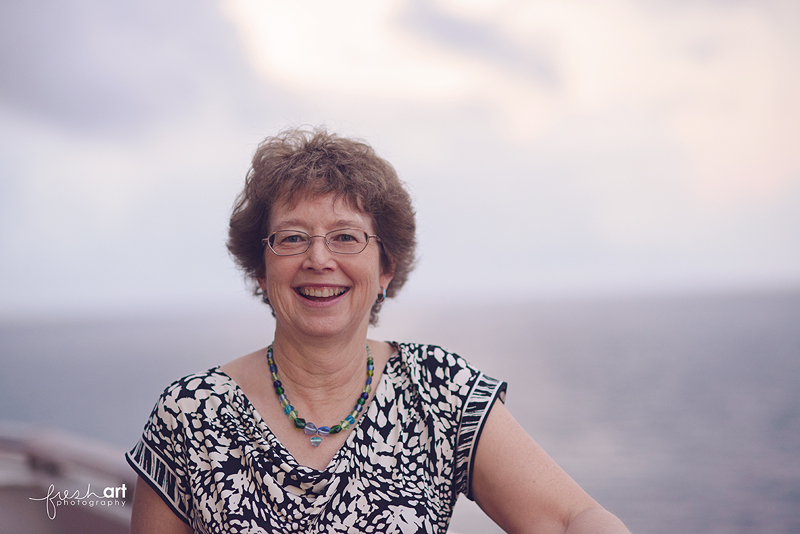 Aunt Peggy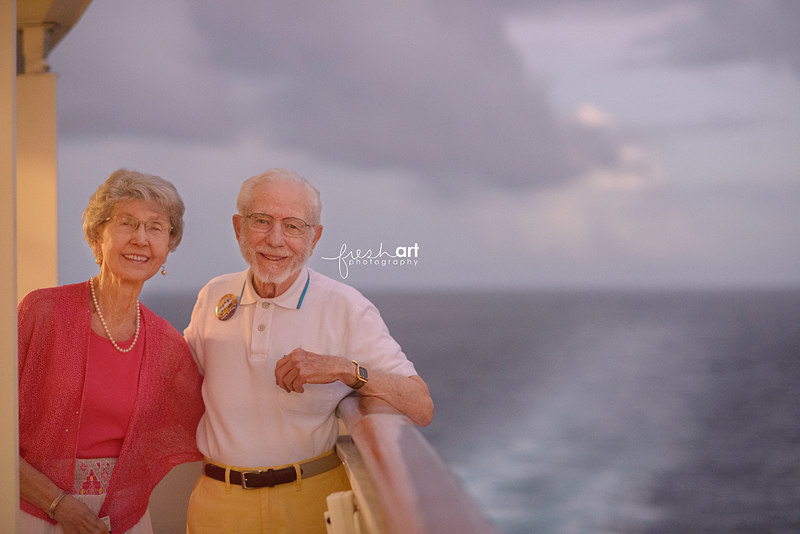 Grandpa and Mary!
At our last dinner they surprised Grandpa with a birthday cake! We could all only hope we could spend our 90th birthday like this!
The only other thing I will say is that the shows on board each night were so amazing. On the last night the play was all about Peter Pan and Tinkerbell teaching a little girl how to find her own magic so she could fly. The show had all the big name characters and agin (I could say this a million times), Disney just knows how to create magic! When Ariel came on the entire theater filled with bubbles! When Bell and the Beast danced in the snow it SNOWED in the theater (I think it was some kind of foam but totally looked like snow)! Then at the end when the girl had all the magic she could muster TInkerbell had to give her a little fairy dust to finally let her fly and you guys, when she waved her fairy wand to sprinkle the fairy dust a MILLION tiny pin dots of light spread out through the theater. The walls, the ceiling, the support poles, etc. all had little tiny dots of light. I had goosebumps and Chris leaned over to say, "Oh my gosh it's SO magical!" HA! We all were swept up in it!
The show the night before was all about villains and the kids (and us too) thought it was hysterical! I could go on and on about all the tiny magical details.
If you are heading out on a cruise, thinking about one or have any other questions just leave it in the comments and I will do my best to answer them!
A big huge THANK YOU to Grandpa and Mary for the trip of a lifetime! This is something we will never forget and we feel SO incredibly blessed to have been given such an amazing gift.