Yesterday I got you guys all caught up with the last 6 weeks of my life and today I am excited to share more details about the Speaker Series (read all the way to the bottom where I announce the May and June speakers!)!
I created a survey and sent it out to photographers or anyone that wanted to answer it really. It asked questions like…
Who are the best wedding photographers in St. Louis?
Who are the best newborn photographers in St. Louis?
Who rocks social media?
Who truly understands their brand?
Who would you drop everything to hear talk?
And so on…
I don't know or follow every local photographer here but a lot of the answers weren't surprising to me. Certain photographers quickly rose to the top as favorites and I had my lists.
I started Fresh Art Photography with Kim Weiss in 2009 after being in business for about 2 years prior to that on my own. In that time I have learned the most and gotten the best ideas on how to grow my business just from talking to other photographers. I don't think anyone has it all together. I really don't. It's why I've never wanted to teach a workshop. There are things I might do well but there are a huge list of things I don't do great also. I'm still learning, experimenting and growing so who am I to tell a new photographer how they should do it all? I love having friends in the industry. Locally and from all over the country. I love being able to hear how multiple photographers run their in-person sales meetings so I can take ALL of those ideas and come up with what will work best for me (or Amy really since I don't do the ordering! HA!). Pricing is a big one that I think EVERY SINGLE PHOTOGRAPHER second guesses on a near-daily basis. Having lots of ideas tossed at you about pricing will help you see that there isn't just one magic formula as it helps guide you to price yourself where you are most comfortable.
Does this all make sense?
I want the Speaker Series to be a group of photographers coming together to talk about their businesses. The panel will be the "experts" but really they are there to learn too. Attendees can ask as many questions as they'd like to fill the 2 hours but I am hoping that discussions also start. And then those discussions can continue over delicious food and drinks during the 1 hour social time at the end.
This is NOT about shooting. Or editing.
If you want to learn how someone edits then you really might be better suited for a workshop where that photographer is teaching you ALL their secrets. My friend, Emily Lucarz, teaches some amazing workshops that might be great for you if you are a portrait photographer. She not only shows you how she shoots and teaches you how she edits but she also gives you her actions! That's amazing and worth every penny.
The Speaker Series is about being able to pick the brains of some of the best in our area about your burning business questions. Pricing, workflow, client relations, selling (in-person vs. online), marketing, social media, etc.
It's going to be AMAZING and our first one is filled with 4 super talented wedding professionals!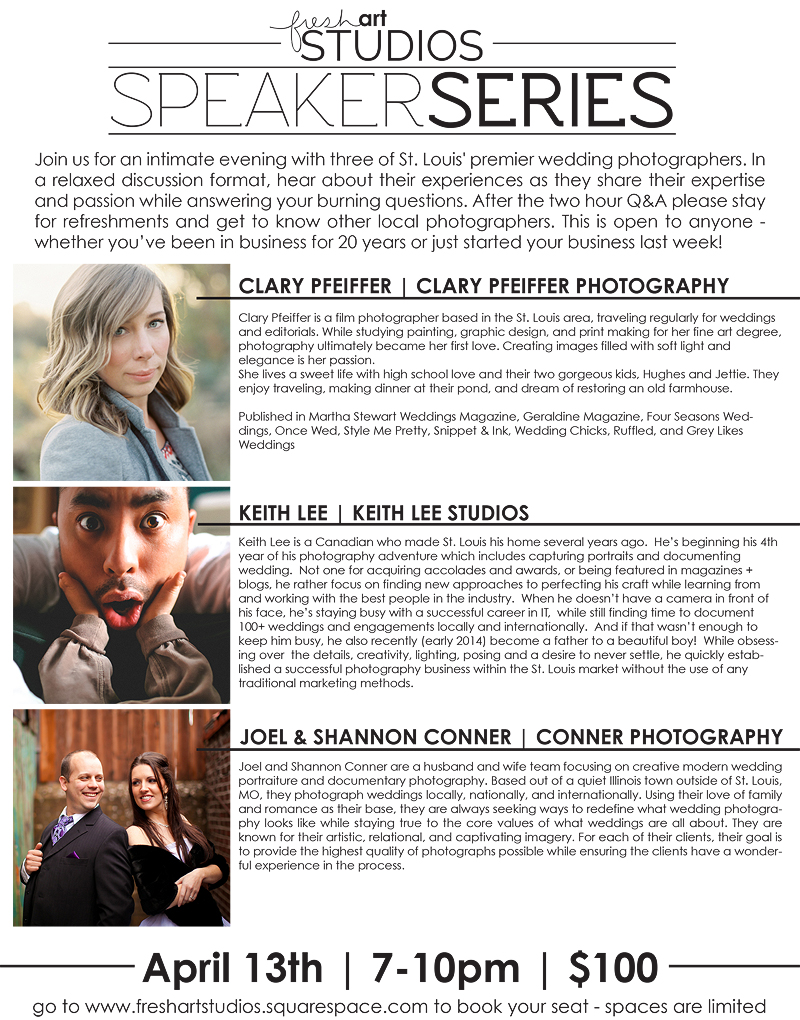 I don't shoot weddings but I am THRILLED to be able to learn from those three! I've been a huge fan of theirs for years and even though our businesses are different I think there is a ton I can learn from them. Clary from Clary Pfeiffer Photography shoots film and her look is so dreamy – I'd love to hear all about what she thinks of film after years of shooting digital! Keith Lee from Keith Lee Studios has a unique perspective because he has another job and runs his photography business on the side which is where a lot of other professionals are so he has a lot to teach. Not to mention his use of light is stunning to say the least. So is Joel and Shannon's actually – LOVE their style too! They are a husband and wife team that own and run Conner Photography so their unique perspective is that they're working together and it's their sole income. All four of them come from such different places and have such a unique take on this career I'm really excited to see how differently they all answer the same questions! SO MUCH TO LEARN YOU GUYS!
And are you ready for a sneak peek into the May and June series???
May will be ALL ABOUT SENIOR PHOTOGRAPHY! We have my dear friend Laurie Nowling from Bliss Eleven Studios coming along with two other talented ladies – Emily Dobson from Emily Dobson Photography and Karin Doolin from Ten Sixteen Photography! SO excited for this one!
And then in June we are talking ALL THINGS NEWBORNS with Emily Lucarz from Emily Lucarz Photography, Stephanie Cotta from Stephanie Cotta Photography and me (and hopefully KIM!!!) from Fresh Art Photography! I'm trying to convince Kim to come too! HA!
I will share July+ later this spring but just know that the talent around here is amazing and the topics are going to all be amazing!
PLEASE consider sharing this with anyone you think might be interested in coming!
Tomorrow I promise it will be a sweet baby's sneak peek and less me yammering on! HA! Happy Thursday friends and a big shout out of PURPLE Epilepsy support to two little girls (past clients and an old friend's daughters), KJ and Phoebe who are amazing and inspirational to all they know!