Someone pointed out that only one team, in any sport, can finish the year with a win and the rest finish with a heart breaking loss. It's so so true. The Webster girls have had the most amazing season ever! They beat teams they've never beat before, they set goals and broke records. As a person who is not a soccer expert and as one who can't make it to every game and as one that is mostly busy refereeing kids on the sidelines, in my humble opinion I think this was the best season ever. Their stats match my assumption but it's so much more than that. They just had some magical moments and unbelievable games!
I am really sad that the season ended tonight in a 4-0 loss to St. Joseph's but I am so incredibly proud of them all. The players and the coaches. They left their hearts on every field they played on and no one can ask for more than that.
Chris is obviously sad there isn't practice tomorrow to prepare for the next big game but I think he's excited to take off Gray's training wheels and go to the park together as a family. It's been a while since we've had time like that. Of course he also said that next year's spring season starts tomorrow and they have lots to work on! HA! It really never ends around here!
I didn't take many photos tonight but I want to share the few I did…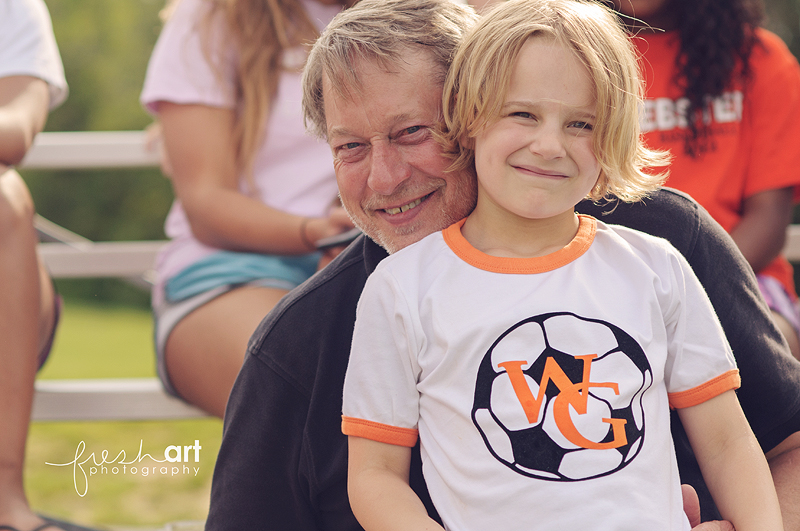 We had SO many fans there tonight! I really love the group of people that come out to support our team! Of course there are the parents and family members of the players but I think the group that comes because of the coaches is the biggest bunch! Chris and Kevin have parents, grandparents, aunts, uncles, friends, neighbors, you name it! It's so awesome to have such a big group cheering on those incredible girls! My dad was able to come to both games this week!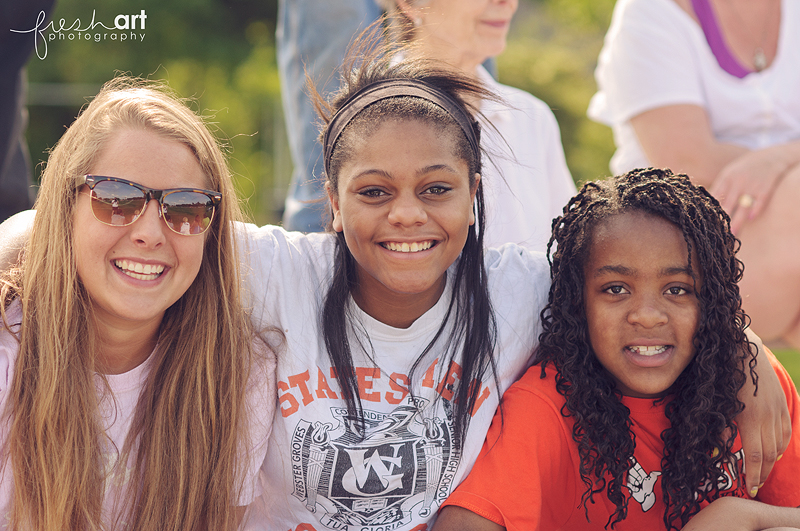 Lots of alumni come too which is so so great! Hi Chelsea! And you should see the student section! I didn't take a photo tonight but I bet there were over 30 kids there cheering on their friends! Maybe even more than that!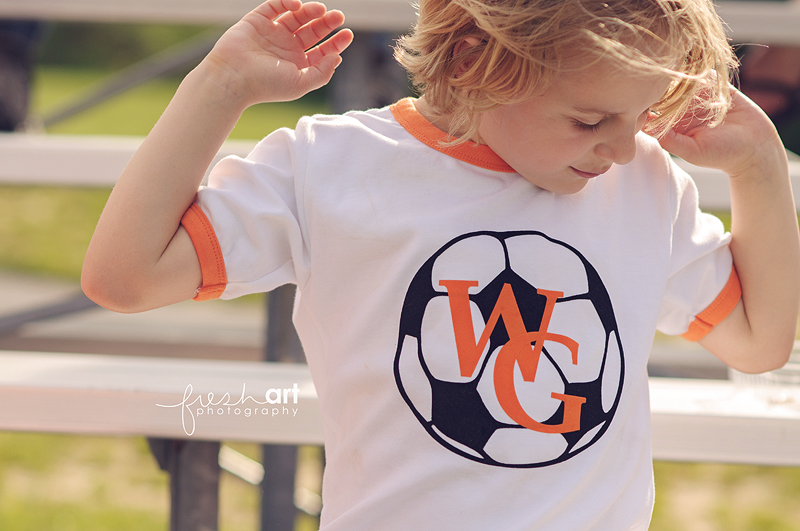 Curious about PJ's super cute shirt? Ellen from Sweet Petunia sent them over and my kids are in LOVE! So was everyone at the field!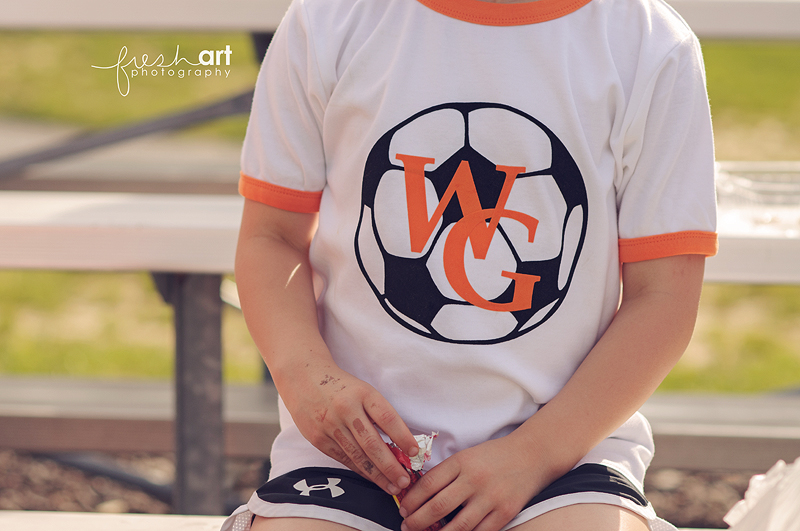 I wanted to try to get a cute shot of the shirts for Ellen but MAN are my kids hard to wrangle on the soccer field! Starburst and hand tattoos and all! The candy was the only reason Parker slowed down enough to sit there for a minute!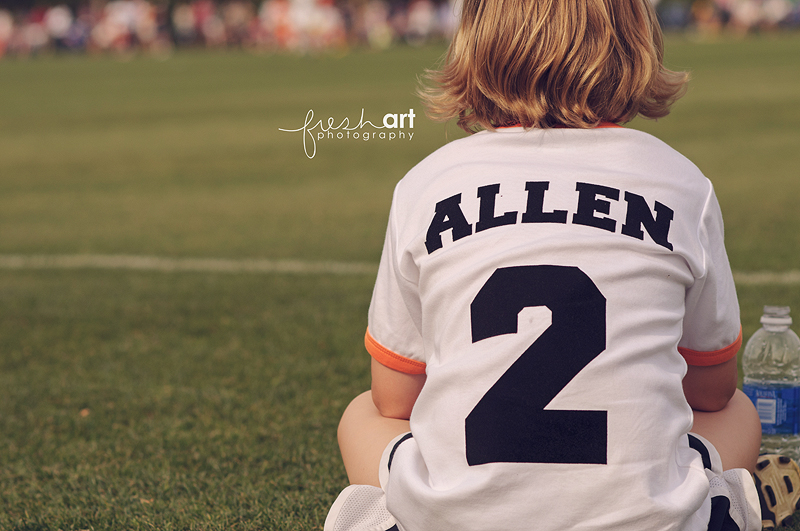 The back of the shirts have our last name and the birth order of the kids! SO sweet! If you are fans of a team she can make custom shirts for just about anything I think!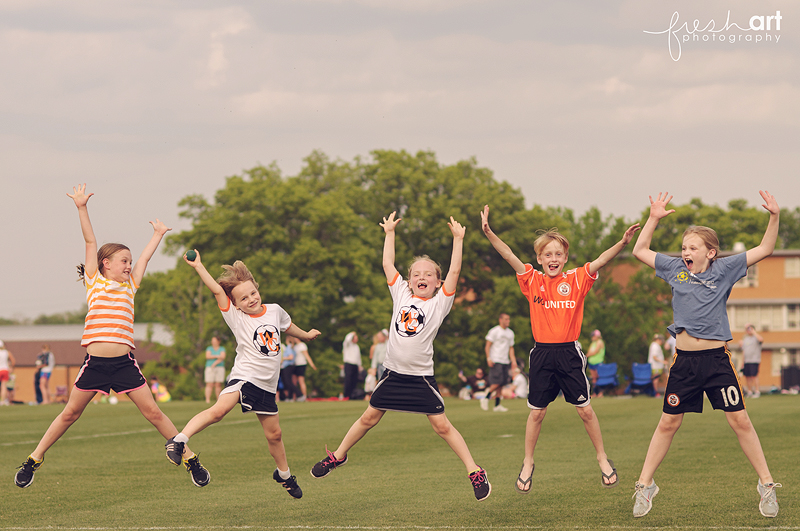 Emmy, Parker, Bailey, Riley and Kate! Love these kids!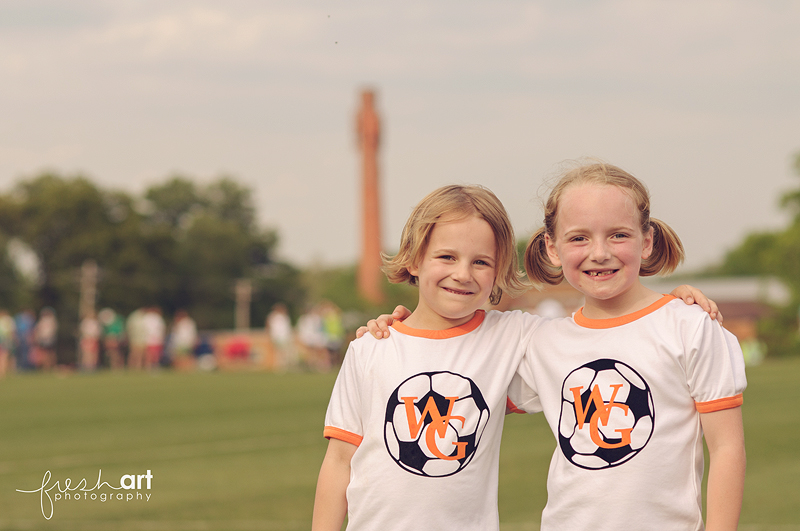 Oh man I love my girls!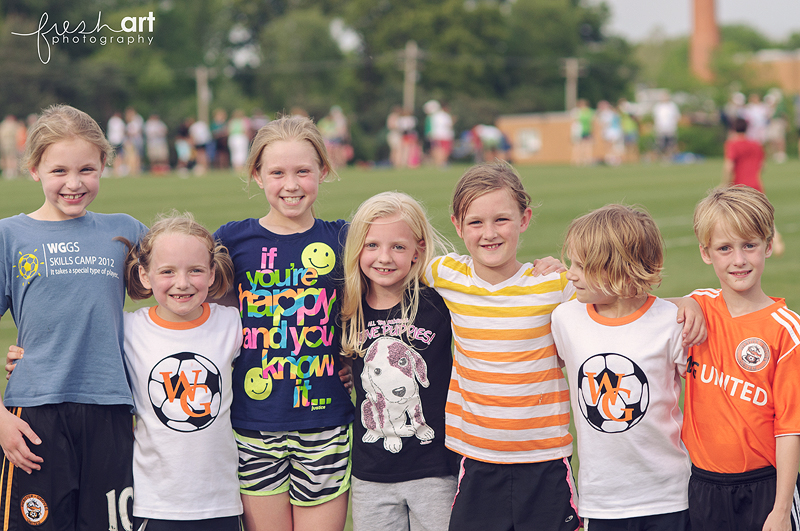 Even more kids we love! All of these girls (except Parker) are in second grade and play on Bailey's club soccer team (Webster United)… it's so cool to know that in the not-too-distant future we'll be watching these kids play in the big district game! I wish I could slow down time sometimes! And yes, Bailey is one of the shortest kids around! HA!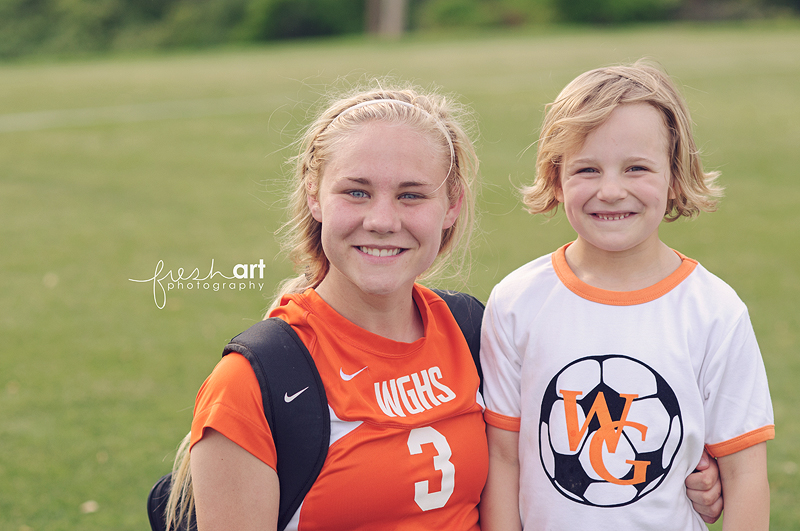 My kiddos really wanted a photo with the entire team but after the game I figured no one would want a team photo so I said they could each chose just one player and we would ask them individually. It was interesting to me who they chose because they know so many of them from having them babysit, they have favorites they like to watch on the field, there are ones that they like so much I think they're intimidated (like you would be with a celebrity) and truly they love all the girls! Parker chose Maddie Pokorny because I think they bonded a bit last weekend when Chris took the kids to practice. Parker has been talking NON-STOP about Maddie since Saturday and was SO excited that she agreed to a photo! Thanks Maddie!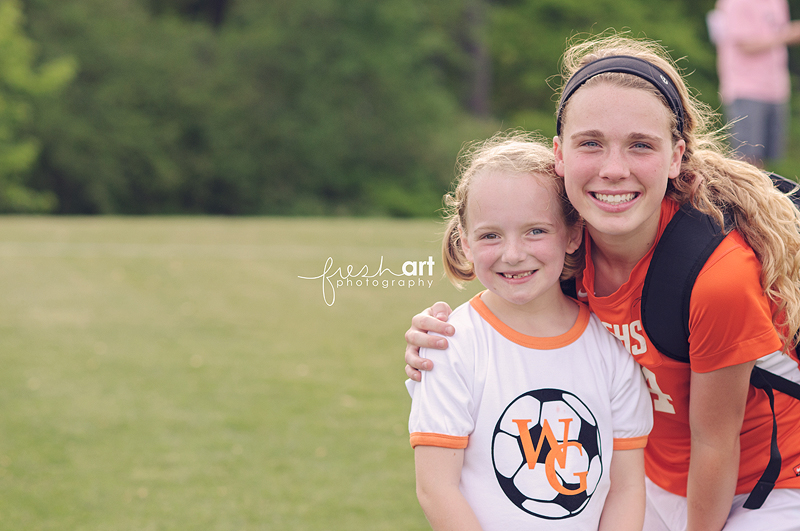 Bailey chose Emma Lieb which kind of surprised me because she's a freshman and I don't know her all that well. When I asked Bails why she chose her she said that she loves watching "one of the youngest girls play varsity" and I love that she is already understanding that it's a big deal to make varsity as a freshman! I also thought it was neat that Bails chose her because she is in awe of her talent and not because she knows her super well… that's not like Bailey who is pretty content to stay in her box usually. Thanks Emma… we can't wait to see what you have for us next year!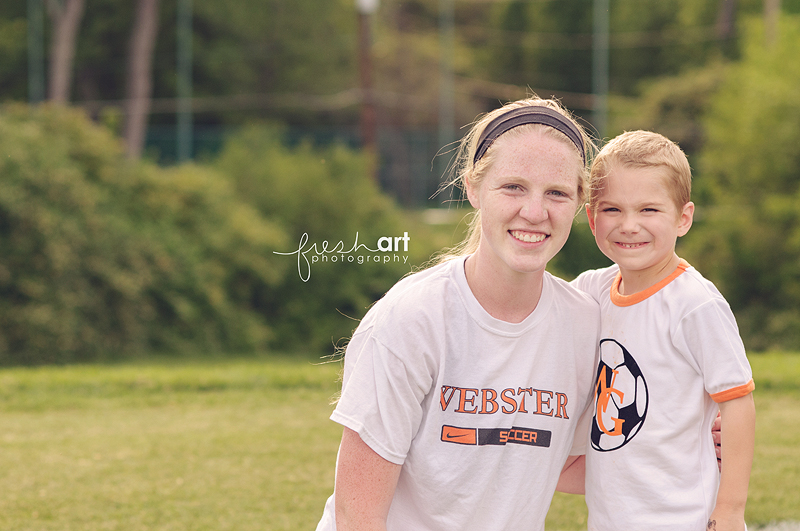 Grayson, in the most unsurprising move of the day chose Maddi Beck! He has had a crush on her for three years and now she's graduating! He is SO sad but I'm not sure he completely understands and I'm guessing it will finally hit home when she's not on the field next year. He just adores her and she is one of our favorite babysitters too! Thanks Maddi!
My kids love ALL the players and each game they get to go to they talk about a different kid so if this had been a week ago they probably would have chosen someone else (I say this because I certainly don't want ANY feelings getting hurt and I want to make sure the other players know that kids ages 4, 6 and 7 are random and fickle!)… except Gray… he will always choose MaddiBeck (he says her name as one word!)!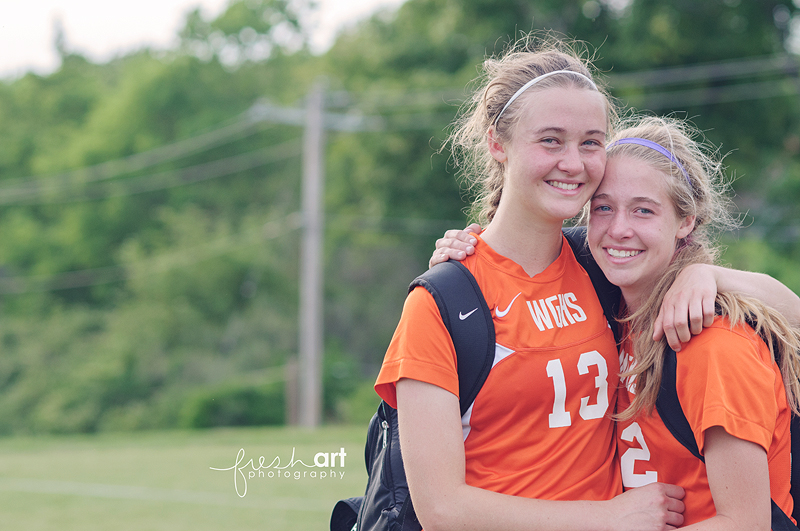 Even though this makes me really sad I just had to include it. Morgan and Cami are sisters and this was Morgan's last game as she's one of the other seniors we're SO sad to see graduate! Even though they were crying they let me take this shot and I bet someday they will be glad I did. They are two kids we hope our girls can grow up to be like someday. These two just love each other so much and you can tell on and off the field how strong their bond is. So far Bailey and Parker love each other just as much and I hope it continues because this could be my girls someday! Parker saying goodbye to Bailey on her last game as a high school player! UGH! Time, slow down!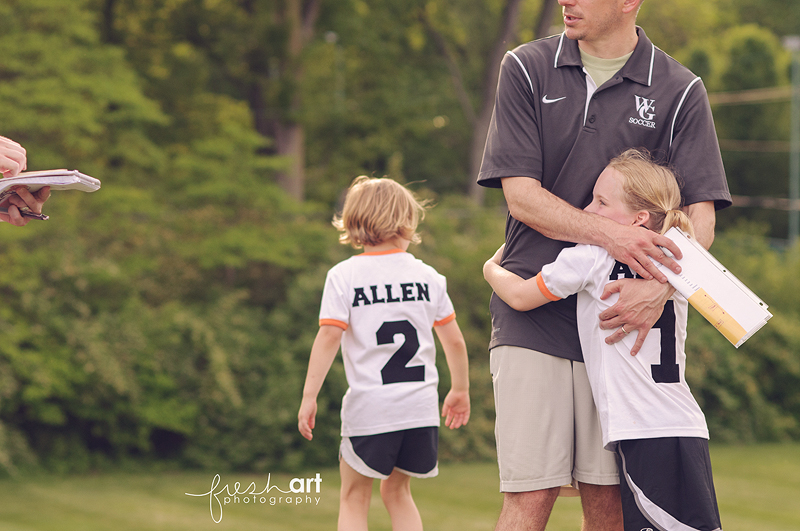 After their final talk with the girls my kids ran up to their Daddy to give him hugs. I love that you can see the reporter's hands as he interviews Chris and takes notes!
Oh man. The end of the season is always hard and I just hope that the girls all wake up tomorrow with this last game behind them and all of their accolades at the forefront of their minds! They deserve to wake up proud tomorrow and I truly hope they do!