The contest is almost over so I don't feel too bad bumping this post on top of it! We'll announce the winners tomorrow but it looks to be a tight race between Brooke and Gretchen! Way to go Shalyn and Maggie… how did you beg for the votes? HA!
————————
Watch THIS. It's hilarious!
————————
How was your December 1st? My good friend Lyndsay had the wettest and most sucktastic day ever. Read about it HERE!
———————–
My December 1st brought a STILL home sick husband, hours and HOURS in front of this computer, kid-guilt as they were at my mom's for day two, me finally figuring out how to make the garland on our stairs magical and an overwhelming feeling that I'm going to miss this holiday season like I did last year.
So my goal tomorrow is to walk away from the computer a bit, have lots of floor time with Gray while the girls are at school, cook a good+healthy dinner and get some laundry done.
——————-
December 1st started out in a fun way with the opening of our first Advent house door! The girls were SO excited as they've been waiting patiently since Friday when I decorated to open the first door! To start off Advent with a bang I put in a little slip of paper with a train drawn on it. Which started their scavenger hunt all over the house to where on the back porch they found their big Advent gift… a new wooden toy manger set. It is ADORABLE. I'll take photos at some point.
I'm afraid tomorrow they'll be disappointed when all they find in the house is a candy cane or some random dollar store toys I could find to cram into the smallest of small places!
———————-
We've all sat on Santa's lap… but have you ever peed with Santa?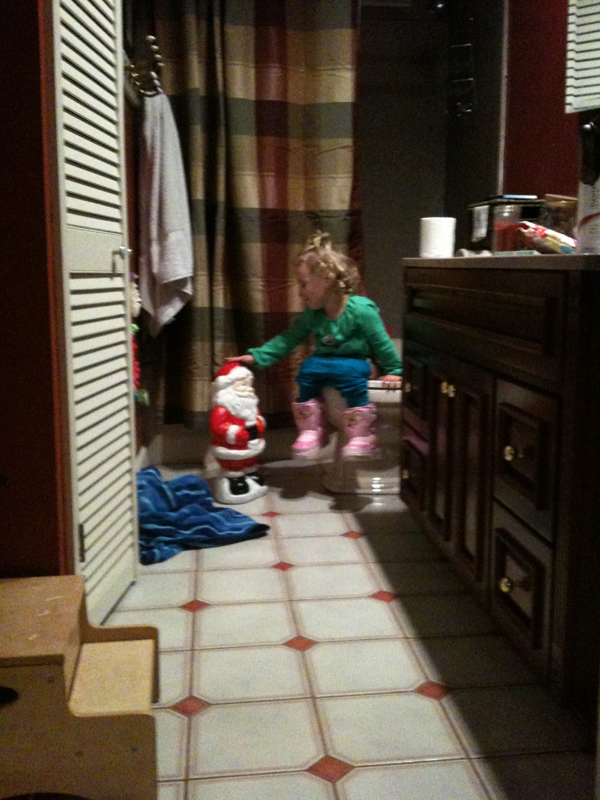 Me neither.
But Parker has! HA!
(taken with my iPhone)
———————
What is with all the shows going to reruns? Don't they know I have hours of work to do late at night and need my DVRed shows? UGH!
———————
Is anyone interested in a mini session this weekend? We're opening up a few spots and will GUARANTEE Christmas delivery on most items!!! Shoot me an email if you're interested!
——————–
That's all I got! Check back for the winner in the am!