TODAY Tomorrow (posting this a day early so we can break up the posts! Thank goodness I'm not turning 50!) IS MY 32nd BIRTHDAY and to honor ME we're hosting 32 AWESOME giveaways! A little way to give back to all of our awesome blog readers! To WIN all you need to do is leave a comment on this post AND go "like" the vendors on FB! (Visiting their blog/website would be awesome too to let them know you appreciate them!) Doesn't matter what you say BUT something fun would be great, you know, since it's my BIRTHDAY and all! We will choose the winners for ALL 32 giveaways on Friday!

Amanda from Apple Blue Handmade + Vintage is donating an awesome lined+zippered pouch!
Look at how cute this is!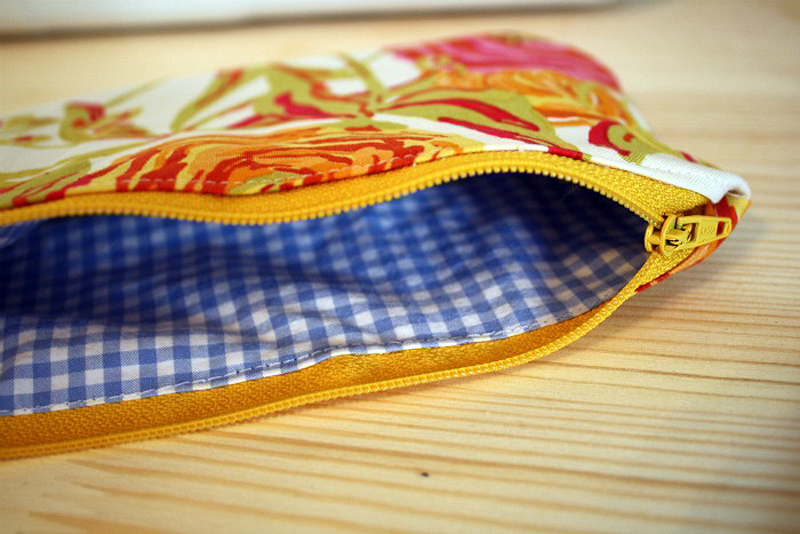 AND you get to chose the interior and exterior fabric! How cool is that? CUSTOM!
Thanks Amanda!

Kari from Livi Belle Bowtique is giving away one super cute headband!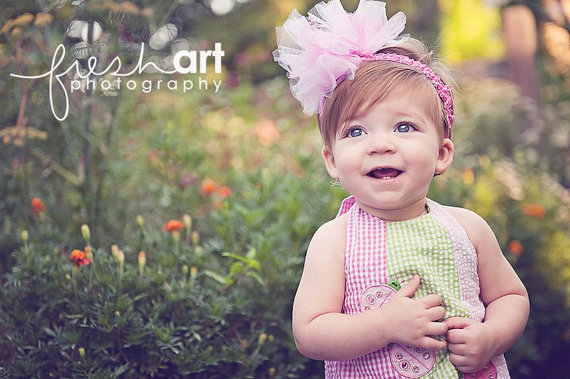 Yep! We photographed her daughter wearing one of her cute headbands! And Kari is letting you pick which ever headband you'd like! How cool is that? Thanks Kari!

Next up is April who runs HANDS DOWN the sweetest antique shop just outside of Cuba, MO! When Chris and I went out of town for our anniversary about a month ago we stumbled upon them and well, I just died. I even made her and her mom pose for a quick photo because meeting them was one of the highlights of our trip! Her blog, Farmhouse Kitchen Lab is awesome too! Today she's giving away her handmade soap!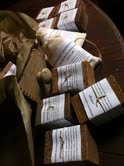 SO great! Thanks so much April!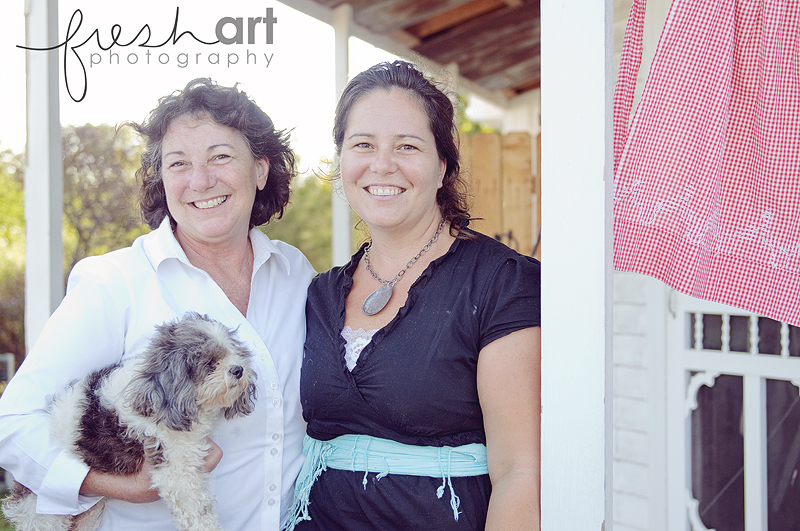 Don't they look like women you'd want to hang out with? We drove away that day and I told Chris that April and I were meant to be best friends! HA! Thanks ladies!

Amy from Happy Gnome Headbands is giving something awesome away today for all of your photographers! Here are her own words:  I am willing to give one free five in one headband set including shipping.  This set is awesome because you only have to put the headband on once and then you just change out the colors depending on what you need.  No more waking up babies with snapping elastic!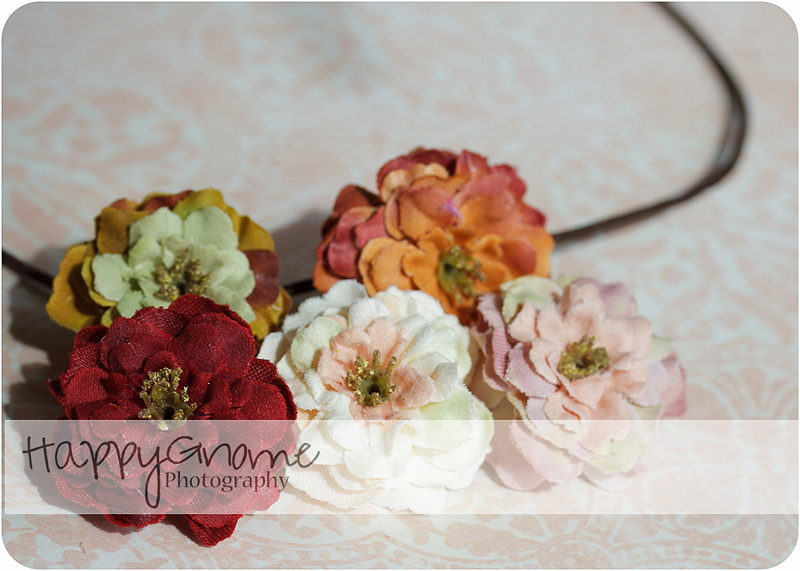 You guys! I am the WORST at snapping babies heads! You should ask Kim! HA! This looks like an awesome product! Thanks so so much Amy! Find her on FB too!

Our AWESOME client, Suzanne, is being SO kind and donating her beautiful painting! There are two pictured below and you get to 1. pick which one you'd like and 2. (in her own words) The current paint layer is drying now, but there will be another layer of a larger flower, monogram, or block print wording on the lower left-winners choice for "commissioned" art!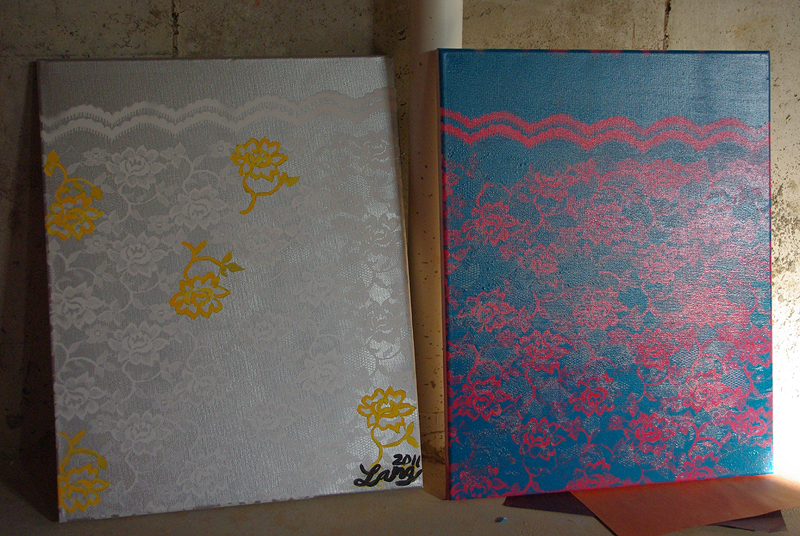 Suzanne, this was so sweet and these painting are beautiful! Thank you so much!

Calling all birth photographers!

My AWESOME friend, Lyndsay Stradtner, is giving away a free listing on her website, Birthphotographers.com! You know it's cool because we're on there! HA! This is a GREAT gift for any birth photographer but especially one just getting their business started!
Thanks Lynds! You rock!

You guys ALL know how much we love Sweet Petunia Clothing right? I mean, if you don't, you can look HERE and HERE and HERE to start! HA! Anyway, look at the adorable outfit Ellen is giving away today!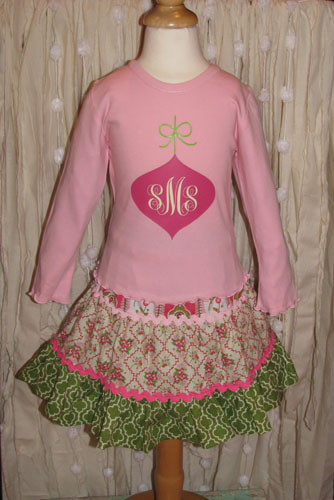 It comes in sizes 12m, 18m, 2, 3t, 4t, 4, 5, 6 Value $74! Is that awesome or what? Thanks Ellen! Please LIKE them on FB HERE!

Jen has a YUMMY giveaway today! She creates amazing custom cookies! AND she's local which means I will be using her at some point! OR I'll rig the contest so my mom wins and gifts them to me for my birthday? No? Ok, anyway, check these out!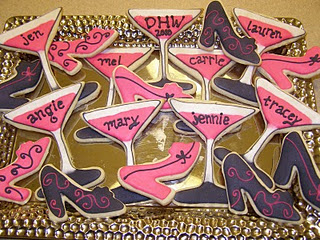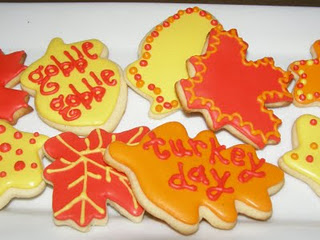 Aren't those awesome? Check out her blog: Cookies to Impress for even more great choices! Thanks Jen!

Nicole of Here's The Diehl has a super cute headband to giveaway!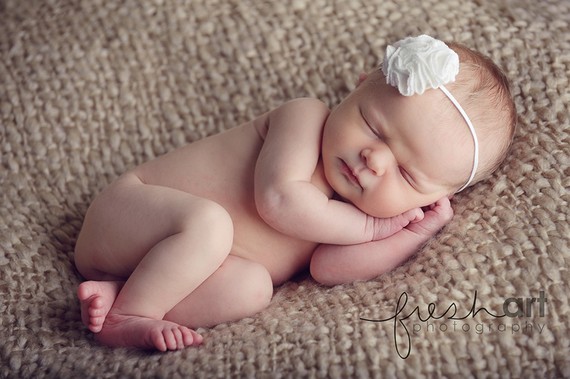 We can attest that these are so sweet and SO soft! Great for photographers obviously OR a momma who wants her baby girl to look cute! Thanks so much Nicole!
One of my best friends answered my call for giveaways today and I bet a lot of your photogs will be excited!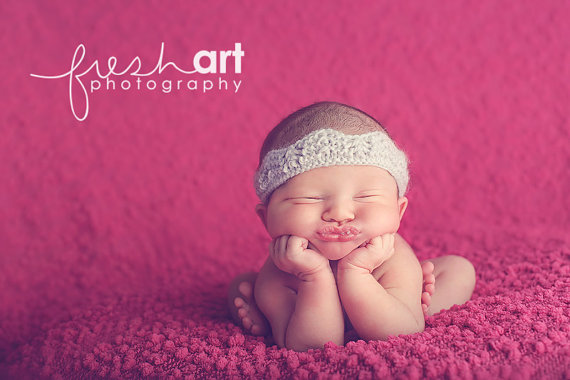 Yep! My friend Adriane is giving away one of her awesome crowns! This one to be exact: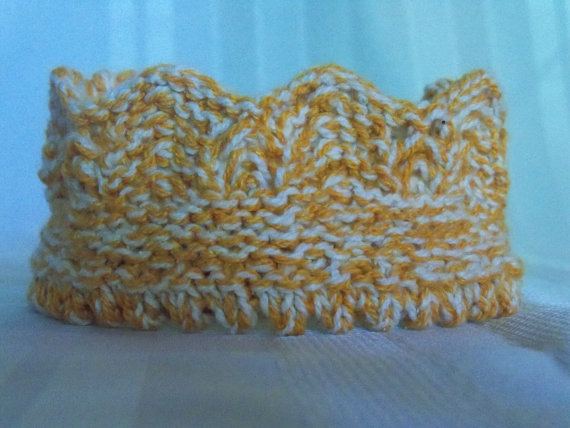 Check out her awesome ETSY site: Naptime Knittery and like her on FB! Thanks Adriane!

This is a super unique piece I'm excited to show you!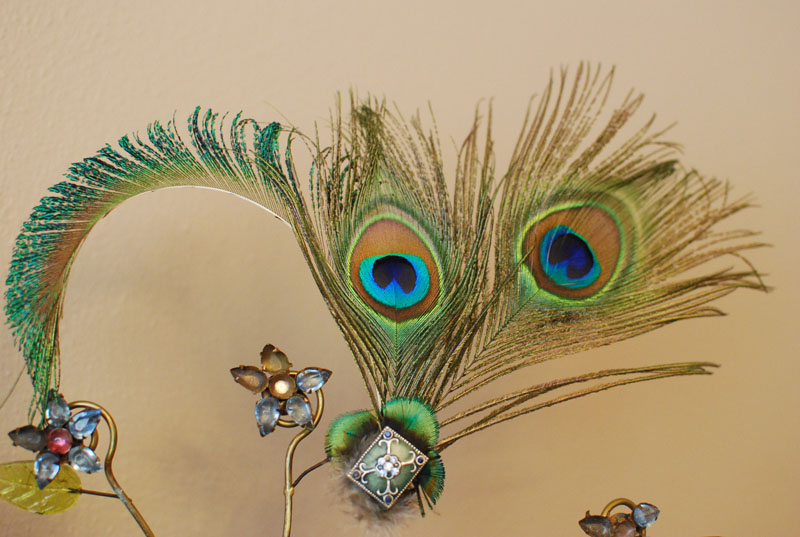 Marcella from You Fascinate Me So is giving away this FASCINATOR! Isn't it gorgeous? In her own words…
This elegant fascinator is made with peacock feathers and peacock feathers! Two eye feathers, a sword feather and peacock plumage create a striking profile. A segment from a vintage bracelet centers the piece.
Each fascinator I make is attached to an alligator clip and can be worn directly in your hair or clipped to a headband. They are the perfect accessory for women, girls and babies. For a newborn photography prop simply clip to a soft woven headband. If you are interested in a lapel pin message me and I can change the backing to be pinned onto clothing.
***Headband not included***
Add a satin wrapped headband to match for only $2. Each headband has a small loop you can clip your fascinator to for a different look. Listing: http://www.etsy.com/listing/81933009/satin-wrapped-headband-with-loop
For babies add a soft adjustable elastic headband for only $1.50. See listing: http://www.etsy.com/listing/82895967/adjustable-baby-infant-headband-black
Thanks Marcella! Find her HERE and on FB!

Check this one out!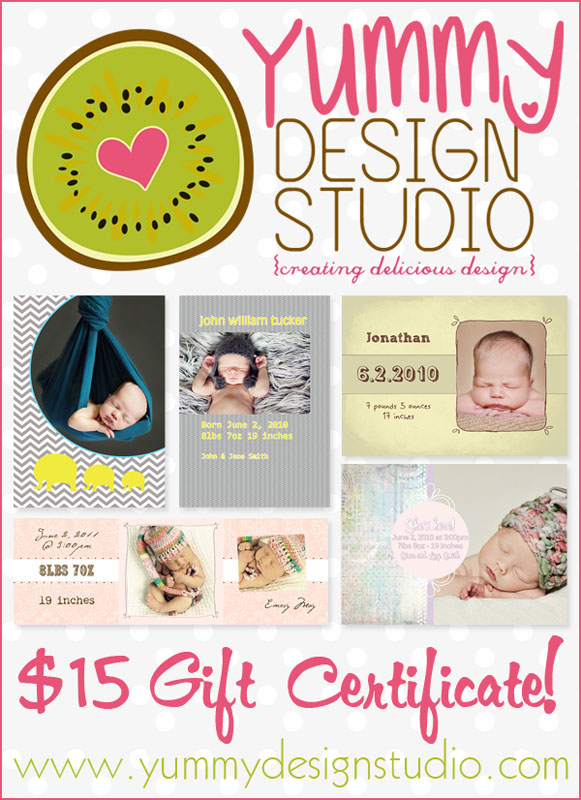 Isn't that awesome? Jennifer from Yummy Design Studio is giving away a gift card so you get to PICK what you want from her adorable shop! HERE is her website and HERE she is on FB! AND she's a photographer! HERE! Thanks so much Jennifer!

OK! This post is SO huge I thought I would break up this giveaway a bit! AND we're still looking to fill a few more spots to hit our 32 number! SO more coming tomorrow night but feel free to enter these giveaways today! A day early! Well, two hours early! HA!
AND I know some of these giveaways are pretty specific (so many are for photographers) so if there is one you're really hoping for, please leave that in your comment!
AND if you want to donate something to help fill my dream of giving away 32 things for my 32nd birthday please email us asap! We need quite a few more so please spread the word!
AND please show your love to all of these awesome people by visiting their sites or "liking" them on FB!
THANKS!