Need something to do Friday night? Still have a few gifts left to buy? Haven't even started?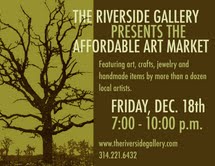 Friday December 18th from 7-10pm at The Riverside Art Gallery in Webster Groves next to Llywelyn's on Moody Ave.
My friend Jessica will be there selling her adorable rings! Check her out HERE!
I'm going to try to stop by in the midst of birthday parties for friend's and a big basket ball game!