My friend and awesome stylist, Katie Mohr, and I have been working behind the scenes on a new project! And I am SO excited to finally share it with you!
We are going to start offering boudoir sessions for women! Throughout the year we will have days of mini sessions and there will be a full package you can book at any time. All of this info will be added to "the sessions" soon but for now I'm offering a crazy deal on our first day of mini sessions! Normally these will be priced higher but we want to get our feet wet with a full day of sessions so I'm starting off with this super low price for a 45 minute session and 10 images on a high-res disk.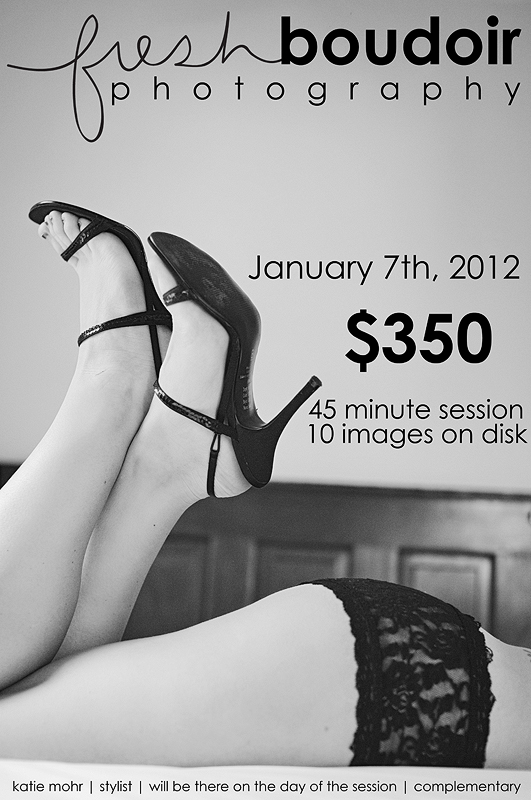 What is a boudoir session? Well, it's sexy. And empowering. Here is what one woman had to say after her session…. "I wanted to say how much I appreciate ALL you did to make this dream a reality. I had been thinking about this for three years and you made it not only doable but fun, empowering and one of the true highlights of my adult life. Thank you for fitting me into a very full schedule and making me look and feel so beautiful. The pictures are a treasure to both me and my husband."
Katie is there to help with make-up, wardrobe, hair, etc. while I'm helping to get you in the most flattering poses as I photograph you. Do you have to be a size two? ABSOLUTELY NOT! Truly, it's all about posing to highlight your best features and editing to bring the image to perfection!
This will be such a fun day if it's anything like the sessions we've been working on and I can wrap up a gift card because this will make a great Christmas gift! Even if you have to gift it to yourself!
The BONUS? I will have all disks to you by the end of January so you can gift the images or an album to your husband for Valentine's Day!
I have more images I can share with you privately if you're interested in booking… please email me at [email protected] and I can answer any questions you might have!
You guys, I am SO excited about this! Taking a mom of three in her 40's and making her feel beautiful+empowered was such an incredible experience! Let me do that for you too!