Tuesday we got to take a break from spring break and hang out with the Horn family! And listen, sometimes a break from all the family time is a GOOD break! So three hours letting the kids have some Daddy time was awesome and so was Regan, Jonathan and Azelie!
Sweet Azelie broke her clavicle during her birth so we waited a little while for her newborn photos to make sure it was safe. She was just under 3 weeks old which normally means a not-so-sleepy baby but OH Azelie surprised us and ROCKED out her session! She barely woke up at all, ate only once and we cruised! You got a little sneak peek the other day so here are some more!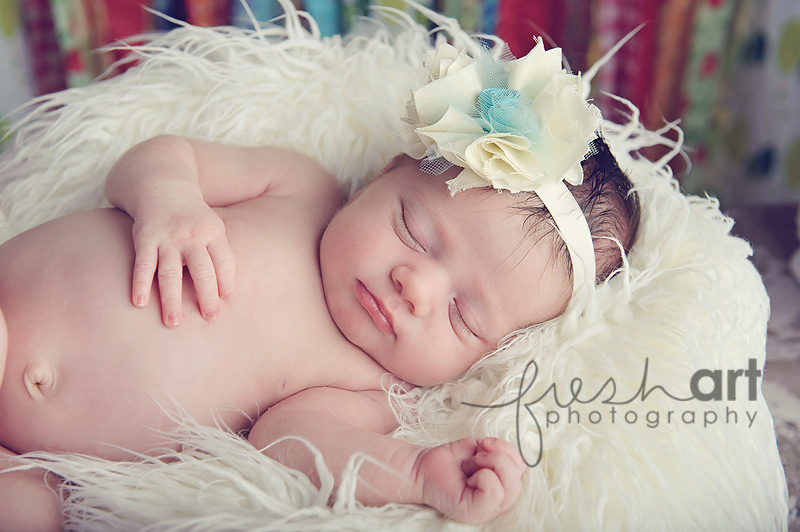 Ok, let me pop in here to give you the link to this AWESOME headband! We didn't mention in her last tiny sneak peek b/c we have a full post coming soon all about these headbands but because we've had people asking already go HERE and be amazed at the talent of our friend Holly!
Can I mention that she made us CUSTOM ones for the Mohr Minis? Yeah. She's rad like that! Can't wait to show you!
Alright, back to the babe! 🙂
A big thank you to Holly for letting us play with her new designs, they are AWESOME and we can't wait to show you more after this weekend! Another big thank you to Regan and Jonathan of course for bringing over such a sweet and easy going baby girl! She's gorgeous and I'm SO mad we didn't force Regan in a few shots b/c talk about gorgeous! Seriously, she's beautiful. Just means we need to see this family again one day!
Congrats Horn family on Azelie. She's perfect!
Coming soon… a carnival of Mohr Mini session photos! We will be shooting from 8am-7pm on Saturday! HA! It's going to be the most amazingly crazy fun insane day ever! And MAN are we all going to be exhausted when it's over! Can't wait to see all the families signed up and can't wait to share the goodness that day will be!