Hi friends!
In this strange reality we are all currently living in I found myself struggling a lot the first couple weeks. Being suddenly unemployed was hard. And I think for a while I was sort of in denial but I was also incredibly sad. I still have sad days and I'm still struggling to figure out how this is all going to work BUT the one thing that started to bring me real joy was doing art projects with my kids each day. Even though they are older (my kids are 11, 13 and 14 – in grades 5/7/9) they enjoyed it too. After a few days we invited my nieces to join us via FaceTime. Then a friend's daughter wanted to join so we moved it to zoom. By Friday of last week I had kids in 4 states joining in and I realized that maybe this is something i could offer lots of kids!
SO Crafting with JoJo (that's what my nieces call me) was born!
Starting tomorrow I will be offering a zoom art class for one hour a day – 3pm-4pm CST and ANYONE is welcome to join! It's FREE but since I am currently not bringing in an income a suggested donation would be $5/class. Classes will be Tues/Wed/Thurs at 3pm on Zoom and is great for any child that can take direction. I would say this is perfect for 8 year olds on up BUT if you have a 5 year old that loves to draw/paint and can listen well then I think they can easily join. Our neighbor is 3 and two projects I did last week worked for her too but it required mom to help of course. For older kids this could offer mom/dad a break for an hour!
You will need basic art supplies like paper, card stock, markers, crayons, paints, brushes, pens, ruler, etc. BUT there are some other more specific supplies we will be using in the weeks ahead…..
Elmers glue
Paper and Cardstock
Markers – Crayola and Sharpie (both black and colored)
Pony Beads
Glue guns (if you have old ones we can put crayons through I have a few cool melted crayon projects)
Shaving Cream
Food Coloring
Cornstarch
Colored tissue paper
91% alcohol (I haven't found this yet but there is an amazing project I want to try that's more science than art but we HAVE to have this ratio of rubbing alcohol)
Colored Yarn
Craft Paint
Cardboard (cereal boxes would work good – that kind of thinner cardboard is easier to cut)
Popsicle Sticks
Water Balloons
Skinny tape (I just ordered some floral tape from Amazon but blue tape could work too)
Poster Board
Water Colors
Each Sunday I will write a blog post with this week's supplies needed and a general description of what we are planning on doing. Some of the days we will start more than one project b/c they might need to dry to finish them. I will also post the zoom link! You can come to one class or all of them! Doesn't matter to me – we will be crafting even if no one shows up!
Leave comments here if you have questions or shoot me a text – 314-541-9944 (this would get you a faster response for sure).
Here are a few projects we did last week….
Drawing – sometimes it's going to be as simple as me offering a new drawing idea for them…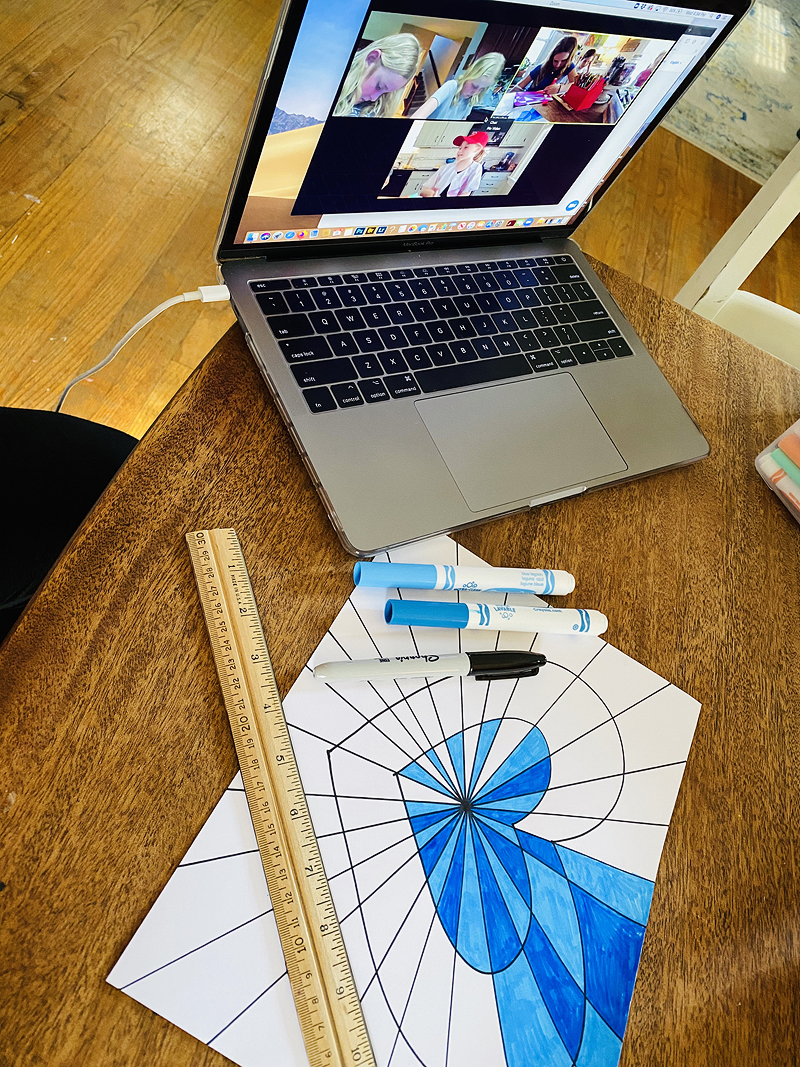 Some days we will paint!
And some days we will get messy (like filling eggs with paint and smashing them on poster board!)
Sometimes we have an end result in mind and other times it's all about the process. Egg smashing was process (and fun and messy) but then we cut up our poster board to make cards to send to loved ones. So even in the mess there can be a fun end result.
This week I am doing a variety of things and will get that blog up later with the supply list and zoom info so check it out if you think your kids would enjoy CRAFTING WITH JOJO!