A few weeks ago I met my friend Nancy at her mom's room in a local hospice house. Because she wanted me to capture her new son, Alex, and her mom Gayle.
But you see, Gayle was dying. So it wasn't just a normal Grandma/new Grandbaby photo shoot. It was different. It was harder. Sadder. And yet, more joyful.
Which was good because Gayle was full of joy. And life. And humor.
A couple of years ago when Gayle was diagnosed with a brain tumor she asked me to capture her family one day as we were leaving church. Did I mention I've known Gayle most of my life? That I grew up with her daughter Nancy at Emmanuel? And did I mention that Nancy ended up, randomly, being Grayson's delivery nurse? Or that we recently got to photograph her new son? Which was actually my fourth photo shoot with this family in the last two years!
Anyway. Gayle asked me to capture her family just before she left for Duke to get her first chemo treatments because she knew her hair would fall out. So I met up with Gayle, her two daughters, her husband Jerry and her niece and nephew down on The Hill for some photos. For what I thought would be normal family photos but turned out mostly to be about cheering on Gayle. She actually bought the four "kids" Duke t-shirts so that she could take these photos with her to each chemo treatment… so her cheerleaders would be with her during the hardest days.
I loved that.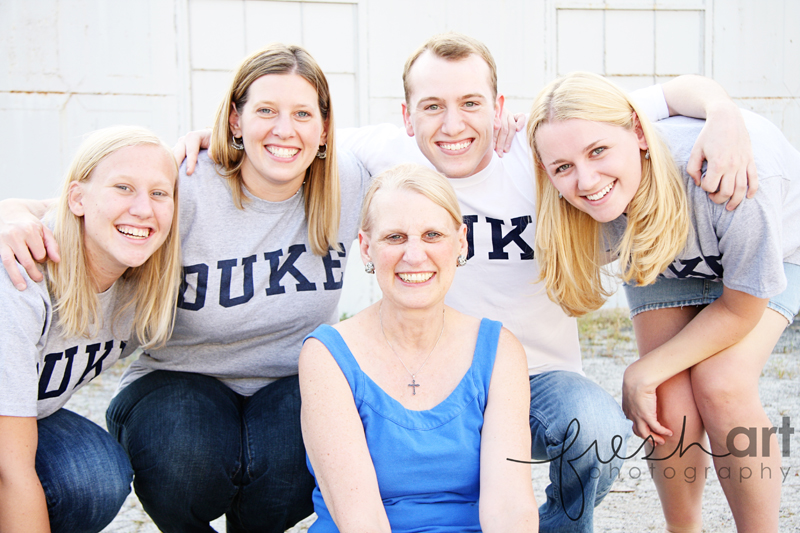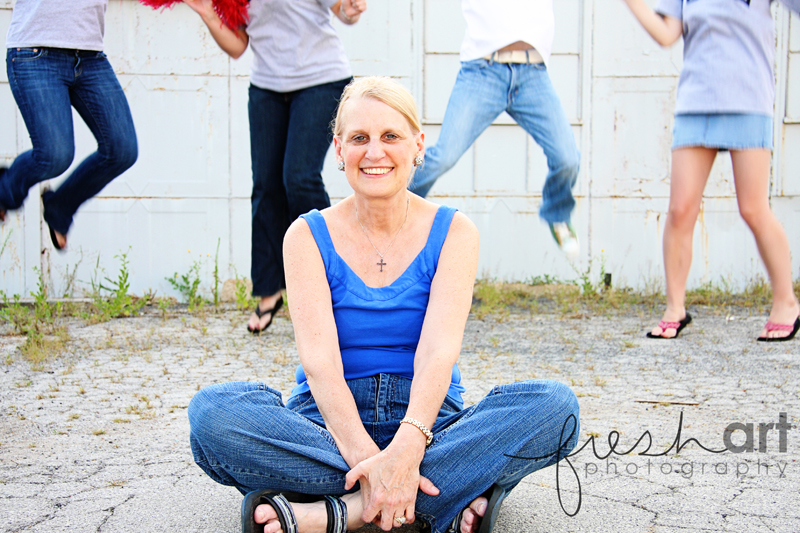 (photos taken during my Jodified days a few years ago)
Over the last couple of years I watched Gayle get thinner and fight harder and enjoy life to its fullest. I watched her youngest daughter graduate high school and blossom into an amazing woman. I watched her oldest daughter fall in love and become a mom. Whenever I ran into Gayle at Bread Co. or church she always made me laugh. I'd walk away from a quick chat knowing I was blessed to know her. And even more blessed to be a tiny part of her journey. Because Gayle LOVED photos. LOVED THEM. From what people have said she was still concerned about her camera at the very end when she could barely talk. She didn't want a moment to pass without capturing it.
But at the end, when she was lying in bed, fighting for life, with friends and family surrounding her, she couldn't capture any more memories.
But I could.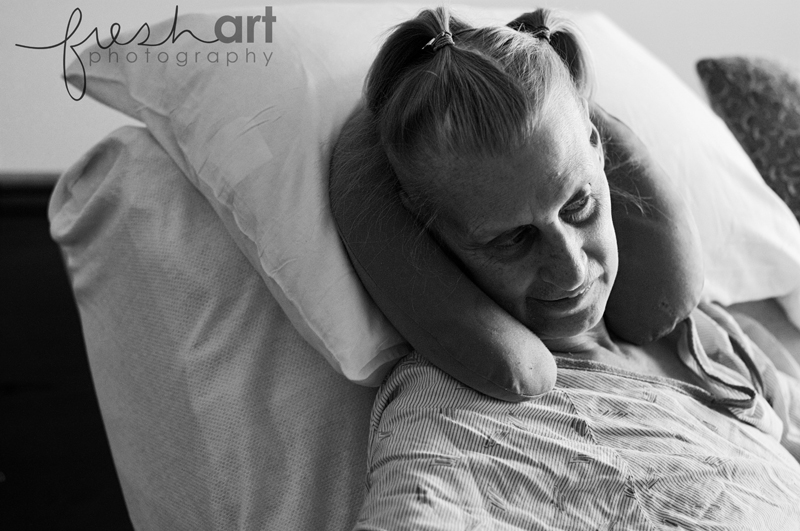 I could capture her smiles.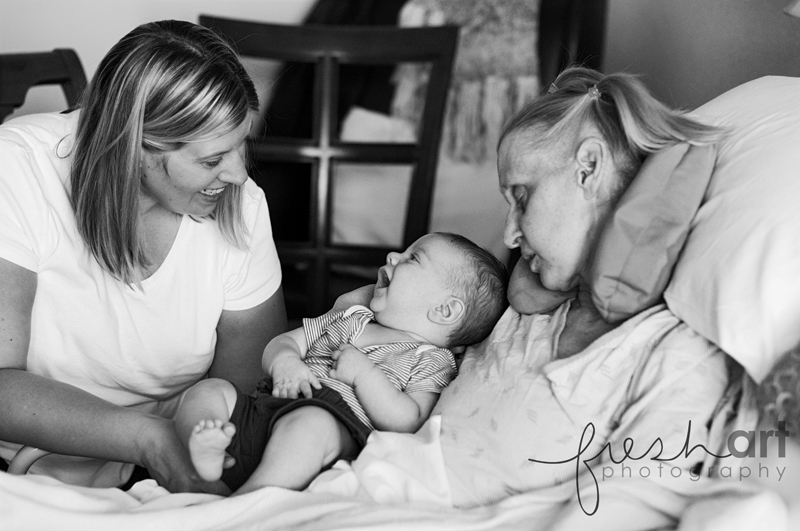 And her Grandson Alex's smiles.
I could capture four generations.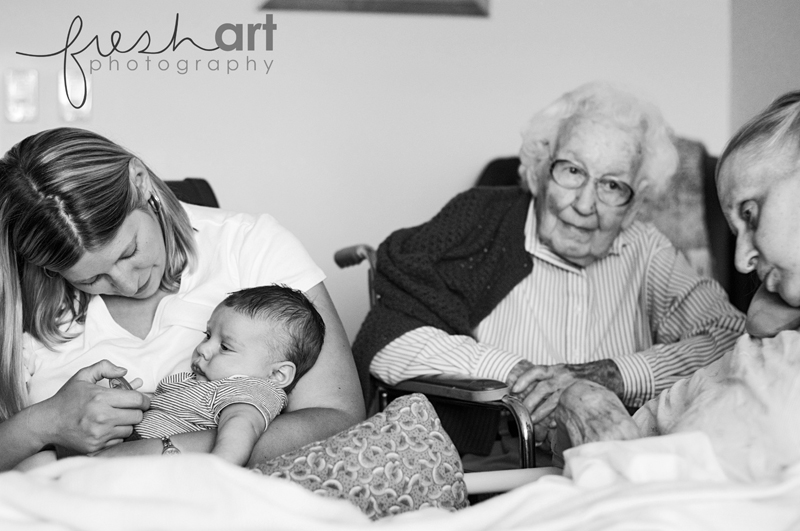 And my favorite image, which captures two mothers looking at their child.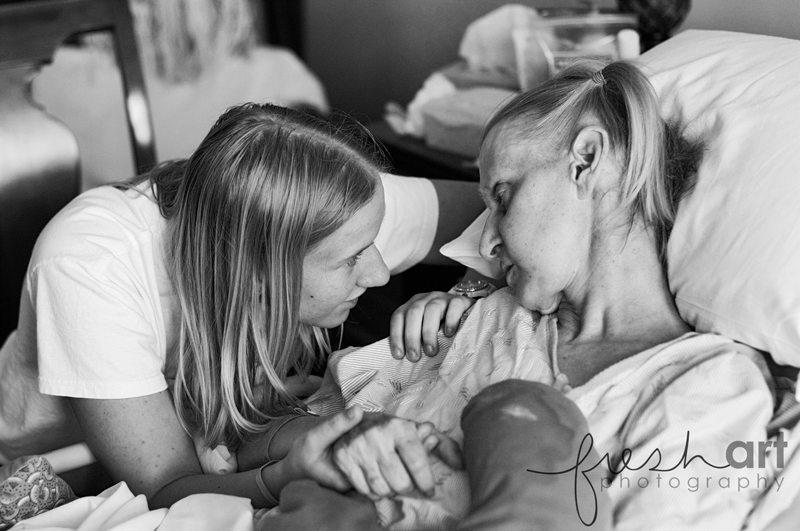 I could capture a conversation between mother and daughter.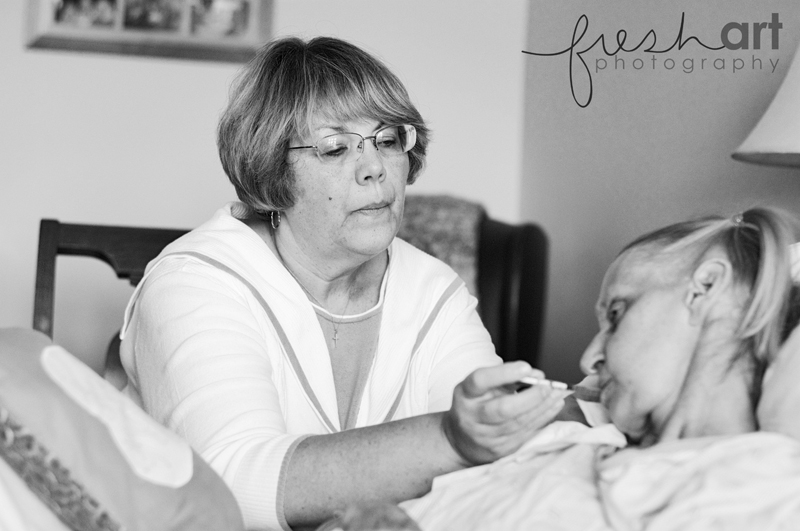 And a sister-in-law lovingly feeding cranberry juice through a syringe.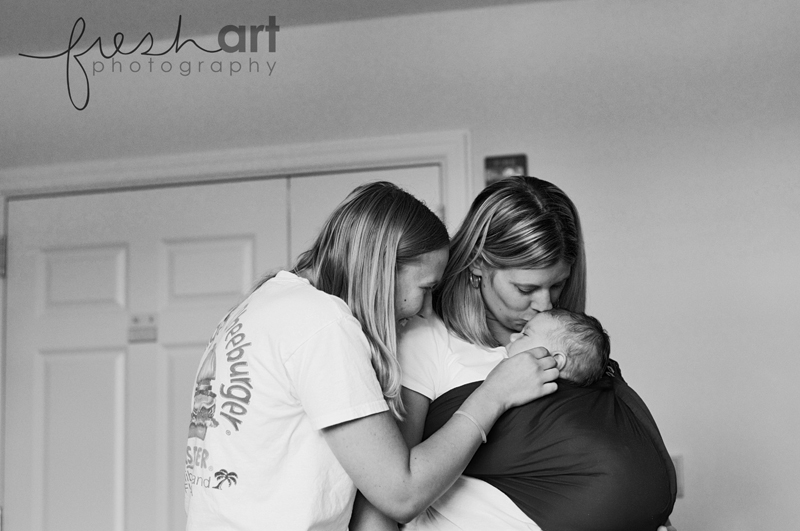 And a new aunt doting on her nephew.
And a husband getting quiet support from his own mother.
But truly, I was able to capture the love and joy that filled that small hospice room. Listening to stories and memories and laughter. The love was palpable. As they all celebrated Gayle's life and sat by her side as she died.
gayle. from Fresh Art Photography on Vimeo.
When my time with Gayle was done I leaned down to give her a hug and thank her for letting me in to such an intimate time in her life and as I leaned close to hug her she whispered, "thank you." She wasn't talking much anymore so it meant the world the she knew I was there, knew who I was and was happy I could help her continue to capture her family's life.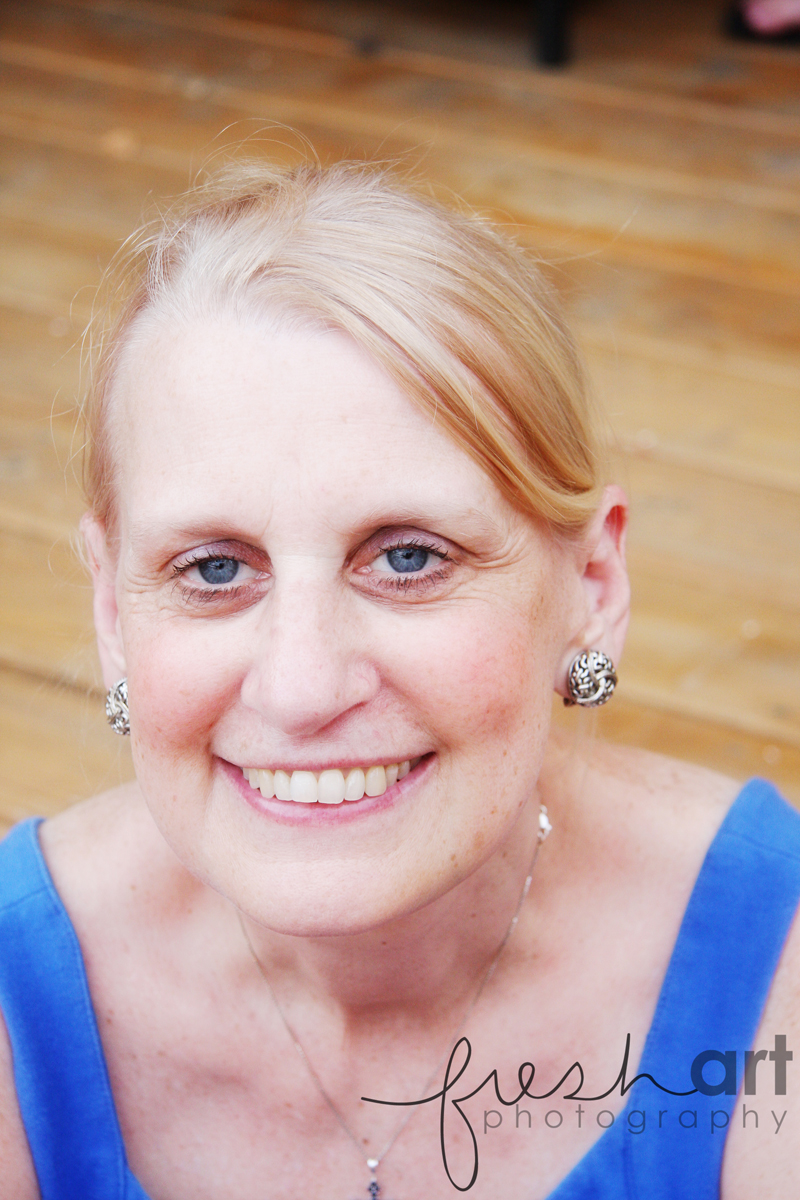 As photographers we are paid to capture memories for families during the happiest of times. Births, weddings, birthdays, etc. But I want to encourage everyone out there, professional photographers and non-pro photographers, to capture everything. Because what I've found doing NILMDTS and being with Gayle especially, is that there is joy in every sorrow. There are beautiful moments you will want to remember one day in the midst of intense sadness. And there is always love.
I want to thank my friend Nancy for inviting me into this space. Into that loved-filled room with her mom. To help her remember these incredibly hard moments in her  life.
And thank you to Gayle. Who captured moments. And who allowed me to capture some of her last.