Hello Wednesday! Nice to see you! Thanks for the awesome rain, chilly temps, 100th day of school and a little man with a sinus infection IN HIS EYE. Ugh. Wednesday can kind of go away except that my boss (aka MOM) treated to a GREAT lunch that was just delivered, I'm cranking out the work here at KCCI, sneaking in a quick Fresh Art blog post, my little heater has my toes warm and toasty and I'm hopped up on caffeine which is making my 1am bedtime not feel so horrible. OH and I'm rocking my new skinny jeans + rain boots on this rainy cold day! So maybe Wednesday can hang around a little longer!
ANYWAYS.
I wanted to pop in here and tell you that the Valentine sneak peeks are COMING. Tomorrow hopefully. I got all the boudoir done last night (hence 1am) but need to get disks burned and in the mail before I tear into all of those cute kiddos!
AND.
I really wanted to pop in here to show you this…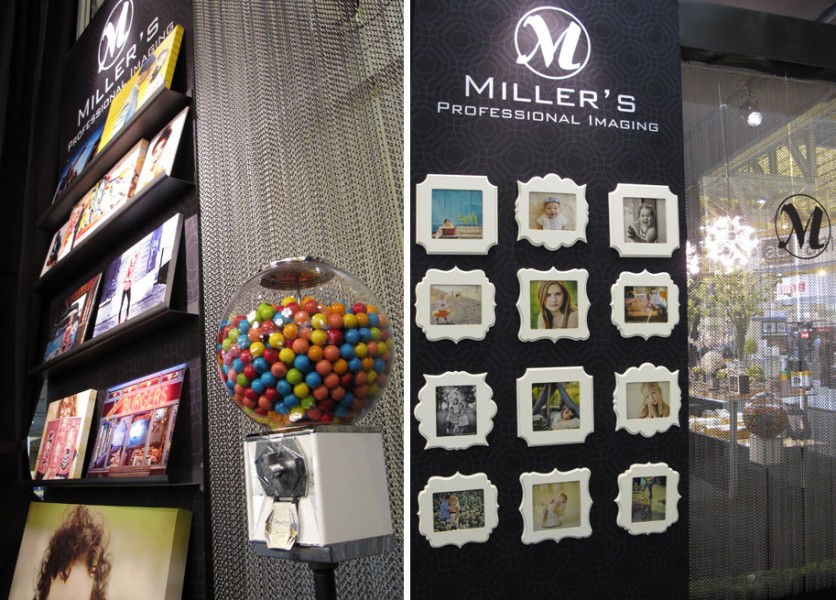 That, my friends, is the Miller's Professional Imaging booth at the Imaging USA conference that was held in New Orleans recently. A conference I'd LOVE to go to someday! That and WPPI. Someday. When we have extra cash. Which might mean never. Which is sad b/c I'm dying to go to a conference like that and just absorb all of that awesome info! I'll start saving my pennies for next year maybe! BUT if you look REALLY closely you can see TWO of our awesome clients gracing their booth wall THIS year!
LEVI AND GRETCHEN!
Do you see them?
10 points to the first person that spots our shots in those darling frames!
When we got an email a couple of months ago from Miller's asking if we'd be willing to give them some images to use in their 2012 marketing campaign and we were THRILLED! SO honored and SO excited! When I popped onto their blog this morning and saw those two sweet images I nearly died! We DID make it to IUSA! Kind of at least!
We can't wait to see if any of our images pop up anywhere else! THANKS MILLER'S! We LOVE you guys!
Ok, back to my other job! HA!