I feel like I need to apologize to you. I've been holding out this year. Not on purpose of course, but because I have NOT felt like picking up my camera lately. I truly HATE winter. HATE. The cold, the gray, the snow/rain/ice/sleet. All of it. I am missing the outside, the color, the warmth. And it translates into our house because I hate it that to take a photo, indoors, in the middle of the day I have to have my ISO above 2000. SO I leave my camera in the case just waiting for clients.
THANK GOODNESS I have my iPhone b/c I've been using it for ALL our photos recently. Love that thing!
Anyway, so my apology is because I have done a TON of cute crafts with the girls for Valentine's Day the last few weeks and I've shared NONE of them! And most are gone already, unable to be photographed at all anymore. The cute button bracelet we made for their teachers, heart boxes, the "heart man" cards we sent to the Grandparents, homemade wrapping paper, etc. Really, it was all super cute! And not a photo to be had!
So today I was feeling bad b/c I actually got some emails asking WHEN I was going to post Valentine craft ideas (because remember last year?) and I decided to take some iPhone photos of my FAVORITE ever craft!
Of course, I have no BEFORE or DURING photos but it's easy so there really is no need.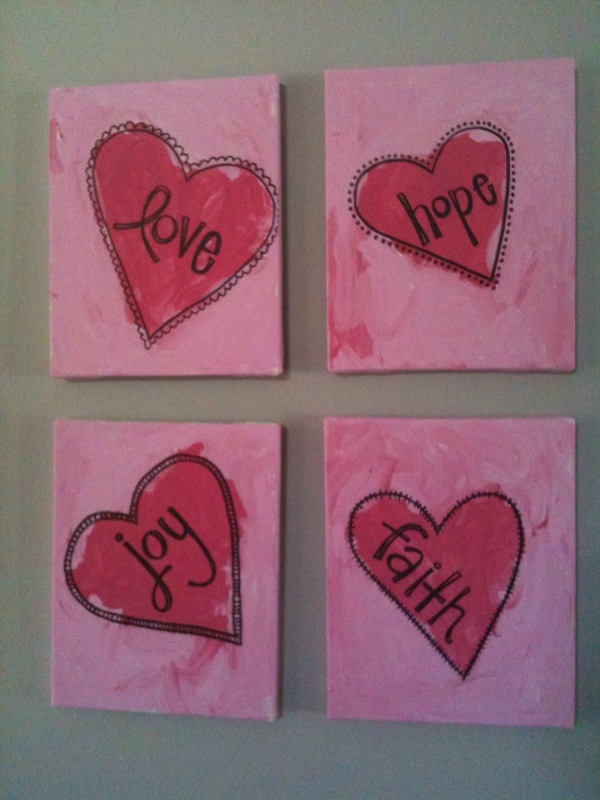 Sorry, remember these are iPhone photos that are craptastic at best!
All I did was buy a CHEAP 8×10 canvas at Hobby Lobby, draw a heart on them, give the girls ONE COLOR of paint, ask them to paint INSIDE THE LINES (something I NEVER do b/c I totally believe in creative play) of the heart, then when they finished I gave them a lighter color and asked them to paint the rest. SUPER SIMPLE and REALLY FAST. Both things I like for making kid gifts!
Then, once the paint dried, I took a big black Sharpie marker and drew the rest!
DONE!
I started with the LOVE one and was going to do one exactly alike for each gift, but I was so in love I went ahead and did the ones you see. Then I hung them on our wall! HA! I had to run out the next day to buy more canvases (they were in a 2-pack for less than $5!) so we could start over on the gifts!
Here are some detail shots…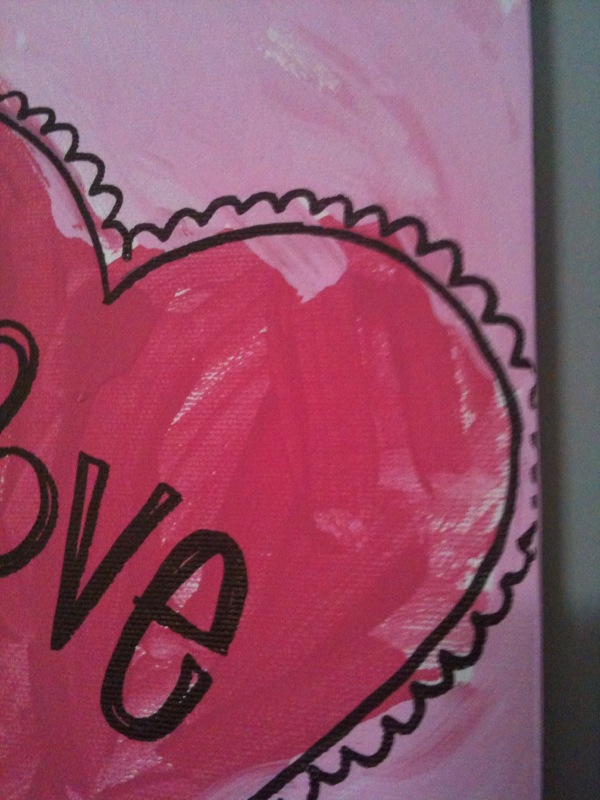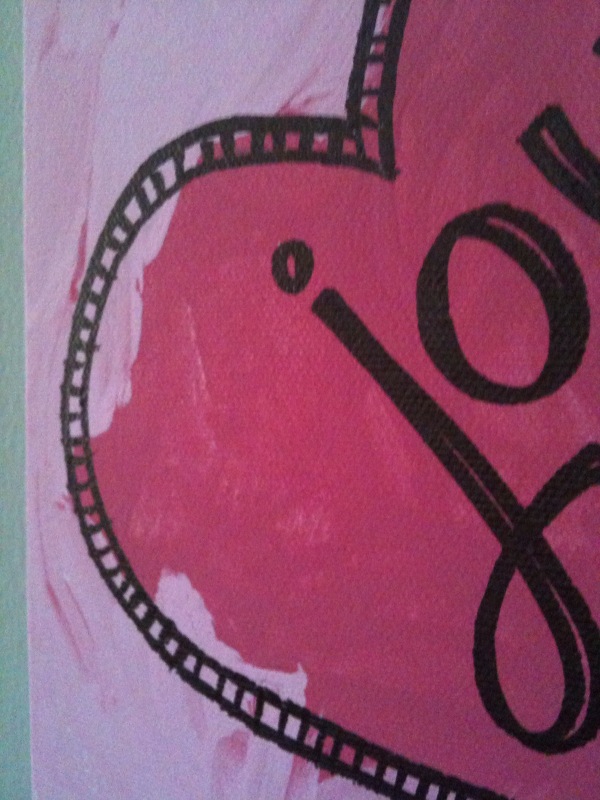 I took those up-close and personal photos to show you how UNPERFECT they are. My girls can't paint perfectly in the lines yet and that was just fine with me b/c I love how they turned out! If they'd been perfect they definitely wouldn't have been as cute OR as charming!
And I mean, seriously, how great do they look all hanging together?
Seriously, if you are in our life at all do not be surprised when you are gifted one of these!
——————————
Also, this is a video I did a while back and never shared. The video was the first ever video I'd taken with my new camera so the focus is HORRIBLE and I was going to trash it until I actually watched it with MOM eyes and not PHOTOGRAPHER eyes. And now I think it's perfect. Short, but perfect.
And if you're wondering about the headdress thing Bailey's wearing? All I did was take a piece of card stock, cut it to fit her head, staple it together and then wrap it with tulle… stapling streamers on the back! They girls were OBSESSED with those things for WEEKS!
———————-
AND just because this post has been so much about the girls… a quick update on the asthma situation…
EVERYONE IS HEALTHY right now. Ok QUICK! GO KNOCK ON WOOD FOR ME! Ugh! I know the second I toss that into the world someone will wake up coughing tonight.
But anyway, they've all been healthy for about two weeks now and it's been awesome. We saw the allergist, whom we LOVE, two weeks ago and she adjusted their maintenance meds a bit. Bailey, she thinks has a sinus-induced asthma, meaning she'll have most of her issues when she's sick but otherwise should be fine. Parker on the other hand seems to have a more severe case of asthma.
Bailey is on an inhaler twice a day and that's it. Parker is on the same inhaler, a nose spray, an allergy pill and Zyrtec every day. And it was the fact that she was still getting so sick while on so many medications that had them all worried.
At this point we can put off the CF sweat test. BUT, if she gets sick between that appt two weeks ago and her allergy test in 4 weeks they will go ahead and send her for the test b/c it will prove she's still breaking through.
Right now we are being diligent with her meds and praying it's just been a tough winter!
Thanks to everyone who's prayed and thought about her this winter!
——————–
C and I heading OUT tonight! SO excited!
Go love on your kiddos and tell your husband you appreciate him! Just go LOVE ON someone this weekend! And paint a heart! It will make you happy, I swear!