We have a session today I am dying over. DYING over. And we can do it in the rain b/c we can do it inside, but the idea of what we COULD have done possibly outside if it weren't raining will bug me forever. Ugh. And normally I love rainy days! No details yet, you'll just have to wait until the sneak peek!
The rain also added to the cancellation of our second shoot scheduled for today. Which stinks. But worked out ok. Oh and did I mention we have a third? Yep. Three sessions in one day. And did I mention I've been up since 3am? Yeah.
My friend Julie has me on a tight regimen of run/walk at least 5 days a week, only ONE 32oz Mnt Dew a day and no eating after 8pm. Which is awesome b/c I have someone keeping me accountable and helping me get to where I want to be but am too lazy to get there myself. And she's totally and completely RIGHT. And I'm sure once I master those three things she'll make me, you know, like start doing weights or make me eat better or something!
But today?
No run/walking b/c of the downpour out my window, Chris has his fourth late game in a row which means another 8pm dinner by myself and um, yeah, I've had 2 hours of sleep and two shoots to get through today so who the hell knows how many Mnt Dews it will take me to survive but I will tell you what, it's not just one! Sorry Julie! I swear I am trying! My life is just not conducive to being healthy right now! Have I mentioned it's our busy season? As in, Kim and I have TWENTY THREE more sessions this month?
TWENTY THREE MORE SESSIONS THIS MONTH!
Are there other photogs out there that can attest to the INSANITY? Please?
So anyway.
I'm tired. And feeling thoughtful as my thirtieth birthday is this weekend. Thinking about my dreams as a child compared to where I am today. Which is all for another post. And although most of my pre-30th thoughts are good, it has me in a quiet mood. And all of this work (27 total shoots this month) makes me want to NOT work and instead craft all day. Because of course when I have NO time for crafting my brain comes up with all of these really great ideas. Or I find great ideas when I'm blog hopping instead of working. And when I'm blog hopping I read things like THIS and I can relate so much that my quiet mood gets quieter. And quieter. And I don't want to chat with friends or go out to celebrate my birthday.
But maybe it's just the rain and my lack of sleep too.
Anyway.
Two more things before I hit the showers and start my day. Even though my day actually started 3 hours ago, I won't count it b/c it started when C left and Parker threw the biggest whopper of a tantrum (she misses daddy) and I was in such a rush to get the kids out the door to my mom's i showed up in my pjs and unbrushed teeth. So we're not going to count that as the start of my day!
1. Parker started pre-school yesterday.
Which is a pretty big deal b/c she's not even three yet. But Bailey's school let her start early which is awesome. And she LOVED it! Here are some snaps…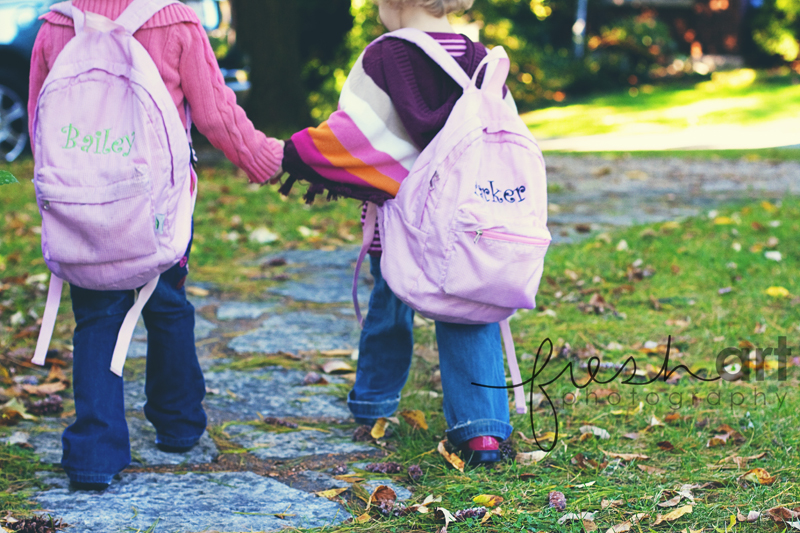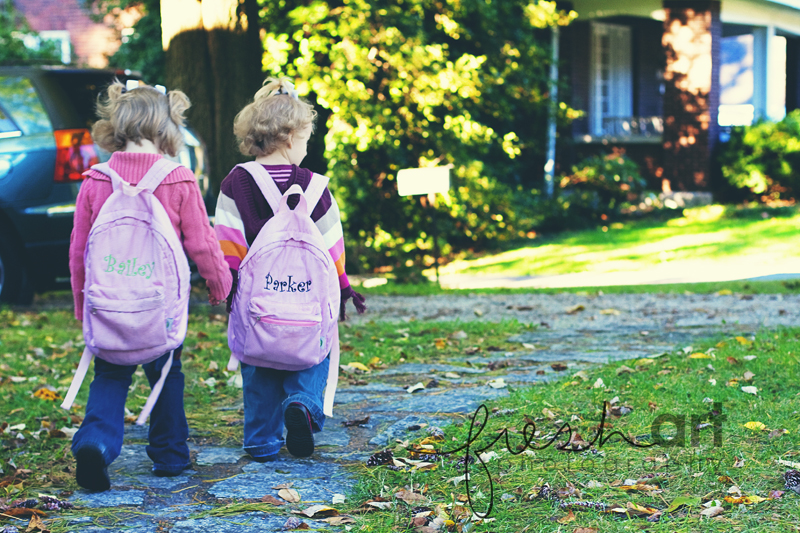 As we arrived at school we saw Bailey's BFF (my asst Angie's daughter) and they literally ran across the yard to each other!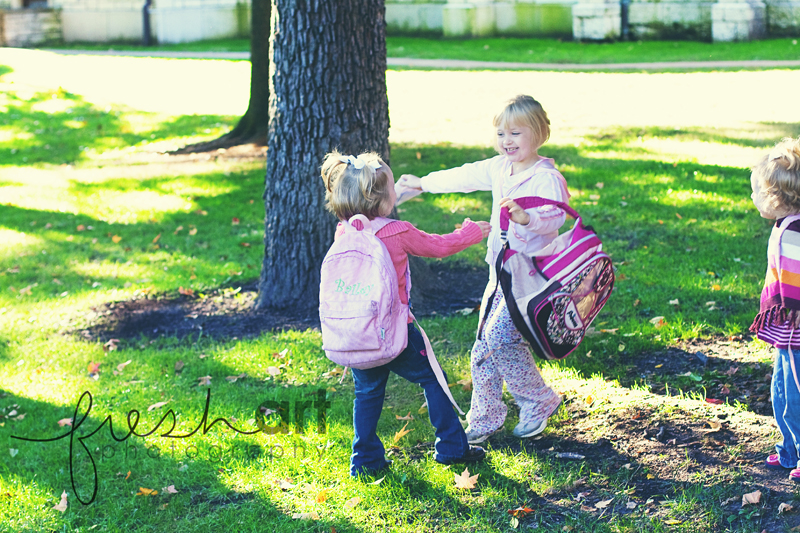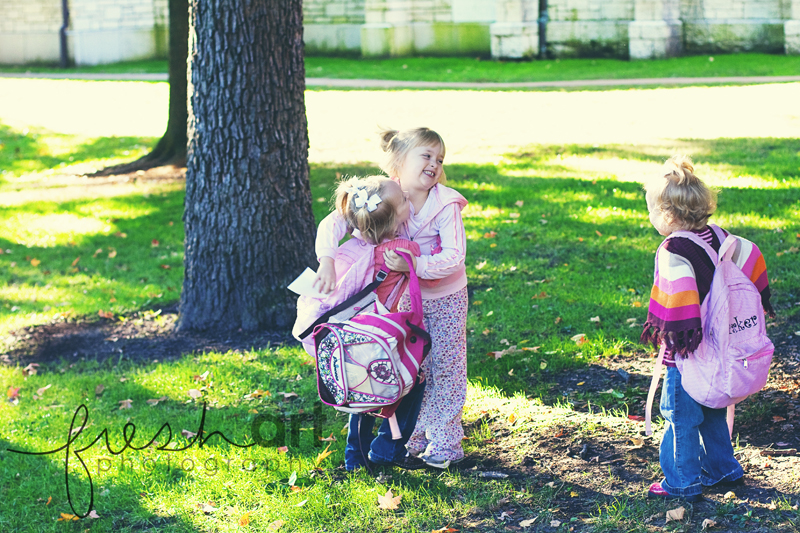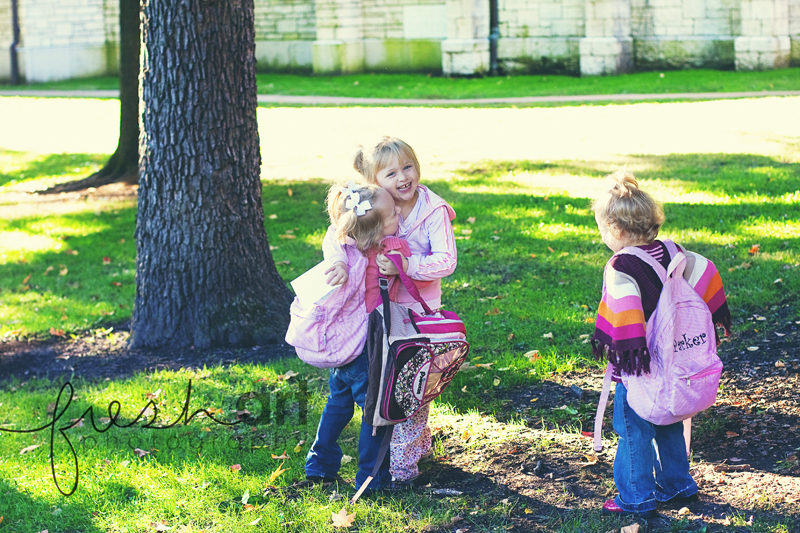 It was hilarious!
I won't go into details WHY, but we took Bails out of her original pre-school and moved both girls back to the school Bailey was at last year. So yesterday was kind of like a first day for both girls. And it was so awesome to see the teachers give Bails big hugs welcoming her back and to see her so excited to be with her friends again! Parker is now going three days a week and is in the room Bailey was in last year, which is kind of cool, and Bailey is officially in the pre-K class and is going FIVE days a week! Wow. This week is the start of getting a whole new schedule in place!
2. THE WINNER!
There were some really great entries! Seriously! Every time I randomly checked email yesterday I was laughing out loud! Thanks for playing along! But the winner was clear the moment she wrote it!
GINA!
"double, double, toil and trouble, Imo's deliver and Mountain Dew bubble!"
Does she know me or what? HA!
Gina… email me your addy and I'll send it along to Pascale! You're going to LOVE her book!
And that's all I have this morning! Check back later for a post about the most amazing family… and bring your kleenex.