So it's no huge secret that I have a lot of kids. Jodie likes to introduce me as, "This is Kimshehassevenkids" Kid you not. And I guess it is a great ice breaker, and I know you just don't meet someone with seven kids every day. But really, I don't feel so out of the ordinary!  And I definitely don't feel worthy of any sort of pedestal some may want to put me on.
Our life may be a little more loud and hectic, but life with any amount of kids is loud and hectic! I constantly wish there were more hours in the day, but I bet most moms feel the same way.  So I don't feel like I'm doing some amazing job that no one else is doing, it's just I have a few more than most! And in some ways, that makes it easier! No, I haven't completely lost my mind… well, maybe I have, but that was long before now!
How is it easier? My kids always have built in playmates for one! If someone wants to play basketball, they can always find someone to play along and not have to go hunt for a neighbor. If they want to play a board game or air hockey, someone is always up for joining them! And because they are also so close in age, they often play on the same teams, have the same friends, and best of all, have insight on homework and school projects to help each other!  And not to mention the benefits of the older ones being a little more independent and able to babysit!
No, it isn't all rainbows and sunshine.  Far from it!  The sheer amount of laundry is enough to make me want to jump off a cliff most days.  If I don't do 2 loads a day, we are buried in it!  You don't EVEN want to know my weekly grocery bill (or rather, when I actually MAKE it to the grocery store) and trying to create menus that everyone is happy with is near impossible (and thus I hit take out and drive-thrus way too often).  Most days I feel like a huge failure because I simply cannot give each child my 100% undivided attention, but I guess we all experience mommy guilt, right?  And while things have gotten a little easier with them getting older, the days when I had 3 in diapers (I had three of them 2 and under at one point plus a 5 year old) are such a blur.  We were just making it through each hour and each day.   But in the long run, I do think my kids are becoming really neat little persons because of (and maybe a little in spite of) living in a large family.  And how else could you shop for Homecoming dresses and diapers all in one day?
And since posts are just not quite as fun without photos, here is a recent and very rare photo of myself & the man that shares this crazy life with me.  The man I've been married to for 21 years.  The man who is honestly my best friend.  The man who still says I'm beautiful with no makeup and total beach hair.  The man who would love to have many more children, but knows I might make true on that jump off a cliff thing.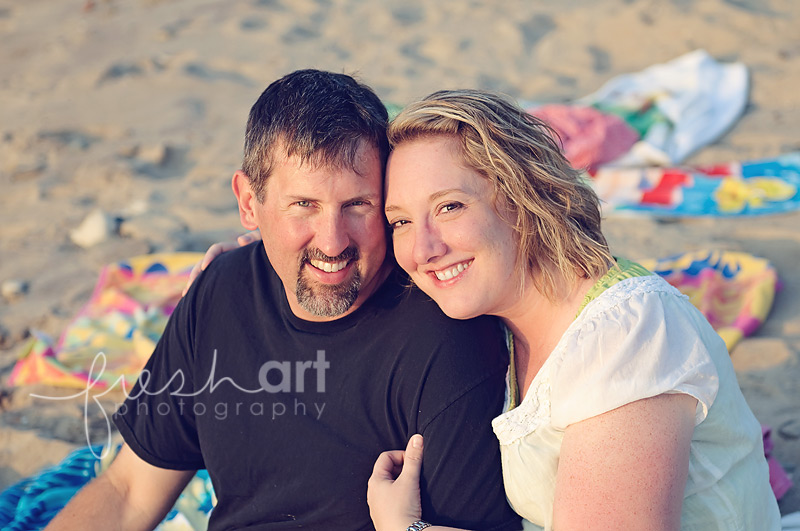 And the motley crew on the first day of school.  Yes, total snap shot.  Yes, they totally look uncomfortable as they humor me each year as we are rushing to get to the first day on time.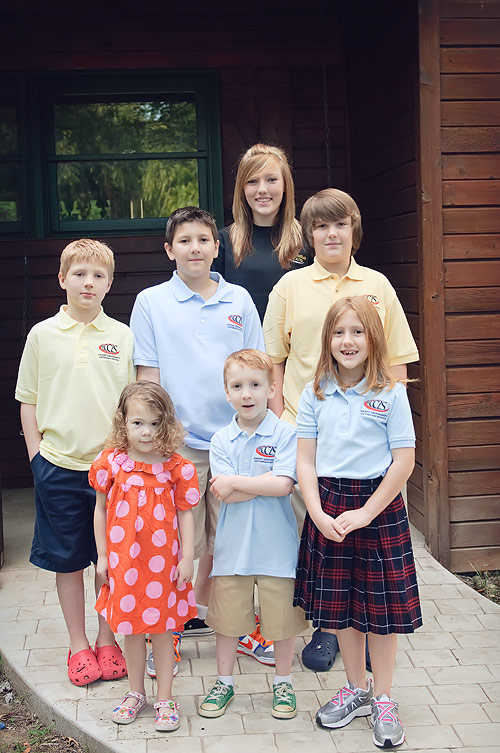 Abby is our oldest and will be 16 next month.  Unbelievable to me, and we couldn't be prouder of the young woman she is becoming.
Billy is next in line at age 12.  He loves playing just about any sport and is pretty good at them through my mom goggles.
Jonathan is our third born and is 11, 13 months younger than Billy.  He has a *wicked* sense of humor and keeps us all laughing.
Samuel follows right after at age 10, 13 months younger than Jonathan (notice a trend here… to the day 13 months).  Sam is our most responsible and compliant child, very quiet, but once he gets going with can chat your ear off.  Most likely on some random sports facts because he is a huge sports fan…. which we apologize all the time because you couldn't get parents any further from sports fans as Bill & I.
Grace is our second girl at age 8.  She is our social butterfly.  Small and mighty, and a little on the bossy side.
Next up is Thomas at age 5, our new kindergartner.  He is such a sweet and gentle little guy, who on the third day of school one of his teachers let me know he's already told her he loves her.  That's just so Thomas.
And rounding out the clan is Sophie at age 3.  Sophie is sort of our bonus baby as I felt I was "done" after we had Thomas… but she definitely rounds out our family perfectly.
That's "us"… we are not perfect.  I don't have it all together.  My kids aren't all geniuses or sports prodigies.  We are just a typical family with just a few more kids than most.