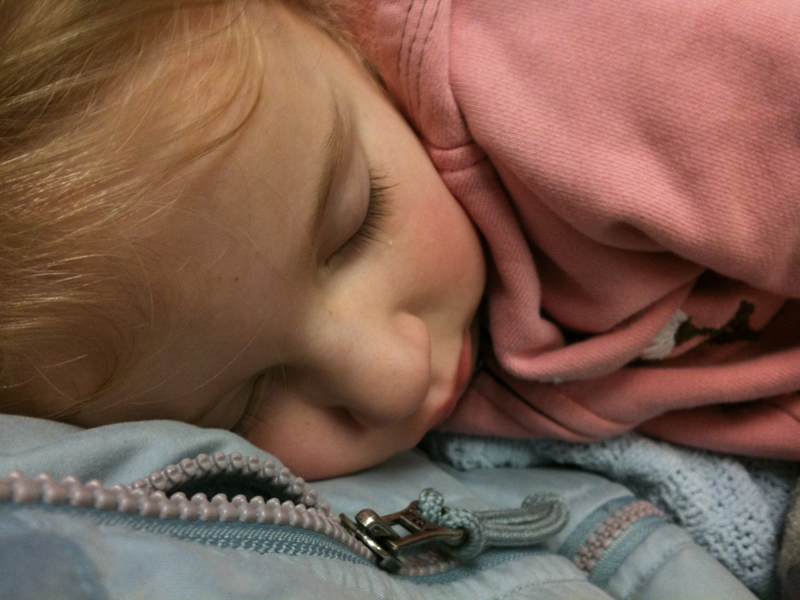 My poor kids.
Oh man.
It has been a long couple of weeks of SICK around here. And I am still catching up from the weekend when we had nine sessions AND Grayson ended up in the ER from 9pm-3am Saturday night with croup and Sunday night Parker's fever spiked around 2am and didn't come down.
Spiked meaning that once we got to the doctor's office Monday morning it was 105.8 and I nearly lost my mind. That above photo was taken when it was 105.2 and she was passed out in my lap at the pediatrician's. Poor kid. Do you see her pink little cheeks?
And let me just tell you about my three hour experience at the doctor's office. Where I had Parker literally passed out in my lap from fever and Grayson, who also felt like crap, running around. At one point I was out of quiet ways to keep him busy so I handed him my wallet and let him scatter the contents everywhere. He also threw Cheerios all over the place and I can't tell you how many times I had to keep my panic attack in check when he would eat them off the floor.
They ended up sending us to the hospital for a chest x-ray and blood work which came back positive for viral pneumonia. Which Gray's croup has now turned into b/c his fever spiked Tuesday night to 104 also. Both of them sound awful with body racking coughs.
Luckily, Bailey is FINE and so are Chris and I. Knock on wood ALL OF YOU b/c I am DONE with sick. It's been over two weeks since Parker first got sick.
So I am catching up. Which is hard when you're shooting once or twice a day, juggling sick kids and attempting to tackle that asshole of a laundry pile. Sorry. I think of my laundry pile as an actual person that has it out for me. And the guy's an asshole. But last night I kicked his ass a little and this morning I feel great about that! I am returning emails as fast as I can! And phone calls! And if I don't get to the grocery store today my poor mother might have a heart attack.
TODAY: We have NO sessions! And as much as we LOVE our clients I am glad to give my shutter a break. Or break it out on my own sick kids. We are laying low today. Hanging a bit with my niece who's in town. Doing some more Halloween art projects… Parker wants to make a spider web and Bailey wants to make another pumpkin. I plan on playing on the floor a lot, switching the laundry around as fast as humanly possible, making a Good Will run and cranking out the emails during nap time. I also am meeting up with Julie, our wrapper/shipper/ribboner extraodinaire to talk about packaging. I am also planning a certain little two year old's very PINK third birthday party. And I am going to wipe noses and laugh a lot.
It's a good dreary fall day. Just how I like it. GO!