Poor Elizabeth has been waiting all week to see her sneak peek of Sam! And I hate to tell our clients this, but the days of getting your sneak peek up the same day as the session might be over! Kim is gearing up to chase SEVEN children from school to school and I'm working my tush off at Kuhn all day. So like Elizabeth, it might be a few extra days but we promise you'll just love them that much more!
And to Elizabeth… who has been SO SO patient… thank you!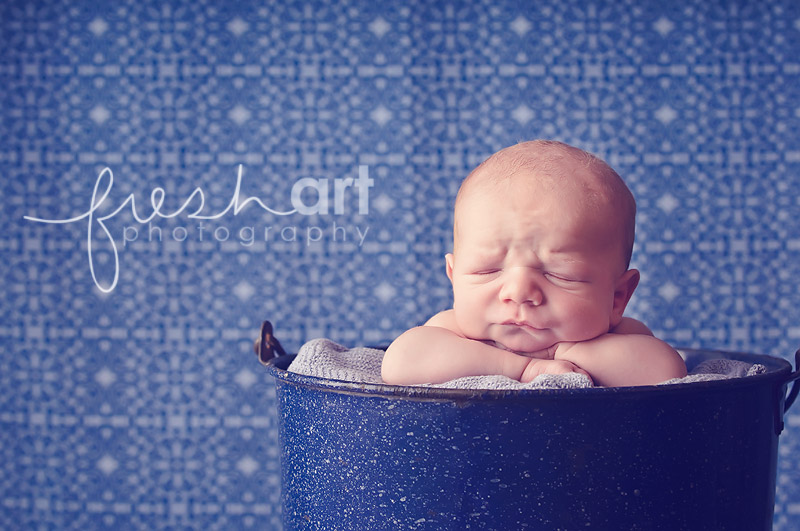 Now I have to start with this photo because the entire session we were laughing SO hard at Sam's little grumpy old man face! He was hysterical! So Kim and I had to revamp a few of our original ideas so he was on his back more than up like that so he didn't look so unhappy!
It was great for me to meet Elizabeth because I'd heard so many amazing things about her from Kim! She used to nanny for Kim but it'd been a while since Kim had seen her or her family. Kim loved having Sam's big brother Gus there b/c he wasn't much bigger than Sam the last time she saw him! And after Gus had his turn with the camera Bailey was SO proud to get to go upstairs to our playroom and "babysit" Gus (with his Aunt up there the whole time as well!).
We love having the studio in my home because our clients can let their older kids go play in the playroom with my kids if they're home or without them if they're not… makes for a much more casual shooting environment and I love how my work is so much a part of my home as well!
It was a fun morning and thank again Elizabeth for being so patient this week! We hope you loved your sneak peek!