This past weekend we had our fourth Fresh Class where we teach the BASICS of photography. It is always a blast and always flies by too fast and there are always a few awful photos of me taken that end up on the internet somewhere! I'll share WHERE later! HA!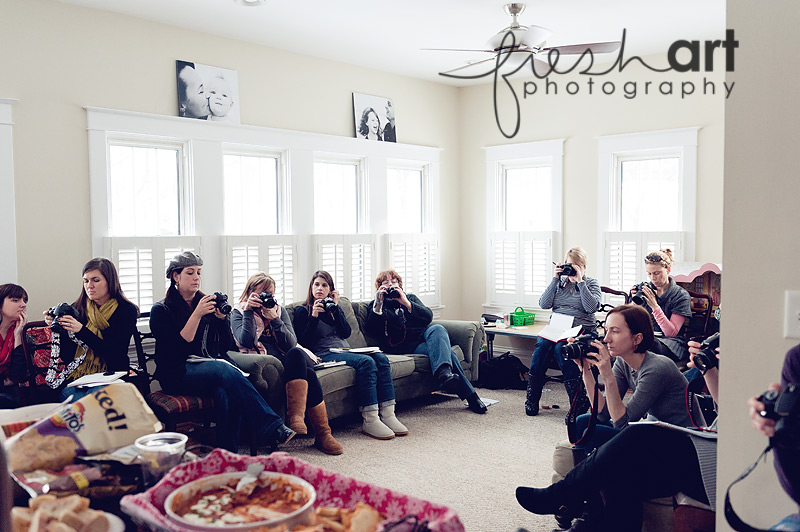 My BFF, Angie, opened her home up to the class which was so great – thanks Ang! And we had a BIG group! Almost 20 people!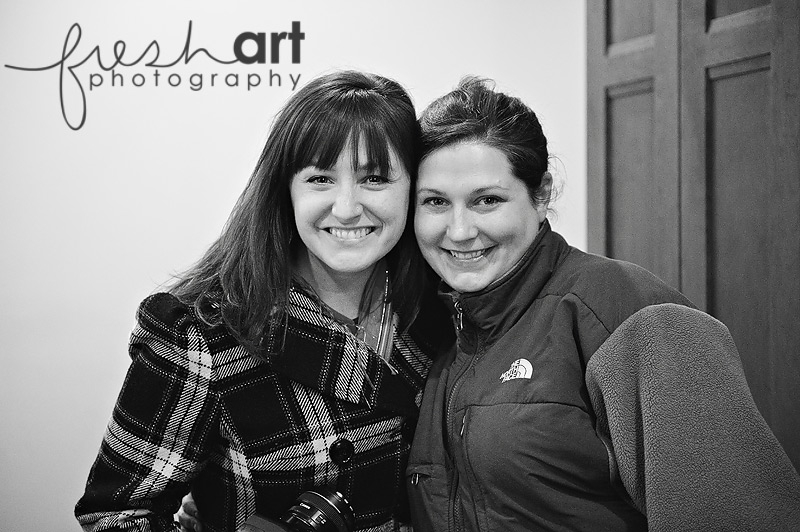 The best? Katie Mohr and Missy Lang. Our assistants extraordinaire! Missy comes and works every wedding we ever shoot and we literally couldn't do weddings without her! Katie is a face you should recognize if you read the blog b/c she is for sure the mom of our most photographed family! But BIGGER news is that Katie is coming on this year as our official Fresh Art STYLIST! If you've received a welcome packet recently for a family session you will see her session add-on but basically (and expect another blog post with more details later!) you can pay Katie to work with you BEFORE the session on clothing choice, location ideas or props AND she'll come to the session to help keep things running smoothly with clothing changes, prop set-up and posing. It's going to be an awesome year working so closely with both Katie and Missy!
AND these two have "known" each other for years through their blogs but have NEVER met! Fun to bring two blog friends together finally! And in case you want to read their blogs or see how good their photography has gotten (they both took our class last summer!) go HERE and HERE!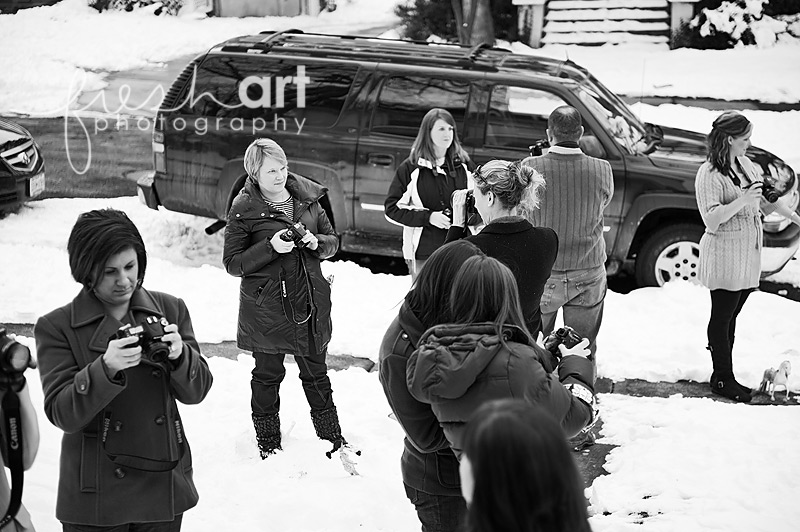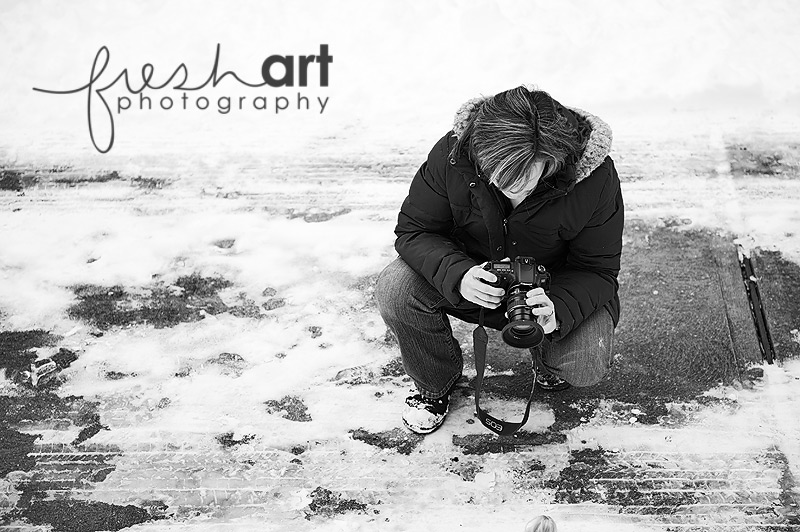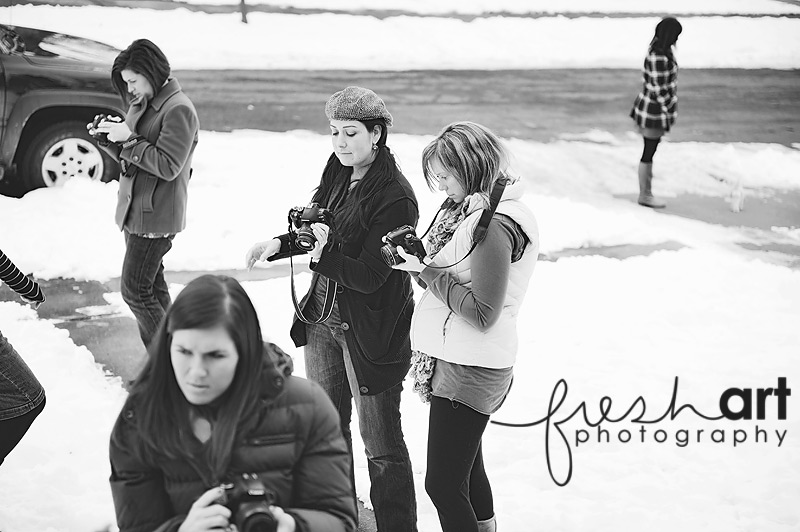 Is it SO mean that we hosted a class on natural light photography in the dead of winter? Kind of. Because these guys had to rough it outside for quite some time!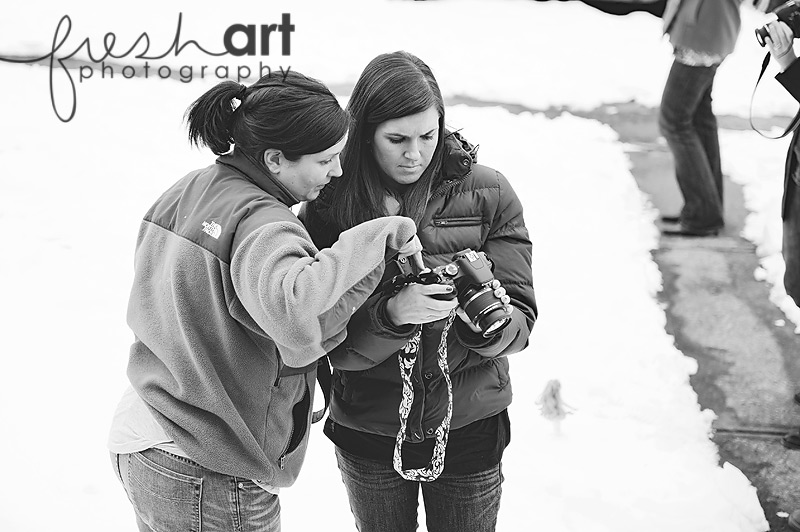 We had Missy and Katie there helping people with settings because we knew it was such a large group this time! We couldn't have done it all without their help!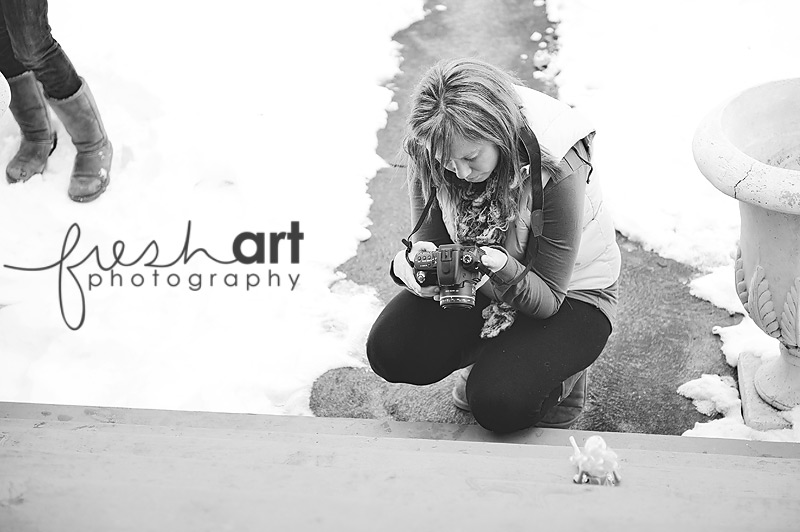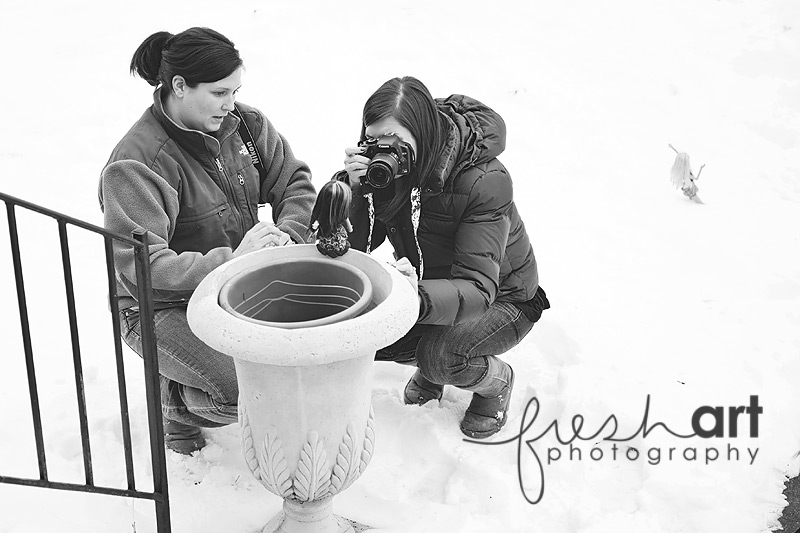 We had each person grab a toy from inside the house to take out and shoot so they could practice exposure, composition and focal points… so don't think it's strange they're all shooting Barbies!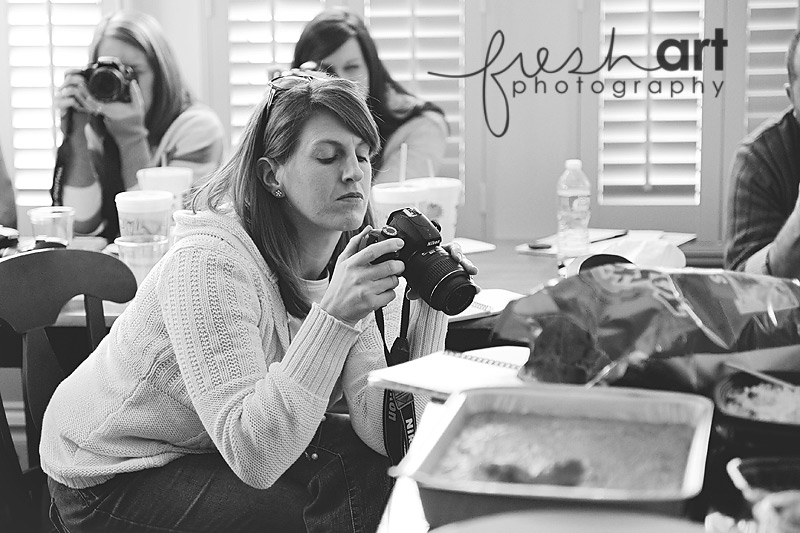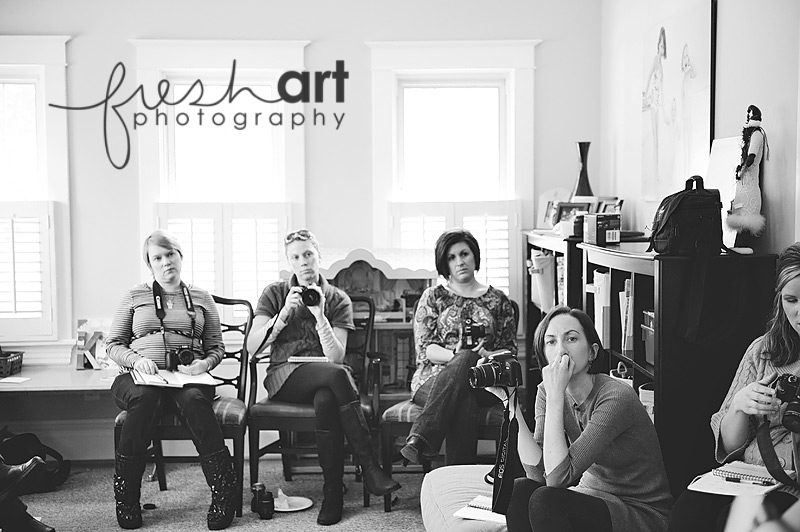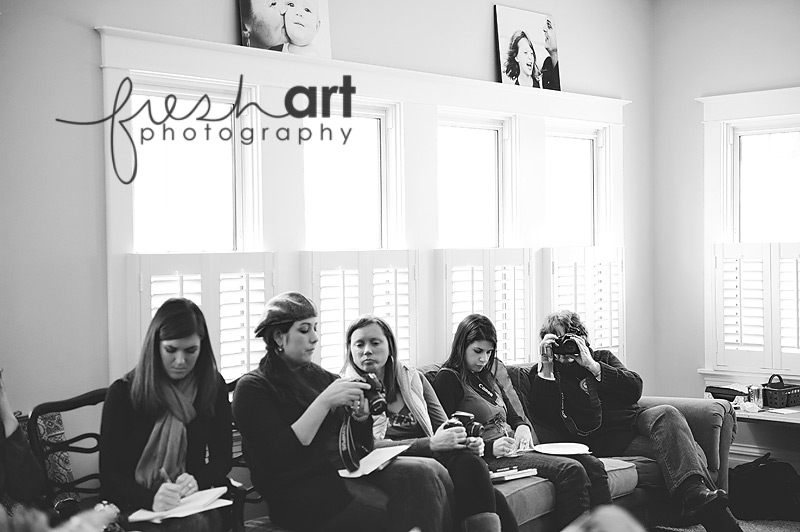 See the woman with the camera pointed right at us? Yeah. That's Donna. I think that must have been the exact moment she took this photo…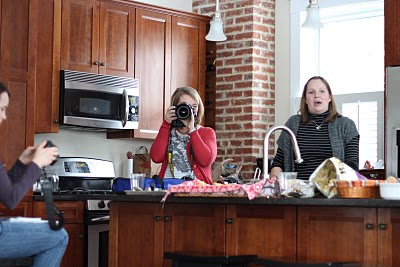 OMG. Can you say NO NECK? As in, I have SO many chins you can't even tell I have a neck anymore? UGH! I stole this shot directly from THIS blog, which although I could KILL her for posting this shot, is a seriously talented writer/blogger so go check her out HERE!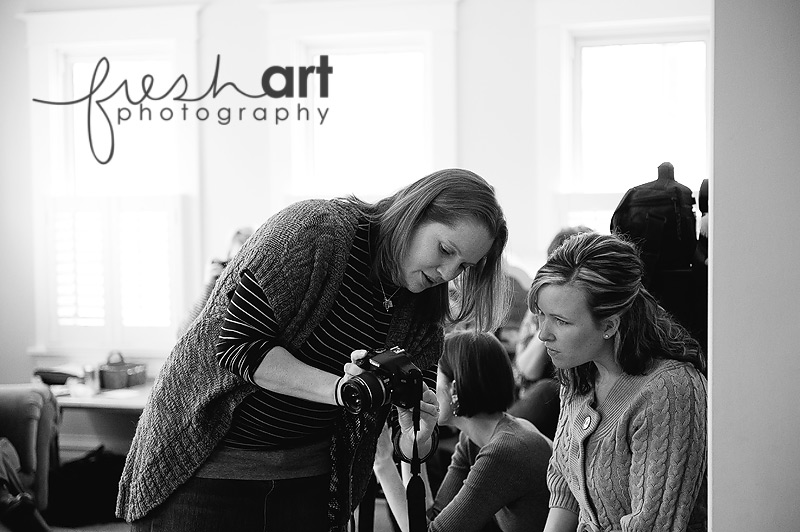 Kim's a bit nicer to me and is only posting a pic of me where my hair is hiding the neck rolls! 🙂 Thanks friend! However. I will NOT be posting the shot my DEAR friend Kim took where I look pregnant!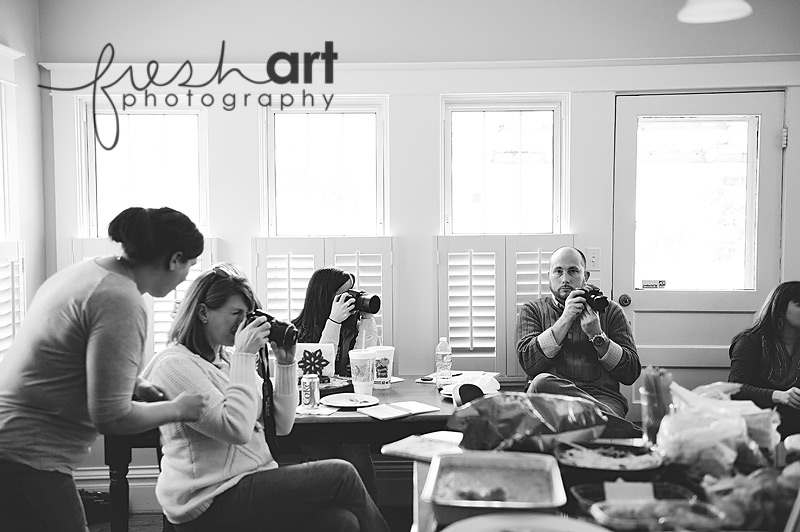 There! Do you see HIM? Our super sweet and one and only MAN we've ever had come to a class! It was SO great to have Billy there with all of us girls!
From our standpoint it was a great success but our job is easy! Teach the camera basics. Eat great food. Meet awesome people and reconnect with others. It's HARD on the people that come to the class. It's a ton of information to cram into 3 hours! SO Kim and I are working on revamping the class! We think we'll make it a two-day event so we have more time for questions and LOTS more time for shooting. Once we figure out all the details we'll blog about it!
THANK YOU to everyone that came out for the class and for Angie for hosting and for Missy+Katie for helping so much! We had a great time and we hope you ALL are practicing!