At Kalen and Ryan's wedding we decided to do something new… new to us at least because we are for sure not the first photographers to do this! In fact, I first saw it on THIS blog (one of my favs) and now I see it all over the place! So it's not an original idea but we tried to put our own twist on it!
The photo booth.
Basically, we set up a little studio at their reception to take photos of their guests. We asked Kalen to gather props that she wanted her guests to be able to use in order to be creative and then we brought a few things of our own. First we borrowed two chalk boards from Holly McCaig (and have since bought our own b/c we LOVED them! Thanks Holly!) so people could write whatever they'd like! They were a huge hit! And then we brought a ton of antique flash cards so people could put them together to make their own messages… they were an even bigger hit! And let's just say that when you have a whole box of flash cards from the 1950's there are a lot of "Dick and Jane" cards. And let's just say that as the evening went on and more drinks were had… the "Dick" card was certainly the most used! HA! I'm not posting those but I was ROLLING when looking through all the images!
Here are a FEW (we have a ton!) of my favorites (all the PG favorites at least!)….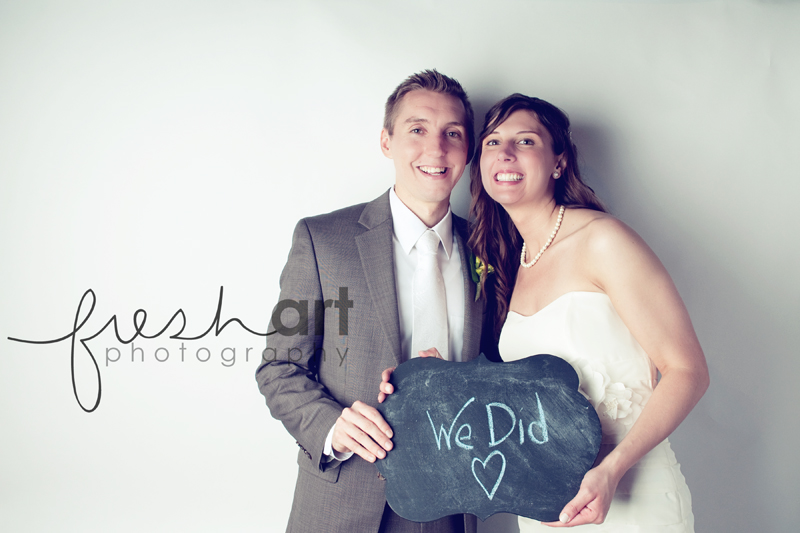 Isn't this an amazing way to do a guest book? WAY better than having a book of signatures!
Also, we've sort of unofficially made Missy our wedding assistant and she was a rock star last Saturday! So THANK YOU Missy! She helped in the photo booth all night not to mention was with us all day! It seems a bit much to have all three of us since some photographers do weddings alone, but we really think it helps make the day go smoothly!
And as for this photo booth? We are totally offering it to all of our future wedding clients! We've had so many 2011 wedding inquiries lately I'm not sure we can say we're not "wedding photographers" anymore! HA! We might be dragged kicking and screaming into the wedding business but we are kind of loving it! Don't tell Kim I told you that! HA!
And thanks again to Ryan and Kalen for letting us experiment with this idea! Hope you're having fun on your honeymoon!!