Because well, more time and effort and creativity went into this one set-up than the entire wedding for us.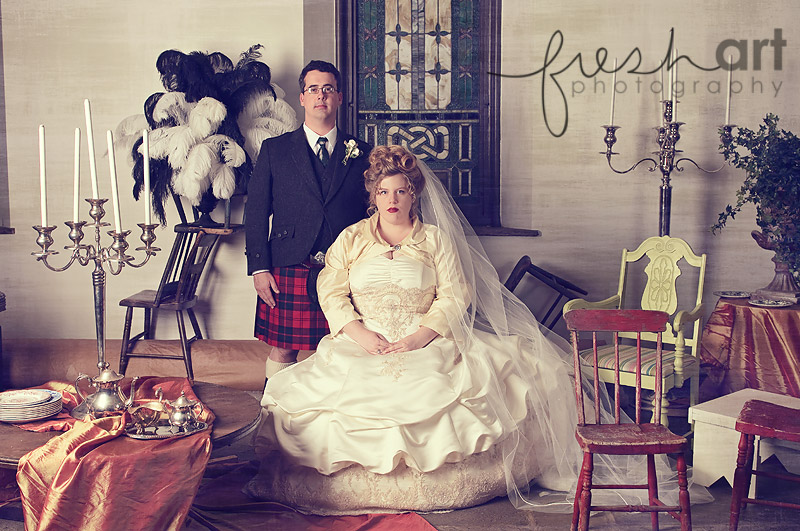 Like I've mentioned, we were hired last minute because the original wedding photographers hired by this New York City couple totally bailed on them. (Can you tell I'm itching to link you to who bailed? Because I am! But I won't! But I sure do want to!)  And then with the holiday's and them traveling in, we didn't get to meet with them until TWO days before the wedding. So we met up for lunch to talk about the details of the day, the timeline, etc. but what we ended up talking about the most was this idea. This brainchild. This event that was born out of four creative people meshing and truly getting each other's vision.
The basic idea was that Stephanie wanted ONE SHOT to be spectacular. She had this idea to use props and her wedding party and to create this scene… a scene that would show this group of people, all in their very best finery, gathered together for one more gala. A party. Because the war was going on and they had nothing left. But they used to have it all. So for one night they all rummaged through their attics and brought together every nice thing they still owned. They put on their fanciest attire and celebrated! Using the last of their candle rations and everything. For this one night. To celebrate life and love and friendship.
And although this is totally out of the realm of what we normally do (let me insert here that MAN are babies easier than weddings!), we were 100% on board! We saw her vision and knew just the person people to help us!
First, Stephanie called her incredible florist and wedding coordinator, Frankie of Festive Atmospheres here in St. Louis. He let us come rummage through his studio and take any props we wanted to use! He was also on hand at the wedding to help with placement of props and this was in addition to everything else he did for the wedding already!
Second, we called on one of our favorite client's, Lara Teeter. I could go on and on about how incredible we think he is (and his awesome family whom we adore!) but take a look HERE and HERE if you want to learn more about how CRAZY talented he is! Lara came on the day of the wedding and got the scene set beforehand for us… utilizing Frankie's props and pieces Lara brought from his own home in ways Kim and I would have never thought of! Then, the hardest part and the part he hit out of the ballpark was posing all TWENTY ONE people in the wedding party! And doing it FAST because we only had 30 minutes to take the shots AND get everything cleaned up and out of the church once the ceremony was over!
Seriously, we could not have made this work without either Frankie (and Shawn, his awesome assistant!) or Lara! Thanks guys!
So are you dying to see the whole shebang?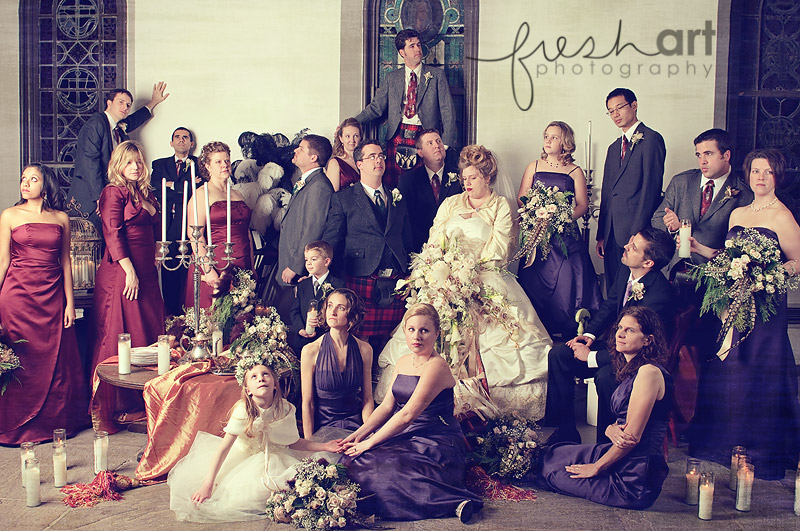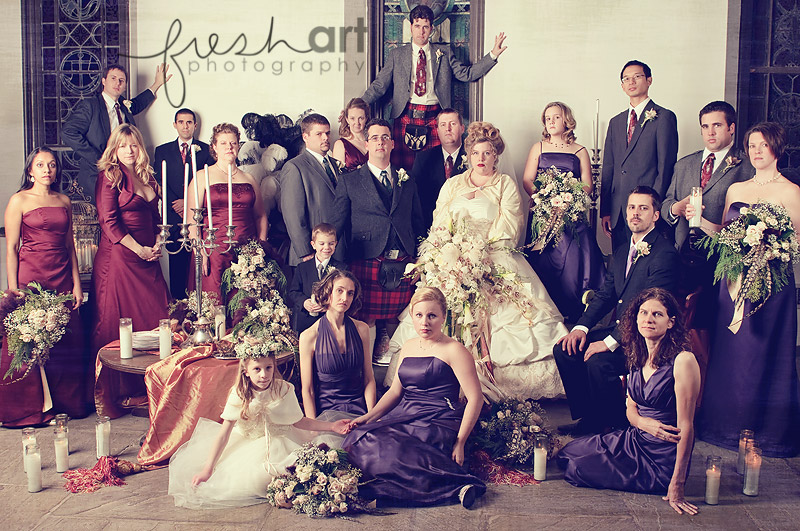 I mean seriously. Have you ever seen a wedding party portrait like this? Because I sure haven't!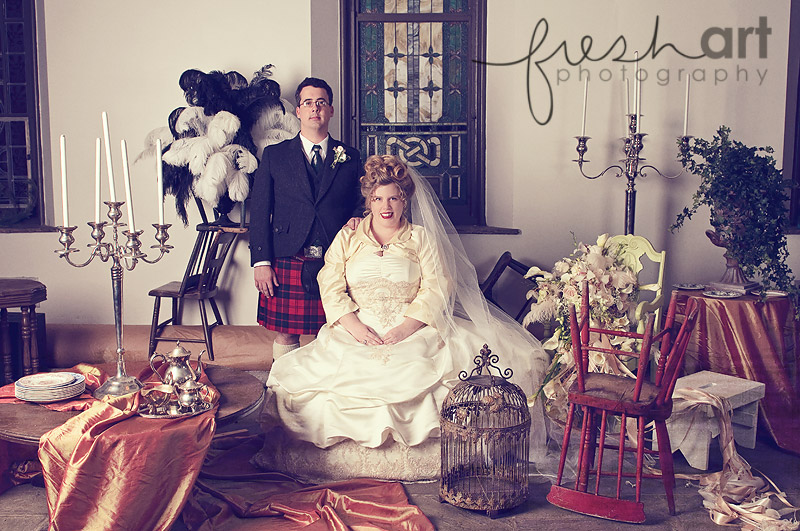 At the end of the day I just hope this makes Stephanie squeal with delight! Because that's what she does when she's really really happy!
Stephanie and Matt… thanks for trusting us with your wedding. And your vision. And your people. Your people you've gathered like treasures throughout your lives. Who all came together for you. To celebrate your love. Because they are good people. Who are friends with an incredible couple that Kim and I feel have blessed our lives in just our short time together.
And Steph… I really hope you squealed!