You would think I had newborns again I'm so tired! Staying up until all hours of the night NOT because I have a nursing baby or sick kids or even a looming work deadline, no, I've just been busy driving myself crazy making Valentine's. For my kids. Who absolutely don't care and would be MORE than happy to hand out cheap store bought ones from Walgreens. And aren't store bought Valentine's like $3 each or something? I won't even tell you (for fear of the wrath of my husband) what I've spent on printing photos and buying craft supplies! HA!
But I do this to myself.
Because I absolutely love it.
It's worth all the money and time and late nights. In fact, I've been happier this week just looking forward to my crafting time late at night after I finish a little work! I had no idea how much I missed crafting!
And you guys, I'm not very good. It's not like I'm HER or HER or HER (three of my favorite crafters!). It's just SIMPLE stuff. But it's so fun. Cutting paper and finding the right glue and mixing patterns. OH FOR THE LOVE. So great.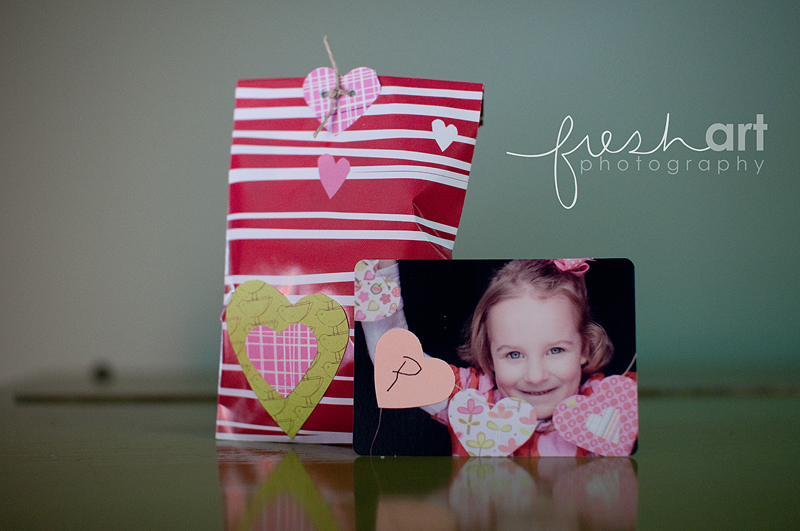 For Parker I took ONE damn photo of her before she refused to take any more so this is what I had to work with. I printed wallets photos and ended up gluing a heart to match the hearts in the photo so she could write her initial. A simple addition but I love it. Then I bought cheap bags from Target, added two hearts to the front and after she filled it (one bouncy ball and two Dove chocolate hearts) I folded over the top, punched two holes and tied on one more little heart. The wallet photo goes inside the bag. Seriously simple but like 5+ steps to completion so just a bit time consuming! She LOVES them though. She helped me glue the hearts on the bag, she filled the bags, she wrote her "P" and by then she was bored!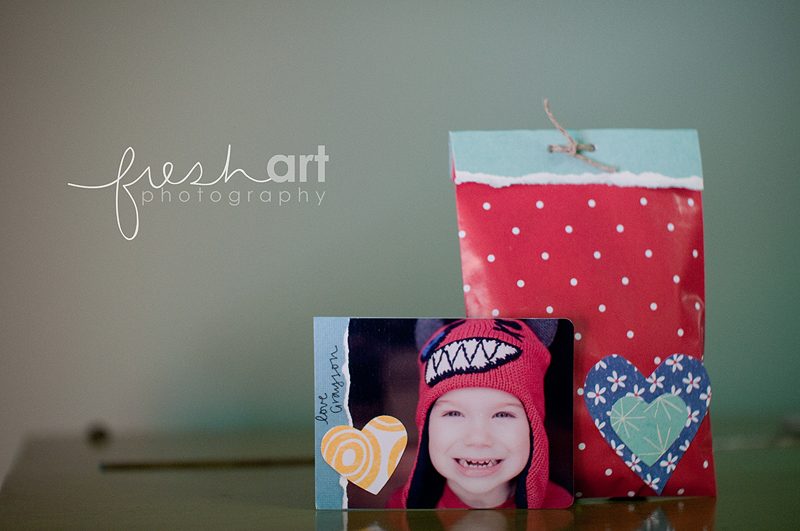 For Gray it's the same basic idea as PJ's. Main difference is that I ripped off the end of his photo and glued it to a piece of paper, added the little heart and signed his name.  At the top of the bag, instead of tying on a heart I used a piece of torn paper, folded it over and tied on the twine. Super simple. He "signed" his name on the back with a Sharpie and some scribbles… this little dude would rather kick a ball than color and after FORCING him to do this activity it made me realize how much I need to encourage his fine motor skills! Coloring every day will be in his future!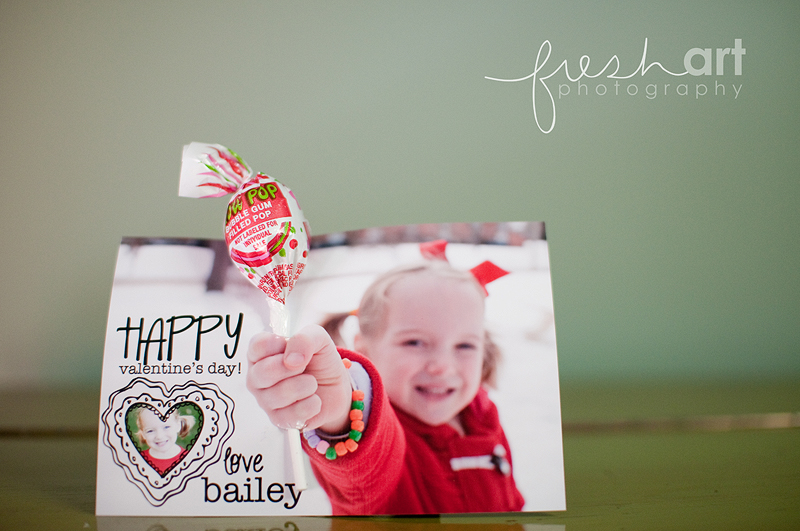 Bailey's is my favorite and SO simple and SO not my idea! I stole it from HERE with her permission of course! I used a quick snap shot I did of Bails before school one day, added in some Vol. 25 overlays and WHAMBAMTHANKYOUMAM her Valentine's were done! She is SO excited for the Blow Pops because "MOMMY! It's a sucker AND gum!" HA!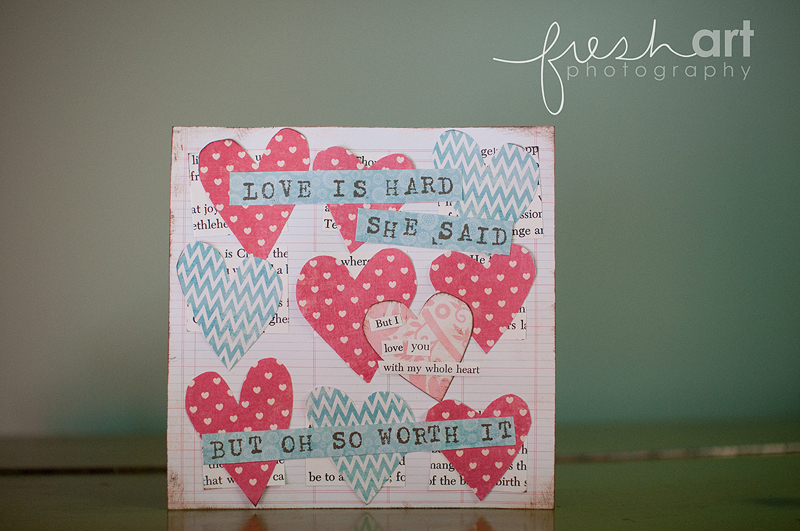 I adore THIS artist (who I actually know in real life b/c she was my reading buddy when I was in Kindergarten and she was in the fifth grade) and buy her cards all the time from Moonbeams in Kirkwood. But this time I wanted to take inspiration from her and make my own… so this is C's V-day card. He could care less so it's just hanging above my desk!
Then I actually did take a card of Leigh's I bought, cut it up and redid it a bit for my mom. Not really for Vday but just because she's awesome. All the time. And I wanted her to know…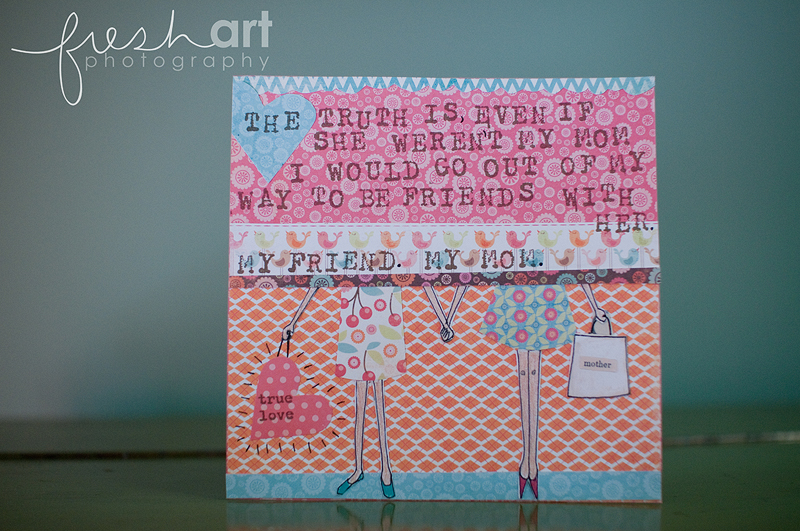 The "true love" stamp is from HERE, one of my all time favorite stores!
And although this project is from last year, it's still one of my favorites the kids have done!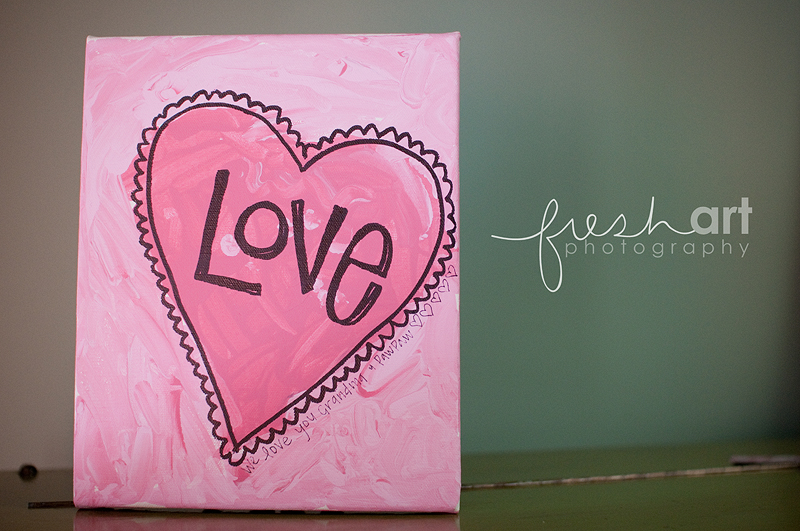 All I did was buy a CHEAP canvas from Hobby Lobby, draw a heart with pencil and give the girls two colors of pink paint. I told them to paint the heart one color and the outside another color. Once the paint was dry I used a Sharpie and added the black lines. This one is my parent's and I have a set of four that I adore! Just an idea in case you need something for the grandparents!
AND because I love to see the behind the scenes… this was my "studio" this morning!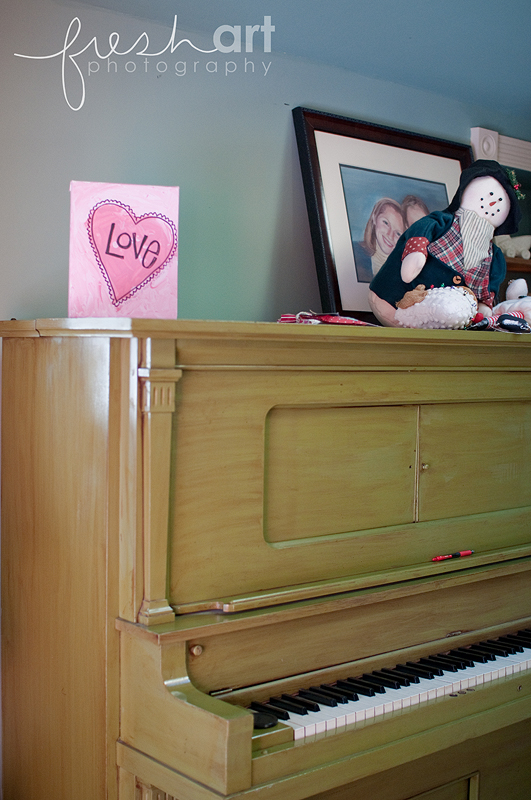 My parent's house doesn't get good light in the morning so although it was FREEZING outside I went to their front room and opened the front door all the way to get as much natural light as I could. Then i shoved the snowmen out of the way and used the top of the piano. SIMPLE. I think my ISO was at 800 maybe? For all of our Fresh Classers I thought this might help!
Now, I need to get off the computer because I still have lots of bags to finish for Gray, Bailey's need to be put together and OH THE HELL YEAH I am in charge of the craft and game for Bail's class party Monday! Paper cutting HERE I COME!